Technical Consumer Goods (TCG) Industry Prospective:
The global technical consumer goods (TCG) market size was worth around USD 1413.26 billion in 2022 and is predicted to grow to around USD 1958.76 billion by 2030 with a compound annual growth rate (CAGR) of roughly 4.16% between 2023 and 2030.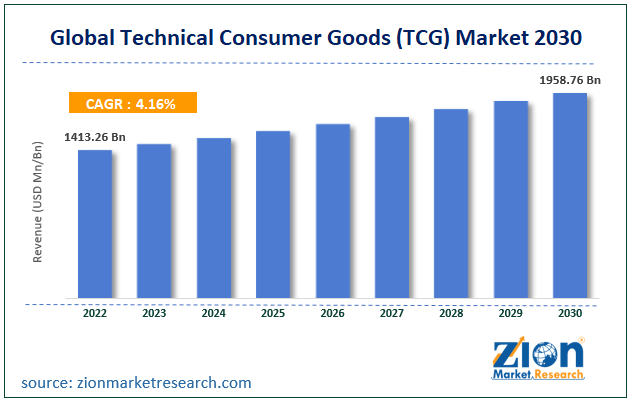 Request Free Sample
The report delves deeper into several crucial aspects of the global technical consumer goods (TCG) market. It includes a detailed discussion of existing growth factors and restraints. Future growth opportunities and challenges that impact the technical consumer goods (TCG) industry are comprehensively addressed in the report.
Technical Consumer Goods (TCG) Market: Overview
Technical consumer goods (TCG) are technical products frequently used by consumers. It is a specific segment of the larger consumer goods industry which deals with everyday products that have become essential in the modern age. TCG is technology-driven and includes systems and devices that serve multiple applications including communication, entertainment, and practicality. Some examples of the products included in the TCG industry are home appliances such as (refrigerators, ovens, dishwashers, laundry appliances, vacuum cleaners, and air conditioners. Similarly, there is a wide range of product options that fall into different categories of TCGs including small household items, consumer electronics, office equipment, and communication devices.
Key Insights:
As per the analysis shared by our research analyst, the global technical consumer goods (TCG) market is estimated to grow annually at a CAGR of around 4.16% over the forecast period (2023-2030)
In terms of revenue, the global technical consumer goods (TCG) market size was valued at around USD 1413.26 billion in 2022 and is projected to reach USD 1958.76 billion, by 2030.
The technical consumer goods market is projected to grow at a significant rate due to the higher reliance on modern technology for functional purposes
Based on product segmentation, telecom was predicted to show maximum market share in the year 2022
Based on end-user segmentation, personal was the leading user in 2022
On the basis of region, North America was the leading revenue generator in 2022
Technical Consumer Goods (TCG) Market: Growth Drivers
Higher reliance on modern technology for functional purposes to drive market growth
The global technical consumer goods (TCG) market is projected to grow owing to the extensive reliance on several forms of TCG products for basic to complex everyday functions. The foundation for the modern, digital world is technology and it has become synonymous with economic growth. Technical consumer goods have a wide range of applications starting from being used in schools and colleges for imparting knowledge to more professional utilization such as computers, laptops, communication systems, and other devices used in offices and other forms of business ventures. The market expansion is further strengthened by the rapidly increasing rate of product innovation undertaken by manufacturers and TCG developers to reach the expanding group of consumers driven by an increase in population and access to modern technologies.
Technical Consumer Goods (TCG) Market: Restraints
Market saturation in terms of basic TCG products may restrict further growth
The global technical consumer goods industry has become extremely saturated with the presence of a high number of product and service providers. These companies are operating at domestic and international levels. Moreover, globalization has further impacted product reach and consumption patterns. Due to such trends many people across the globe and especially in developed nations, already have access to at least basic TCG products. This results in an increased replacement cycle and reduced demand for certain product categories such as food heating devices, laptops, and laundry machines.
Technical Consumer Goods (TCG) Market: Opportunities
Increasing adoption of smart home systems could provide higher growth opportunities
The TCG sector is likely to come across higher growth opportunities owing to the increasing interest, awareness, and adoption rate of smart home systems alongside the rising integration of existing systems with the Internet of Things (IoT) technology. As consumers may become more aware, they will seek better systems that allow better automation, more control, and monitoring of several devices using remote technology. TCG manufacturers can capitalize on the growing segment of technology-loving consumer groups.
Technical Consumer Goods (TCG) Market: Challenges
Rising sale of counterfeit or low-quality products is a major challenge for businesses
One of the most crucial and harmful challenges faced by several global technical consumer goods market players is the increasing sale of counterfeit and low-quality products. Countries that have weak intellectual property rights enforcement laws are the most vulnerable to damages caused by such events. This has been witnessed with products exported from China. They are known to mimic advanced technologies and although less priced, their durability remains a cause of concern.
Technical Consumer Goods (TCG) Market: Segmentation
The global technical consumer goods (TCG) market is segmented based on product, end-user, and region.
Based on product, the global market segments are telecom, home equipment, consumer appliances, information technology & equipment, and others. The TCG sector registered the highest growth in the telecom segment. It deals with devices and systems used for communication purposes and includes smartphones, feature phones, landline phones, routers, and related accessories. In recent times, telecom products have witnessed massive growth and demand led by increased sales of smartphones along with rising undertakings by network service providers to launch new technologies and systems that aid better connectivity. This segment is not specific to a single user type since it is crucial for companies, individuals, businesses, government sectors, and private companies. In 2022, the global telecom industry was worth more than USD 1.8 trillion.
Based on the end-user, the global market divisions are business-oriented and personal. The highest CAGR was observed in the personal segment of the technical consumer goods industry in 2022 due to the higher consumption of several technical consumer goods that are used in residential settings or for personal purposes. For instance, products such as laundry machines, microwaves, home security systems, audio devices, gaming consoles, and other products are used by individuals to improve their quality of living and include factors such as convenience, safety, and entertainment. Business-oriented TCG items are more restricted in terms of range when compared to their counterparts. With the growing purchasing power of individuals and the rising adoption of technical systems for everyday activities, the personal segment is expected to continue its growth streak. As of July 2022, PS2 has become the world's best-selling video game with sales worth more than 158 million units.
Recent Developments:
In March 2023, the leading news channel, Business Standard reported that Sony, a technology giant, will launch PlayStation 5 Pro, a next-generation gaming console of the legendary series, by 2024. In the meanwhile, Sony is expected to launch PS5 with a detachable disc drive by the end of 2023
In April 2023, Asus, a Taiwan-based leading producer of computers, phones, and electronics, launched the latest version of Vivobook and Zenbook laptops in the Indian market. Both the devices are equipped with Intel Core processors with a starting price of INR 45,990 and 97,990 respectively
In April 2023, Hewlett-Packard (HP) launched 4 new laptops in India especially targeting the millennial and Gen Z population. These laptops are powered with 13th Gen Intel Core processors and offer excellent features
Technical Consumer Goods (TCG) Market: Report Scope
Report Attributes
Report Details
Report Name
Technical Consumer Goods (TCG) Market Research Report
Market Size in 2022
USD 1413.26 Billion
Market Forecast in 2030
USD 1958.76 Billion
Growth Rate
CAGR of 4.16%
Number of Pages
230
Key Companies Covered
Apple Inc., Samsung Electronics Co. Ltd., Sony Corporation, LG Electronics Inc., Panasonic Corporation, Huawei Technologies Co. Ltd., Xiaomi Corporation, Microsoft Corporation, Lenovo Group Limited, Dell Technologies Inc., HP Inc., Canon Inc., Nikon Corporation, GoPro Inc., Fitbit Inc., Garmin Ltd., Sonos Inc., Bose Corporation, Philips Electronics N.V., TCL Technology Group Corporation, Sharp Corporation, Haier Group Corporation, Whirlpool Corporation, Electrolux AB, and Miele & Cie. KG.
Segments Covered
By Product, By End-User, and By Region
Regions Covered
North America, Europe, Asia Pacific (APAC), Latin America, Middle East, and Africa (MEA)
Base Year
2022
Historical Year
2017 to 2021
Forecast Year
2023 - 2030
Customization Scope
Avail customized purchase options to meet your exact research needs. Request For Customization
Technical Consumer Goods (TCG) Market: Regional Analysis
North America to register the highest growth rate in the global market
The global technical consumer goods (TCG) market will witness the highest growth in North America, with the US and Canada acting as dominant revenue generators. One of the primary reasons for higher growth is the existing technologically-driven consumer group which is comfortable with the use of advanced systems and devices. Early product adoption and consumption have played a crucial role in the higher demand for superior-grade technical consumer goods for personal use or professional reasons. Moreover, the increasing spending on digitizing education systems by allowing students access to laptops, computers, and other smart technologies could further drive regional expansion. Other factors such as increasing TCG export rate and strategic international collaboration by US-based electronic consumer goods producers could lead to better avenues for expansion.
Technical Consumer Goods (TCG) Market: Competitive Analysis
The global technical consumer goods (TCG) market is led by players like:
Apple Inc.
Samsung Electronics Co. Ltd.
Sony Corporation
LG Electronics Inc.
Panasonic Corporation
Huawei Technologies Co. Ltd.
Xiaomi Corporation
Microsoft Corporation
Lenovo Group Limited
Dell Technologies Inc.
HP Inc.
Canon Inc.
Nikon Corporation
GoPro Inc.
Fitbit Inc.
Garmin Ltd.
Sonos Inc.
Bose Corporation
Philips Electronics N.V.
TCL Technology Group Corporation
Sharp Corporation
Haier Group Corporation
Whirlpool Corporation
Electrolux AB
Miele & Cie. KG.
The global technical consumer goods (TCG) market is segmented as follows:
By Product
Telecom
Home Equipment
Consumer Appliances
Information Technology & Equipment
Others
By End-User
Business-Oriented
Personal
By Region
North America
Europe

France
The UK
Spain
Germany
Italy
Rest of Europe

Asia Pacific

China
Japan
India
South Korea
Southeast Asia
Rest of Asia Pacific

Latin America

Brazil
Mexico
Rest of Latin America

Middle East & Africa

GCC
South Africa
Rest of Middle East & Africa