Industry Prospective:
The global dishwasher market size was valued at USD 35.02 Billion in 2022 and is anticipated to reach USD 61.30 by 2030 at a CAGR of 7.2% during the forecast period. The report analyzes the global dishwasher market drivers, restraints/challenges, and the effect they have on the demands during the projection period. In addition, the report explores emerging opportunities in the dishwasher industry.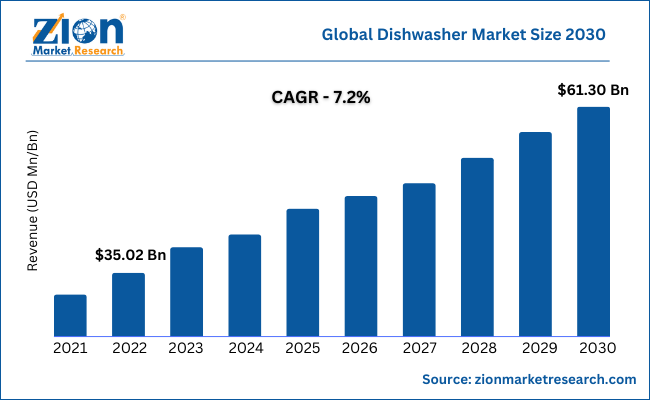 Request Free Sample
Dishwasher Market: Overview
A dishwasher is a device used to automatically clean cutlery, cookware, and dishware. A dishwasher is an electrically operated device that washes, rinses, and dries dishes by spraying a mixture of hot water and detergent to remove dirt and oil. Dishwashers are a type of white goods that are frequently used in commercial and residential kitchens to clean dishes and have witnessed an impressive growth during the study period. Due to the increasing adoption of technologically advanced appliances in developed markets like North America and Europe, dishwashers have witnessed significant growth in popularity in the recent past.
Dishwashers are spurring the demand in emerging parts of Asia-Pacific since they are effectively utilized both in residential and commercial kitchens. Dishwasher demand is being fueled by increased urbanization, rise in disposable incomes, increasing trend of modular kitchens, and improving living standards in developing nations like China, India, Brazil, and other emerging economies. Additionally, the increased importance of water conservation has benefited appliance manufacturers to meet the popularity as less water is needed in the dishwasher making it a preferred device for the kitchen.
Key Insights
As per the analysis shared by our research analyst, the global dishwasher market is estimated to grow annually at a CAGR of around 7.2% over the forecast period (2023-2030).
In terms of revenue, the global dishwasher market size was valued at around USD 35.02 billion in 2022 and is projected to reach USD 61.30 billion, by 2030.
The growing demand for smart kitchen appliances across the globe is expected to drive market growth over the forecast period.
Based on the product type, the free-standing dishwasher segment accounted for the largest market share in 2022 and is anticipated to grow in the forthcoming years.
Based on application, the residential segment is projected to exhibit a significant share whereas, the commercial segment is showcasing lucrative market growth owing to the growing demand for dishwashers across cafes, hotels, and restaurants.
Based on the distribution channel, the specialty stores are anticipated to hold a remarkable share due to the wide range of branded dishware for different use.
Based on region, the European region is expected to hold the largest revenue share during the forecast period. Whereas, the Asia-Pacific region is the most lucrative region catering to plenty of opportunities for market growth.
Dishwasher Market: Growth Drivers
Growing consumer demand for smart kitchen appliances is spurring the market growth
The shifting trend of consumer preferences over technology-driven products is driving the need for smart kitchen appliances such as dishwashers. The significance of upgrading or renovating a kitchen to create a modular kitchen is increasing, which is fueling the rapid expansion of smart kitchen appliances like dishwashers. With their ability to manage your house, voice-controlled gadgets like the Amazon Echo and Google Home are becoming more and more popular. Rapid innovation and technical developments such as portable dishwashers, incorporated sensors, connectivity to smartphones & smart gadgets, removable trays, pre-soak cycles, adjustable racks, fold-down tines, and others have added fuel to the global dishwasher market growth.
The final product will likely have superior wash & dry systems and spray arms, which will likely help market expansion across the globe. Moreover, the demand for dishwashers with sustainable technology and cutting-edge features is currently being driven by prominent players. The primary intended audience, which includes working people, married couples, single parents, and bachelors, is becoming more receptive to dishwashers. The broad availability of dishwashers with regionalized designs and water and energy-saving features is also projected to increase sales of dishwashers. Throughout the forecast period, this aspect is anticipated to fuel demand for the worldwide dishwasher market.
Dishwasher Market: Restraints
The substantial cost of maintenance and overall operation act as a major restraint
The major factor that impedes the dishwasher industry growth is the highly-priced dishwashers as well as the high maintenance and repair cost of specifically commercial dishwashers. It is anticipated that higher maintenance costs for such devices will restrain the potential market. Portable dishwashers are useful tools because of innovation and technical improvement, but they have a high upfront cost and need ongoing maintenance. The high cost of these products discourages many consumers; hence the price will continue to be a major impediment to the market's growth. Additionally, the high energy consumption is another crucial factor that hampers the market growth as it runs on 1.5 KWh on average to run a load of dishes and hot water used add cost to the overall energy consumed restraining the market growth.
Dishwasher Market: Opportunities
Product innovation and technology-driven dishwashers act as avenues for market growth
The keen focus of manufacturers on product innovation and development offers added benefits to the consumers that act as a significant opportunity for dishwasher market growth. The innovative products with customized solutions to meet the needs of end users have led the manufacturers to expand their product range and penetrate varied geographical areas. Various dishwashers such as Wi-Fi enabled dishwashers, for instance, LG Wi-Fi enabled dishwasher has SmartThinQ technology that gives smartphone alerts once the washing is complete.
The special attributes of products for consumer preference include shine boosters, glass protection, LED touched panels, soundproofing, and rinse aid amongst others. Therefore, such innovations are adding a boost to the market growth. Moreover, next-generation dishwashers overcome key challenges such as consuming less energy, half load option, and turbo cleaning that requires less water. Dishwashers equipped with smart technology, which offers excellent cleaning outcomes while conserving time, energy, and water, are expected to propel market growth.
Dishwasher Market: Challenges
Price sensitive consumer poses a major challenge
A significant factor that will constrain the global dishwasher market during the forecast period is the high price of the dishwasher among the low and middle-income consumer groups. Also, the considerable labor force or maid presence in low-income nations, as well as in semi-urban and rural areas of emerging economies, where people feel they assist with many home chores, poses a significant challenge to the market's growth. Moreover, lower adoption of dishwasher due to the regular repair and maintenance in the lower-income population impede the market growth.
Dishwasher Market: Segmentation
The global dishwasher industry is segmented based on product type, application, distribution channel, and region.
Based on the product type, the global market is bifurcated into Built-in Dishwashers and Free-Standing Dishwashers. The Free-standing dishwasher segment accounted for the largest share in 2022 and witnessed to retain the same trend in foreseen future. The factor that contributes to the high share includes the growing demand for Free-standing dishwashers among consumers across the globe. The upsurge in commercial users for these easily portable dishwashers is adding fuel to the market growth.
The segment also showcases remarkable growth owing to its cost-effectiveness, and convenience and has no specific installation requirements compared to the built-in variant. This is the reason the free-standing dishwasher is becoming the preferred choice for the end consumers. Moreover, the popularity of this segment is attributed to its rising adoption rate both in commercial as well as residential applications. Freestanding Dishwashers are convenient and customizable appliances that may be moved about the kitchen as needed by the user. Because they are not a permanent installation, tenants greatly prefer having a portable dishwasher. Also, the built-in variant is more expensive than the free-standing model, which doesn't need any specific installation. This type of dishwasher is ideal for houses with compact kitchens and is anticipated to grow significantly over the next few years.
Based on distribution channel, the industry is segregated into multi-brand stores, wholesalers/distributors, specialty stores, hypermarkets/supermarkets, online retail, and others
Based on the application, the global dishwasher industry is segmented into residential and commercial. The residential segment is witnessed to hold the dominating position in the study period. The substantial penetration of this product category is owing to the rising popularity of smart home technologies among homeowners.
Households in developed countries have recently shown a greater preference for smart home and kitchen appliances that can be operated via smartphones or the internet. Moreover, over the projection period, a combination of rising disposable income and increasing internet penetration is anticipated to drive demand for smart dishwashers. In the forthcoming years, the smart dishwasher market is anticipated to rise significantly due to increased awareness of smart appliances and rising homeownership rates across emerging economies that contribute immensely to the market growth.
On the other hand, in terms of market share, the commercial segment is predicted to trail the residential segment, and it is anticipated to exhibit a significant CAGR over the forecast period. Smart dishwashers' widespread use in hotels, cafes, and restaurants as these commercial sectors are growing rapidly, and since dishwashers efficiently and conveniently clean lots of dishes while using less water contributes to the market expansion.
Recent Developments:
In November 2022, Haier Europe, part of Haier Smart Home added a new dishwasher factory to its industrial complex in Eskisehir, Turkey, which aided to increase its manufacturing presence in Europe. Haier Smart Home has been the leading company in the world for major appliances for six years in a row1. The opening of the new factory is a significant development for Haier Europe's dishwasher business strategy and demonstrates the company's continued expansion in Europe.
In June 2022, Whirlpool Inc. was able to create a true third-rack dishwasher owing to virtual simulation. A true third-level rack for recent dishwasher launches around the world was designed by Whirlpool Corporation with significant assistance from virtual simulation. The simulation-based design will continue assisting in minimizing time to market for product development and creating new ways to improve consumers' quality of life at home because of its efficacy in current and other projects.
In September 2021, GE Profile™ launched the First and Only Dishwasher that aids in Prevent Bacteria Growth. Throughout the dishwasher, 99% of germs on treated surfaces are prevented by Microban® Antimicrobial Technology, which is incorporated into the high-contact touchpoints such as handles, the control panel, rack handles, silverware cell covers, and the filtration system. Also, this GE Profile dishwasher has a first-of-its-kind UltraFresh SystemTM for dishwashers, which stops the causes of odor by bringing in fresh air and water between cycles when it senses the dishwasher needs a refresh.
Dishwasher Market Report Scope:
Report Attributes
Report Details
Report Name
Dishwasher Market Research Report
Market Size in 2022
USD 35.02 Billion
Market Forecast in 2030
USD 61.30 Billion
Growth Rate
CAGR of 7.2%
Number of Pages
209
Key Companies Covered
Whirlpool Corporation, Robert Bosch GmbH, Haier Group Corporation, Electrolux AB, Samsung Electronics Co., Ltd., LG Electronics Inc., Panasonic Corporation, Miele Group, Midea Group Co., Ltd and Asko Appliances AB among others.
Segments Covered
By Product Type, By Application, By Distribution Channel, And By Region
Regions Covered
North America, Europe, Asia Pacific (APAC), Latin America, Middle East, and Africa (MEA)
Base Year
2022
Historical Year
2017 to 2021
Forecast Year
2023 - 2030
Customization Scope
Avail customized purchase options to meet your exact research needs. Request For Customization
Dishwasher Market: Regional Analysis
The European region is expected to hold the largest revenue share during the study period
The European region currently held the dominant share of the global dishwasher market in 2022. Over the projected period, demand for smart dishwashers is anticipated to increase owing to a rise in the penetration of smart homes as well as several kitchen and home renovation projects in the regions.
Some of the main drivers of market growth are the expanding working population, customers' choice for smart kitchens and home appliances, as well as maximum penetration of dishwashers at commercial applications, making it a high-potential region globally. Also, the increasing investment by the manufacturers for meeting the demand for smart households in the region is another factor fueling the market growth.
Nevertheless, the Asia-Pacific region is growing at a remarkable pace owing to key factors such as a rise in disposable income, growing urbanization, noteworthy rise in living standards, especially in emerging economies such as China and India is adding a boost to the market growth. Moreover, demand for different electric kitchen appliances due to renovation trends among residential consumers has spurred the market growth further. Moreover, a strong consumer base in countries such as Japan, China, India, Taiwan, and South Korea is anticipated to drive market growth in foresee future.
Dishwasher Market: Competitive Analysis
The global dishwasher market is dominated by players like:
Whirlpool Corporation
Robert Bosch GmbH
Haier Group Corporation
Electrolux AB
Samsung Electronics Co.Ltd.
LG Electronics Inc.
Panasonic Corporation
Miele Group
Midea Group Co.Ltd
Asko Appliances AB
The global dishwasher market is segmented as follows:
By Product Type
Built-in Dishwashers
Free-Standing Dishwashers
By Application
By Distribution Channel
Multi-Brand Stores
Wholesalers/Distributors
Specialty Stores
Hypermarkets/Supermarkets
Online Retails
Others
By Region
North America
Europe

France
The UK
Spain
Germany
Italy
Rest of Europe

Asia Pacific

China
Japan
India
South Korea
Southeast Asia
Rest of Asia Pacific

Latin America

Brazil
Mexico
Rest of Latin America

Middle East & Africa

GCC
South Africa
Rest of Middle East & Africa