Stand-Up Pouches Market: Overview
The Stand-Up Pouches Market accounted for USD 11.16 Billion in 2020 and is expected to reach more than USD 19.35 Billion by 2028, growing at a CAGR of 7.30% from 2021 to 2028.
Stand-up Pouches offer various benefits like enhanced aesthetic appeal, combined with various features including spouts, tear notches, and zippers or sliders, among others, which offers better functionality and convenience. Additionally, these pouches utilize less material, are lightly weighted as compared to various rigid packaging styles like glass bottles and metal cans and require less transportation and shipping costs, among others.
Increasing packaged goods demand and rising preference for stand-up pouches owing to several factors, like aesthetic appeal, convenience, and various value-added characteristics by consumers, are expected to propel market growth.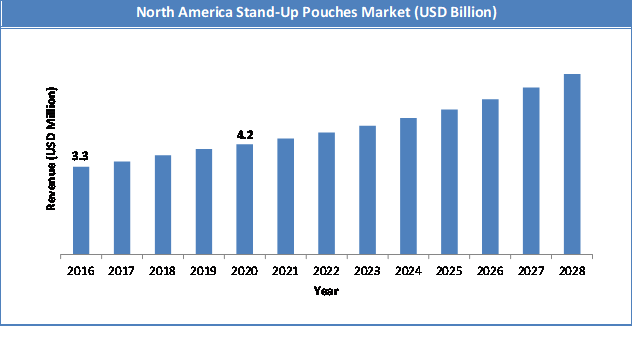 Request Free Sample
COVID-19 Impact Analysis
COVID-19 has afflicted almost every sector, and the long-term effects of this pandemic are anticipated to affect industry growth in the coming years. This report will provide insights on COVID-19 considering changes in purchasing patterns, consumer demand and behavior, the motion of continuing market forces, supply chain re-routing, and significant interference of government.
Growth Factor
A stand-up pouch is a pliable format of packaging which can stand straight up for the purpose of display, use, and storage. These pouches offer better shipping convenience compared to glass jars, aluminum cans, and rigid bottles due to which they are being widely chosen by various manufacturers of consumer packaged goods (CPG). Increasing demand for single-serve meals and on-the-go snacks is further expected to propel product demand in the coming years.
It acts as a superior marketing instrument for packaged goods manufacturers since they offer the competence to individualize goods on retail shelves. Additionally, stand-up pouches have a bigger surface through which graphics can be printed with high quality in order to attract customers in supermarkets and convenience stores where people usually make fast purchase decisions.
Report Scope :
Material Segment Analysis Preview
The plastic segment held a share of over 35.14% in 2020. Stand-up pouches are manufactured using an amalgamation of several plastic laminates or single plastic material. Plastic material is a durable, cost-effective, and lightweight material which it is widely used for manufacturing stand-up pouches.
The bioplastics material segment is expected to have the topmost growth rate in the coming years. The increasing environmental burden with respect to plastic waste is anticipated to grow bioplastics usage in the projected time thereby enhancing the development of this segment. The paper segment is widely being used for the production of stand-up pouches due to the rising focus on sustainability.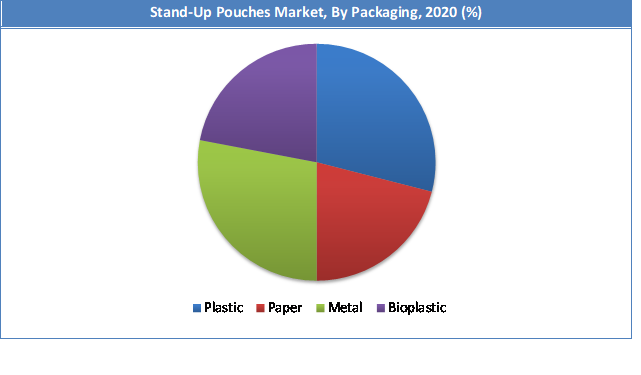 Request Free Sample
Application Segment Analysis Preview
Personal Care & Cosmetics Segment is projected to grow at a CAGR of around 4.1% from 2021 to 2028. Commonly packed products that are using stand-up pouches are skincare creams, shampoos, and solutions, among others. The convenience offered particularly while traveling, combined with increasing awareness with respect to personal grooming by stand-up pouches is anticipated to propel market growth.
Stand-up pouches are also used widely for packaging various home care products like laundry soaps, hand washing, fabric softeners, detergents, and toiletries, among others. Fixing sanitation and hygiene standards,s particularly in various developing countries is anticipated to encourage the growth of the home care segment.
Regional Analysis Preview
North America accounted for a share of over XX% in 2020. Factors including increased demand for packed food like ready-to-eat food, combined with the rising popularity of stand-up pouches due to their portability, lightweight, shelf readiness, and more minor material usage compared to packaging products that are rigid are anticipated to increase market growth over the coming years.
The Asia-Pacific region is estimated to grow at a CAGR of XX over the forecast period. Factors such as increasing demand for convenient packaging, changing lifestyles, and growing spending power of consumers are expected to produce the product demand over the coming years.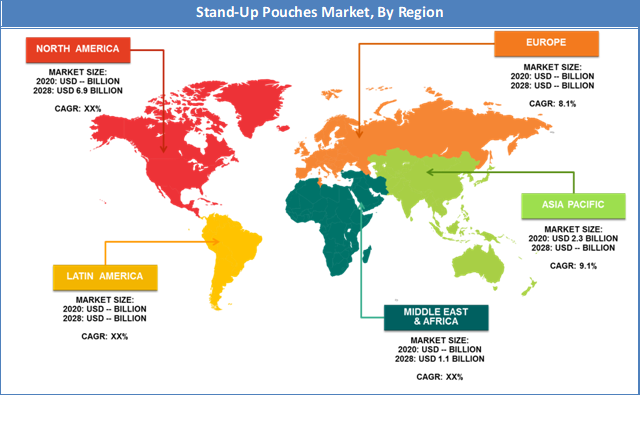 Request Free Sample
Stand-Up Pouches Market: Key Players & Competitive Landscape
Some of the key players in the Stand-Up Pouches Market are Amcor plc., Sonoco Products Company, Clondalkin Group, Mondi, Winpak Ltd., Huhtamaki Group, Coveris, Glenroy Inc., Smurfit Kappa, ProAmpac, Sealed Air, Hood Packaging Corporation, FLAIR Flexible Packaging Corporation, Bischof+Klein, and Uflex Limited, among others.
The Stand-Up Pouches Market is segmented as follows:
By Material
Plastic
Paper
Metal
Bioplastic
By Type
Standard
Aseptic
Retort
Hot-Filled
By Closure
By Application
Healthcare
Personal Care & Cosmetics
Homecare
Others
By Region
North America
Europe

France
The UK
Spain
Germany
Italy
Rest of Europe

Asia Pacific

China
Japan
India
South Korea
Southeast Asia
Rest of Asia Pacific

Latin America

Brazil
Mexico
Rest of Latin America

Middle East & Africa

GCC
South Africa
Rest of the Middle East & Africa