Soy Lecithin Market Size And Industry Analysis
The global soy lecithin market size was worth around USD 2.1 billion in 2021 and is predicted to grow to around USD 3.45 billion by 2028 with a compound annual growth rate (CAGR) of roughly 5.56% between 2022 and 2028. The report analyzes the global soy lecithin market's drivers, restraints/challenges, and the effect they have on the demands during the projection period. In addition, the report explores emerging opportunities in the soy lecithin market.
Soy Lecithin Market: Overview
Lecithin in general are fats essential to human bodies and can be found in organic food items like egg yolk or soy. Lecithin is a great food additive and the one originating from soy is called soy lecithin. It is typically used as a lubricant, or an emulsifier when it is added to food items. On other occasions, it can also be used as an antioxidant along with the benefits of a flavor protector. However, like other lecithin in the market, the use and benefits of soy lecithin are surrounded by contradicting statements or controversies, as it is claimed that it may pose some health dangers. But there is a lack of concrete evidence to support these controversies. As of 2022, soy lecithin can be found in health as well as conventional food stores.
In food items, it is used as an ingredient while when sold separately it is promoted as a health supplement. Since oil and water do not mix, and oil separates in normal conditions, lecithin becomes important to be added as a food additive in processed food items like supplements or medicines. When lecithin is added to the mixture of oil and water, it breaks the oil particles into smaller forms in the process called emulsification, thus it can easily be digested when eaten. Soy lecithin, since it is extracted from raw soybean, has the presence of soy but in negligent quantities, making science scholars believe that the product does not lead to any allergic reactions. Soy lecithin has gained popularity since it contains a mixture of phospholipids that aid the composition of cellular membrane structure and are widely used to store energy.
Some researchers in Japan have indicated that using fresh phospholipids can be used to replace damaged cell membranes while also restoring their structure and function. Some of the potential benefits of the product involve improved cholesterol levels, assistance in boosting immunity, and improving cognitive capabilities among other factors.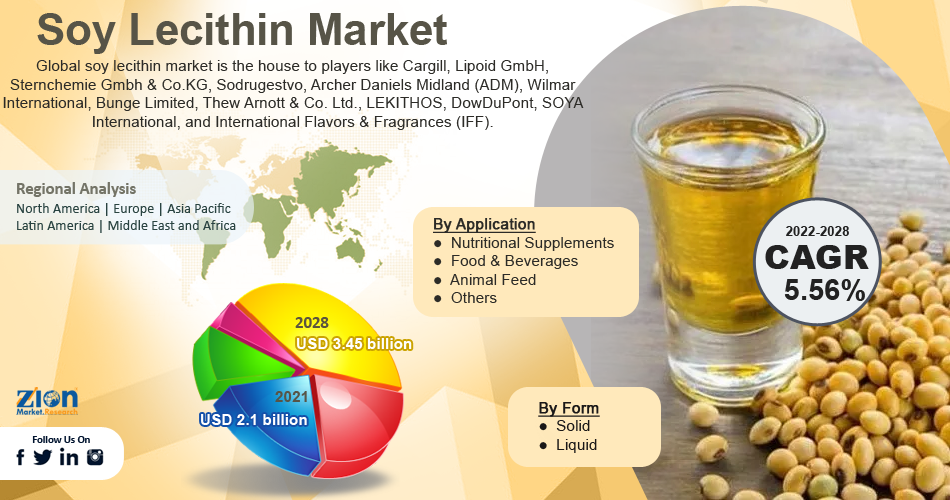 Request Free Sample
Key Insights
As per the analysis shared by our research analyst, the global soy lecithin market is estimated to grow annually at a CAGR of around 5.56% over the forecast period (2022-2028).
In terms of revenue, the global soy lecithin market size was valued at around USD 2.1 billion in 2021 and is projected to reach USD 3.45 billion, by 2028. Due to a variety of driving factors, the market is predicted to rise at a significant rate.
Based on form segmentation, the liquid was predicted to show maximum market share in the year 2021
Based on application segmentation, Food & Beverages had the leading revenue-generating applications in 2021.
On the basis of region, North America was the leading revenue generator in 2021
Covid-19 Impact
The global market cap suffered due to the onset of Covid-19 owing to the closure of manufacturing units and disruptions in the supply chain. Although there was considerable demand for the immunity-boosting soy lecithin, due to the closure of stores selling the products the global market growth was restricted during this time.
Soy Lecithin Market: Growth Drivers
Increasing application of soy lecithin to drive market growth
The global soy lecithin market is projected to benefit from the growing application of the products across the food and beverage industry. Since soy lecithin acts as a great emulsifier, many F & B manufacturers prefer to use the product while manufacturing food items. Owing to its dispersing capabilities, the product has high demand in markets involving paint, plastic, animal feed, and cosmetic manufacturing as well.
Soy lecithin is an extremely versatile product that can be used across industries making it a favorite amongst market players. In the F & B sector, a rising trend of preference for healthy food items can be witnessed which has led to a significant change in the manufacturing strategy adopted by organizations. More companies are now coming up with food with healthy ingredients like soy lecithin to increase their consumer database and meet the growing demand. This is also propelled by the rising research & development activities on the product itself to enhance its applications and seek more benefits from soy lecithin. The R & D activities are supported by private as well as government institutes opening the door for global market growth.
Soy Lecithin Market: Restraints
Use of artificially created soybean lecithin to restrict the market growth
There is still some clarification needed on the actual benefits offered by soy lecithin. At the same time, the global market is witnessing a rise in the use of artificially or genetically modified soybeans to produce soy lecithin. This diminishes the organic value of the product along with reduced nutrient richness. In such cases, there is a risk of consumer contact with a severe allergy to synthetically created soy lecithin which may restrict global market expansion if the process goes unmonitored by regulatory authorities.
Soy Lecithin Market: Opportunities
Growing demand in the cosmetics sector to provide market expansion opportunities
The global soy lecithin market is expected to garner some excellent growth opportunities from its application in the evolving cosmetic sector. In this industry, soy lecithin is widely used as an emulsifier, but the product also possesses moisturizing capabilities and can be used as an active ingredient in various ranges of moisturizers. The end-consumer is becoming more aware of the products and their core components owing to the presence of information on the internet or due to various awareness campaigns run by organizations for public welfare. This has subsequently led to a consumer segment that is completely aware of their needs and demand propelling the market players to cater to the consumer wants resulting in more brands incorporating soy lecithin in their products.
Soy Lecithin Market: Challenges
Limited research on the pros and cons of soy lecithin to challenge market growth
Although there are claims of benefits associated with soy lecithin, there are various questions surrounding its efficiency in delivering the health benefits that its manufacturers claim. However, no conclusive evidence has been found yet to confirm the negative health effects of consuming soy lecithin over a long period. More research is needed to provide conclusive evidence either supporting the questions or refuting them which is posing a major challenge for the global market expansion.
Soy Lecithin Market: Segmentation
The global soy lecithin market is segmented based on application, form, and region.
Based on application, the global market segments are nutritional supplements, food & beverages, animal feed, and others. The global market is expected to be dominated by the F & B segment owing to the increasing applications of soy lecithin in the production of various food items and beverages. Since soy lecithin can be equally used in the manufacturing of conventional food items as well as healthy food products, the versatility offered by the product is why the global market is witnessing a high acceptance rate. The F & B sector is one of the fastest growing industries and its global market value in 2021 was over USD 5.75 trillion and is expected to grow at an exceptionally high CAGR of around 10% by the end of the decade. These factors may contribute to the segmental growth during the projection period.
Based on form, the global market is divided into solid and liquid where the highest revenue is expected to be generated from the liquid formula since this form makes it easier to be mixed with other items used in the manufacturing of paints, cosmetic products, animal feed, etc. The liquid soy lecithin is used extensively to manufacture cheese, chocolates, salad dressing, and margarine while it also reduces the cholesterol level in these items. As per the National Library of Medicine studies, soy lecithin led to a decrease of 42.65% and 56.11% in low-density lipoprotein (LDL) cholesterol and a decrease of 40.65% and 42.60% in total cholesterol, when used on serum cholesterol concentration over two months of the administration
Recent Developments:
In April 2022, Louis Dreyfus Company Agricultural Industries LLC announced that it is opening a new soy liquid lecithin plant in Claypool, Indiana. The new facility is being claimed as the largest unit of the business incorporating biodiesel production, soybean processing, and refining operations for glycerin and lecithin. The recently launched unit will also integrate a canola oil distribution terminal along with a food-grade packaging line
In September 2019, a new variant of organic soy lecithin powder and liquid was launched by Praan Naturals. The product is to be used in the personal care sector and it has helped the company expand its product portfolio. Personal care items like hair care, lipstick, nail care, skincare, and other cosmetic products will use the new range of soy lecithin as active ingredients.
In September 2019, AAK, a vegetable oil, and fats producer acquired an 80% stake in Europe-based Soya International. With this, AAK expanded its ingredient portfolio and managed to reach a larger consumer database.
Soy Lecithin Market Report Scope:
Report Attributes
Report Details
Report Name
Soy Lecithin Market Research Report
Number of Pages
154
Key Companies Covered
Cargill, Lipoid GmbH, Sternchemie Gmbh & Co.KG, Sodrugestvo, Archer Daniels Midland (ADM), Wilmar International, Bunge Limited, Thew Arnott & Co. Ltd., LEKITHOS, DowDuPont, SOYA International, and International Flavors & Fragrances (IFF)
Segments Covered
By Product Type, By Application, and By End Use
Forecast Units
Value (USD Billion), and Volume (Units)
Regions Covered
North America, Europe, Asia Pacific (APAC), Latin America, Middle East and Africa (MEA)
Countries Covered
North America: U.S and Canada
Europe: Germany, Italy, Russia, U.K, Spain, France, Rest of Europe
APAC: China, Australia, Japan, India, South Korea, South East Asia, Rest of Asia Pacific
Latin America: Brazil, Argentina, Chile
The Middle East And Africa: South Africa, GCC, Rest of MEA
Base Year
2021
Historical Year
2016 to 2020
Forecast Year
2022 - 2028
Customization Scope
Avail customized purchase options to meet your exact research needs. Request For Customization
Soy Lecithin Market: Regional Analysis
North America to witness the highest market share during the forecast period
The global soy lecithin market is expected to be dominated by North America during the projection period driven by the rising application of the product in the F & B sector especially the processed food segments like confectionery and baked items. As per official reports, the baked good items market in the USA is expected to reach around USD 165.5 billion by 2025 which is an indication of the rising intake of such goods where soy lecithin forms an integral part of the production process.
The regional growth may be attributed to the rising R & D in understanding more about soy lecithin and enhancing its applications across other sectors as well. With the technological advancements in countries like the USA and Canada, it has become easy to improve the shelf life of the product, thus making it more cost-effective. In the USA, soybean cultivation is witnessing steady growth which was around 120.1 million hectares as of 2018. The USA is regarded as the world's largest producer of soybean and the second largest exporter.
Europe is projected to grow owing to the rising demand for protein-rich food items because of the high-quality food intake trend in the EU market. Efforts undertaken by agencies like the European Lecithin Manufacturers Association to educate the masses about the product may aid regional market share growth.
Soy Lecithin Market: Competitive Analysis
The global soy lecithin market is the house to players like Cargill, Lipoid GmbH, Sternchemie Gmbh & Co.KG, Sodrugestvo, Archer Daniels Midland (ADM), Wilmar International, Bunge Limited, Thew Arnott & Co. Ltd., LEKITHOS, DowDuPont, SOYA International, and International Flavors & Fragrances (IFF).
The global soy lecithin market is segmented as follows:
By Application
Food & Beverages
Animal Feed
Others
By Form
By Region
North America
Europe

France
The UK
Spain
Germany
Italy
Rest of Europe

Asia Pacific

China
Japan
India
South Korea
Southeast Asia
Rest of Asia Pacific

Latin America

Brazil
Mexico
Rest of Latin America

Middle East & Africa

GCC
South Africa
Rest of Middle East & Africa