Solid Masterbatches Market: Industry Prospective
The global solid masterbatches market size was worth around USD 11.5 billion in 2021 and is predicted to grow to around USD 16.15 billion by 2028 with a compound annual growth rate (CAGR) of roughly 4.56% between 2022 and 2028. The report analyzes the global solid masterbatches market's drivers, restraints/challenges, and the effect they have on the demands during the projection period. In addition, the report explores emerging opportunities in the solid masterbatches market.
Solid Masterbatches Market: Overview
Solid masterbatches are a form of additives added to plastic to impart color to them or to aid relay other or missing properties. They are either highly concentrated forms of pigment mixtures or they may be manufactured as additives capsuled in a resin that functions as a carrier during the heating process which after cooling is cut into granular shapes. These products help processors to optimize the financial aspect of imparting color to raw polymers during the plastic-making process.
The only other ways of creating end plastic are to buy compounded material which may, in turn, add to the overall cost with limited availability of color options, or by compounding the raw on-site which is associated with problems like complete dispersion of additives or colorants and manufacturing of more material than required resulting in a loss.
Since solid masterbatches are pre-made with the right mixture of components resulting in accurate compositions, they help eliminate issues like insufficient dispersion or other issues pertaining to additives & colorants.
Factories that use masterbatches have proven to maintain inventory and stock of fewer graded polymers resulting in higher buying capacity of low-cost polymers in large amounts. The high concentration amount of solid masterbatches results in a high let-down ratio which means that only a small amount of solid masterbatch would be required for large-scale natural polymer.
For instance, a 25-kilogram bag of solid masterbatches fits up to 1 ton of natural polymer, which is an indication of cost-effectivity resulting from the use of solid masterbatches. Some of the benefits offered by concentrated additives in the final plastic goods include high productivity resulting from the increased volume of the output along with other benefits like enhanced physical properties in plastics like adhesion, higher toughness, printability, and flexural stiffness.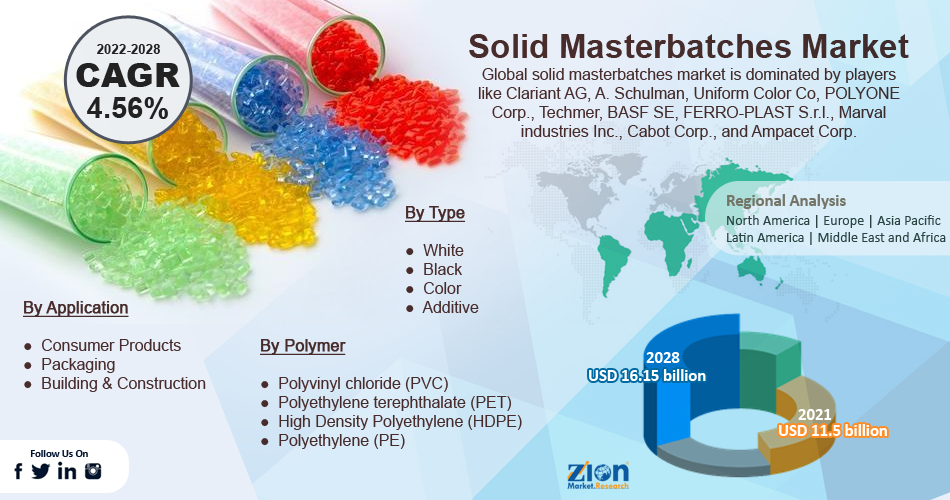 Request Free Sample
Key Insights:
As per the analysis shared by our research analyst, the global solid masterbatches market is estimated to grow annually at a CAGR of around 4.56% over the forecast period (2022-2028).
In terms of revenue, the global solid masterbatches market size was valued at around USD 11.5 billion in 2021 and is projected to reach USD 16.15 billion, by 2028. Due to a variety of driving factors, the market is predicted to rise at a significant rate.
Based on application segmentation, packaging was predicted to show maximum market share in the year 2021
Based on type segmentation, the additive was the leading revenue-generating type in 2021.
On the basis of region, Asia-Pacific was the leading revenue generator in 2021
Covid-19 Impact
The global market cap size was severely impacted during Covid-19 driven by the strict lockdowns witnessed across the globe as a precautionary measure toward containing the virus. The leading cause of impeded growth was the unavailability and difficulties in procuring raw materials either at plastic manufacturing sites or in producing solid masterbatches themselves. Transport restrictions added to the problems because of difficulties faced during the delivery of goods.
Solid Masterbatches Market: Growth Drivers
Rising demand for good quality polymers from the end-users to propel market growth
The global solid masterbatches market is projected to grow owing to the rising demand for high-quality plastic and other forms of polymer, especially in industries where high-standard goods acting as protecting layers to the final goods are needed regularly like the construction or packaging industry.
Since plastics are present virtually everywhere and have wide applications in every sector of industry, the demand for better quality plastics is increasing tremendously propelling the procedures to opt for ways that can help them deliver products as per the consumer's demand.
Owing to the various benefits offered by solid masterbatches, they have become a go-to product for plastic manufacturers from small to large-scale industries. The benefits include excellent consistency in colors as compared to raw pigments. They also allow for an easy match of the polymer and the binding agent in the masterbatch thus enhancing the melting process.
Solid masterbatches are extremely easy to store along with other aspects like manipulation and movement ease depending on the requirement since they are compact.
The global market may also benefit from the rising trend of research and development in the substitution of metal parts in vehicles with plastics or their components. Since metal products result in the increased weight of vehicles, restricting more changes in the automotive unit, many vehicle manufacturers are investing in methods to introduce plastic-made components to reduce the weight of the vehicle along with improvements in fuel efficiency and reduced carbon emissions.
The growing automation industry may lead to growth in the global market as well. Out of the total 30,000 parts in a vehicle, at least one-third is made from plastic which is equivalent to 39 different types of polymers and plastics being used to make one automotive vehicle.
Solid Masterbatches Market: Restraints
Raw material price fluctuation to restrict the market growth
The global market may suffer growth restrictions because of high fluctuations in the raw material required to create solid masterbatches. For instance, their manufacturing requires mixing pigments and adding them to the carrier which in most cases is resin or polymers. Synthetic plastics are created from natural gas or crude oil which means that any impact on the price of the basic raw material which is crude oil will directly impact the price of the final good thus resulting in varying costs of solid masterbatches.
Solid Masterbatches Market: Opportunities
Rising demand for plastics in construction to provide market growth opportunities
The global solid masterbatches market cap may benefit from the growing demand size in the building and construction industry. For nearly two decades, there has been a shift toward adopting high-quality plastics in building as alternatives to traditional components. Currently the building and construction market is undergoing a tremendous increase because of urbanization and modernization.
For instance, the global construction market is projected to generate a revenue of USD 10 trillion by 2023. There is also a significant increase in the number of solid masterbatch providers, especially for the organization in the construction business which may result in higher growth opportunities.
Solid Masterbatches Market: Challenges
High lead time to challenge the market expansion
The global market growth may be challenged due to some disadvantages associated with solid masterbatches in comparison to pure pigments. For instance, the lead time for masterbatches is longer than for raw pigments. Lead time is the time taken between initiation and completion of a given process. Other issues like the requirement of additional heat exposure which may not be beneficial for pigments that are thermally stable by limited margins.
Solid Masterbatches Market: Segmentation
The global solid masterbatches market is segmented based on application, type, polymer, and region.
Based on application, the global market is divided into consumer products, packaging, and building & construction. The global market is dominated by the packaging segment. Currently, the packaging industry is valued at USD 355.1 billion and by 2030 it may grow at a CAGR of 4.45%. The growth and adoption of advanced technology in the packaging industry are expected to be major growth factors.
Based on type, the global market is segmented into white, black, color, and additive. The global market generated the largest revenue from the additive segment since it has higher application in some of the fastest growing industries like the packaging sector, and food & beverages. Color masterbatch is used in the automobile sector which is projected to grow at a CAGR of 3.7% by the end of the decade. The black masterbatch has wide applications in construction.
Based on polymer, the global market segments are polyvinyl chloride (PVC), polyethylene terephthalate (PET), high-density polyethylene (HDPE), and polyethylene (PE). The global market is led by the polyethylene (PE) segment. It is the most popular and extensively used form of plastic globally. In 2019, the global PE market was USD 107 billion whereas it is projected to reach over USD 130 billion by 2027.
Recent Developments:
In June 2021, Avient, a global producer of specialized polymer materials, announced the launch of a masterbatch package with advanced and new special effects. The product is claimed to aid the production of wine corks that look natural and consist of thermoplastic elastomers. The masterbatch is sold under Renol™ & Remafin™ brands
In January 2021, the chief executive officer of Silvergate Plastics, Tony Bestall, launched his book on how to master masterbatch. The book is a description of best practices used to color plastics.
Solid Masterbatches Market Report Scope:
Report Attributes
Report Details
Report Name
Solid Masterbatches Market Research Report
Number of Pages
182
Key Companies Covered
Clariant AG, A. Schulman, Uniform Color Co, POLYONE Corp., Techmer, BASF SE, FERRO-PLAST S.r.l., Marval industries Inc., Cabot Corp., and Ampacet Corp.
Segments Covered
By Product Type, By Application, and By End Use
Forecast Units
Value (USD Billion), and Volume (Units)
Regions Covered
North America, Europe, Asia Pacific (APAC), Latin America, Middle East and Africa (MEA)
Countries Covered
North America: U.S and Canada
Europe: Germany, Italy, Russia, U.K, Spain, France, Rest of Europe
APAC: China, Australia, Japan, India, South Korea, South East Asia, Rest of Asia Pacific
Latin America: Brazil, Argentina, Chile
The Middle East And Africa: South Africa, GCC, Rest of MEA
Base Year
2021
Historical Year
2016 to 2020
Forecast Year
2022 - 2028
Customization Scope
Avail customized purchase options to meet your exact research needs. Request For Customization
Solid Masterbatches Market: Regional Analysis
Asia-Pacific to lead market growth during the forecast period
The global solid masterbatches market is projected to be dominated by Asia-Pacific where countries like India, China, and Taiwan are witnessing a surge in the packaging industry. The growth is aided by the presence of skilled labor at a cost-effective rate and also the availability of large spaces for setting up manufacturing units. The growth in China is owing to the use of advanced technologies in the packaging industry as well as intensive research to innovate newer and sustainable ways of plastic packaging. The growing income capacity of the population along with the rise in demand for plastic products is expected to help the region generate high revenues. In 2018, the turnover in China for the packaging industry was USD 26 billion and it is expected to more than double by 2025. Taiwan's market is projected to grow because of an increase in investments from government entities as well as private companies. One of the key reasons contributing to the rise in the packaging industry is the exponentially rising population and the subsequent higher demand for products.
Growth in Europe may be propelled by the increasing demand for the products across sectors but mainly by consumers' demand for lightweight vehicles forcing the makers to look for substitutes like plastics for automotive parts.
Solid Masterbatches Market: Competitive Analysis
The global solid masterbatches market is dominated by players like Clariant AG, A. Schulman, Uniform Color Co, POLYONE Corp., Techmer, BASF SE, FERRO-PLAST S.r.l., Marval industries Inc., Cabot Corp., and Ampacet Corp.
The global solid masterbatches market is segmented as follows:
By Application
Consumer Products
Packaging
Building & Construction
By Type
White
Black
Color
Additive
By Polymer
Polyvinyl chloride (PVC)
Polyethylene terephthalate (PET)
High Density Polyethylene (HDPE)
By Region
North America
Europe

France
The UK
Spain
Germany
Italy
Rest of Europe

Asia Pacific

China
Japan
India
South Korea
Southeast Asia
Rest of Asia Pacific

Latin America

Brazil
Mexico
Rest of Latin America

Middle East & Africa

GCC
South Africa
Rest of Middle East & Africa