Global Smart Vent Market Overview
A ventilation system that operates on the basis of room temperature preference of an individual is called a smart ventilation system. Smart vents are integrated with temperature and pressure sensors, for maintaining a balance between under-conditioned and over-conditioned rooms. In smart vents, complete ventilation procedure is controlled by smart electronic devices, such as smartphones and tablets. The main motive of a smart vent is to decrease energy usage and overall expense as compared to continuously operating simple ventilation systems without compromising the indoor air quality (IAQ).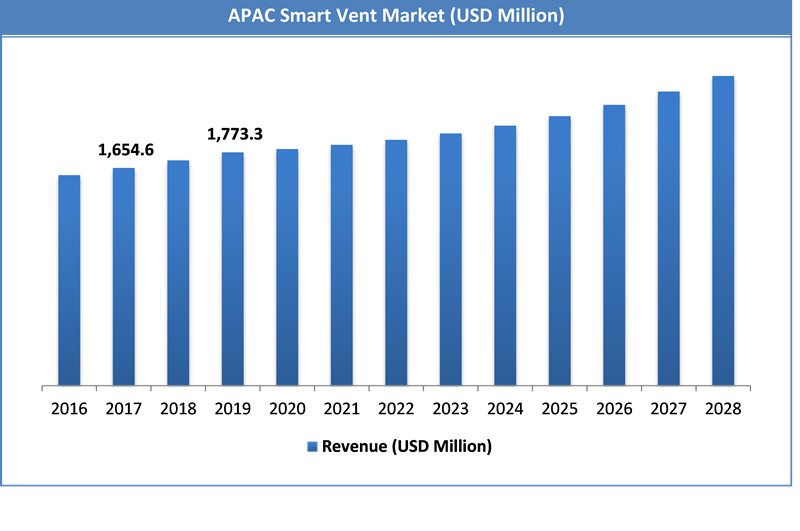 Request Free Sample
COVID-19 Impact Analysis
The COVID-19 pandemic has affected the sales of modern smart vent worldwide. Residential sector is the most influenced industry after the commercial industry because of the spread of COVID-19. Due to slow down in the construction industry, and now due to lockdown due to COVID-19 has made further problems for the smart vent business.
Growth Factors
Air quality in and around a building is termed as Indoor Air Quality (IAQ). Comfort and health of a building's occupants rely on the IAQ eventually. The globally rising concerns of maintaining healthy IAQ to control health issues are fueling the smart vent market. Smart vents effectively enhance the natural air infiltration to prevent various health problems. Moreover, a smart ventilation system provides both qualitative and quantitative data required for demonstrating procedures that maintain the overall IAQ. Smart vents attenuate radon particle and prevent smoke entry at a reasonable cost. The global adoption of smart vents is rising to reduce health costs in airtight infrastructure with inadequate ventilation systems. Low awareness of various benefits offered by smart ventilation systems, such as reduced energy consumption, improvisation of IAQ (Indoor Air Quality), may restrain the smart vent market. Many developing economies are unaware of the importance of smart vents and are still relying on traditional ventilation methods. However, such traditional approaches are observed to be ineffective in the current scenario and are leading to severe health issues. Various emerging localities are unaware that smart vents are not only user-friendly with multiple customized options but also significantly help in lowering different respiratory health issues by maintaining an optimum IAQ level.
Report Scope:
End-Use Segment Analysis Preview
The global smart vent market is further sub segmented as residential and commercial. Residential contributes about 65% of the total market share for smart vent market.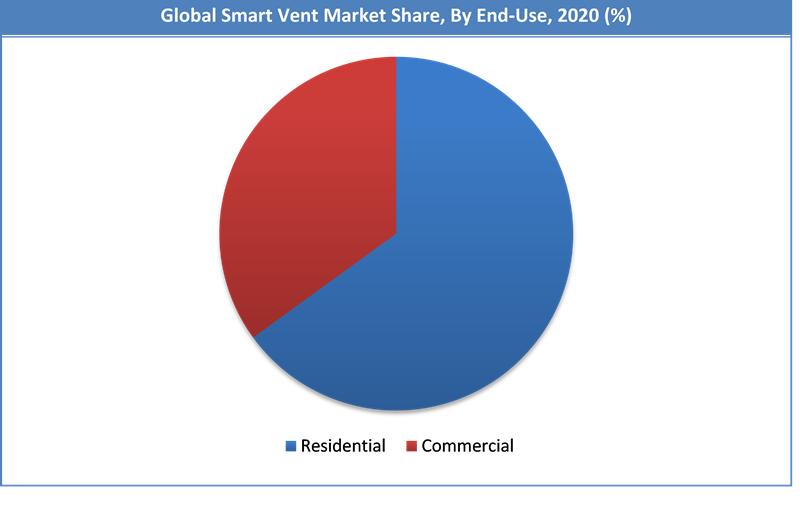 Request Free Sample
Installation Segment Analysis Preview
Globally Installation segment is further sub segmented as Floor, Ceiling, and Wall.
Regional Analysis Preview
The North American smart vent market is mainly driven by the rising applications of smart HVAC in residential and commercial sectors. The region's cold climate is getting colder with every passing year due to global warming. A smart HVAC system in North American countries is mainly utilized for warming the room to optimum temperature. Smart ventilation for ceilings is widely opted in the U.S., Canada, and Mexico for warming house roofs. In October 2018, construction spending in the U.S. exceeded over USD 1.31 trillion. The flourishing construction industry is significantly fueling the smart vent market in the region. The U.S. will hold the largest market share, due to the developing smart home construction industry.
The Asia Pacific is a major smart vent market globally, due to the rising smart home constructions and building automation and global warming. Developing Asia Pacific economies of China and India are opting for technically-advanced and eco-friendly solutions like variable refrigerant flow technology. Furthermore, various government regulations, like the Indian Bureau of Energy Efficiency and Labeling Standards, have mandated builders to use smart HVAC devices in their infrastructural projects. Due to the growing global warming, governments of Asia Pacific countries are implementing strict rules for making overall ventilation systems more energy-efficient and eco-friendly along with reducing costs and energy consumption. China is projected to hold the largest smart vent market share, due to its flourishing building automation sector in the upcoming years.
The rising energy-efficient devices demand in European countries is driving the region's smart vent market. European countries are opting for smart ventilation systems for warming their homes. Moreover, the smart vent market will generate lucrative opportunities in Europe over the forecast time period, owing to rising technological enhancements that have resulted in IoT integration with smart vents. Germany will dominate in this regional market, owing to the growing number of smart homes.
Key Market Players & Competitive Landscape
Some of key players in smart vent market are SR Electrical, DCI Products, Ecovent Systems, Enerbee, Flair, IPS Roofing Products, Keen Home (ConnectM Technology), Nest Labs, Rowan, Dron Electrical, San Mao Technology, and among others
July 2019, ConnectM Technology Solutions acquired Keen Home.
April 2020, Flair Smart Vent and Honeywell Home started working in smart vent new technologies.
The global smart vent market is segmented as follows:
By End-Use
By Installation
By Region
North America
Europe

France
The UK
Spain
Germany
Italy
Rest of Europe

Asia Pacific

China
Japan
India
South Korea
Southeast Asia
Rest of Asia Pacific

Latin America

Brazil
Mexico
Rest of Latin America

Middle East & Africa

GCC
South Africa
Rest of Middle East & Africa