Smart Gas Market: Overview
The Global Smart Gas Market accounted for USD 11,785.8 Million in 2020 and is expected to reach USD 60,154.5 Million by 2028, growing at a CAGR of 24.8% from 2021 to 2028.
The term smart gas refers to the proper monitoring of gas utilities remotely. There are devices installed on the gases so as to provide the real-time information to the customer, manufacturers and distributors. Smart meters aids in the collection, storage, and transmission of meter data to the central server. The market for global smart gas is being driven by rising energy demand, rapid urbanization, and technological advancements. Analytics and Data Management, Remote Monitoring, Geographic Information System (GIS), Asset Management, Network and Application Security are all part of Smart Gas Solutions. Hence the smart gas is increasing at phenomenal rate.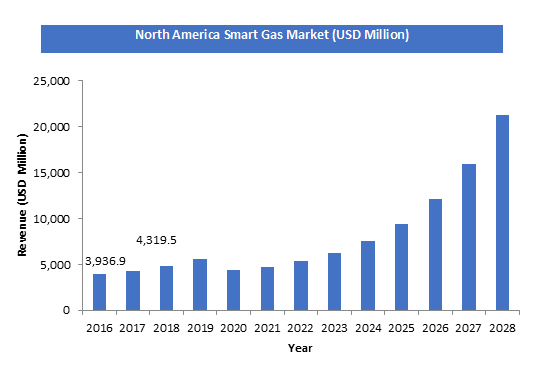 Request Free Sample
COVID-19 Impact Analysis
As a result of the COVID-19 outbreak, the market for smart gas meters is expected to decline in 2020. The COVID-19 pandemic has slowed the power industry's growth, as many countries have implemented nationwide lockdowns to prevent the virus from spreading further. According to the IEA report, Energy Efficiency 2020, global progress on using more efficient energy sources has slowed as a result of the economic impacts of the novel coronavirus disease (COVID-19). However, in some countries, electricity use in residential buildings increased by 20% in the first half of 2020, while it decreased by about 10% in commercial buildings. As a result of the increased time spent at home as a result of the pandemic, energy consumption has increased, resulting in significant and complex shifts in energy demand. With the reduction in industrial power demand, utilities are expected to invest very little in the replacement of aging grid infrastructure and new installations.
Smart Gas Market: Growth Factors
The growing urge to reduce energy losses and the need to improve energy security are also seen as major drivers of market growth. The increased adoption of gas, as well as numerous regulatory policies implemented in many regions, should be viewed as a market growth opportunity. Digitalization has accelerated across multiple industries, including gas and electricity, due to the growing adoption of IoT. Grid operators and energy companies can now provide modern energy services due to enhanced IoT communication networks. In addition to high data processing capacity and IoT, digitalization includes hybrid cloud infrastructure, which will allow networks to be managed in a more flexible and efficient manner. For example, Microsoft (US) and SNAM (Italy) launched the first joint project on IoT and cloud for the technological and long-term development of energy networks in August 2020.
Report Scope :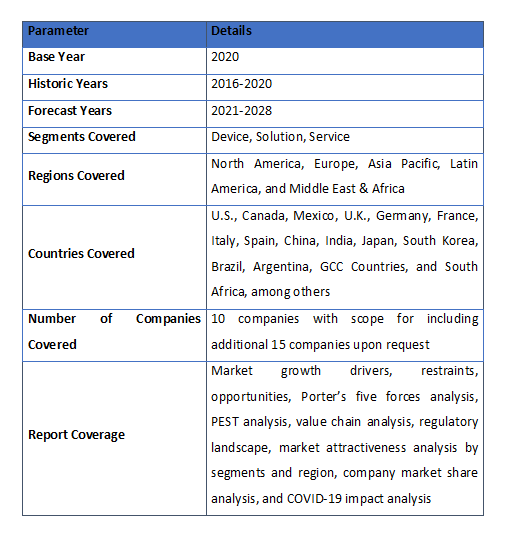 Request Free Sample
Device Segment Analysis Preview
Due to its cost effective and preference for smaller utilities, the Automatic Meter Reading (AMR) meters device segment is expected to have the largest market share during the forecast period, owing to benefits such as accurate meter readings and improved & transparent billing processes. The second type of type includes advanced Meter Infrastructure which is the combined and enhanced form of the AMR and has the industrial usage.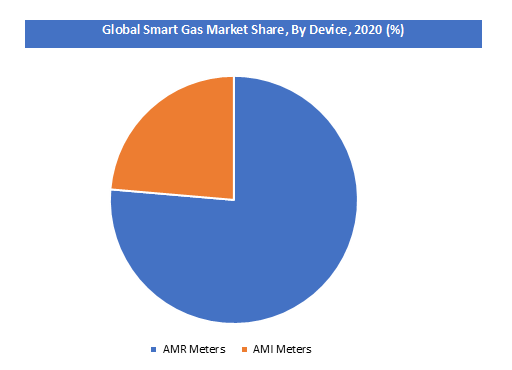 Request Free Sample
Solution Type Segment Analysis Preview
The remote monitoring solution segment is expected to grow at the fastest CAGR of about 14.1% during the forecast period, owing to the rising demand for critical functionalities such as asset tracking and real-time data during gas operations that this solution provides. Frequently used technology for smart meter is Geographic Information Systems (GIS) which is a framework for gathering, managing and analyzing the data related to earth's surface. It basically involves the geographical and 3D data. Various other kinds are SCADA, Asset Condition Monitoring and Performance Management, MDM, Outage Management & Remote Monitoring, among others form the Solution Type Segment.
Smart Gas Market: Regional Analysis Preview
North America accounted for a share of 37.56% in 2020 with a CAGR of 23.9% during the forecast period. North America has the highest installation rate (over 50%) of AMR devices. Several utilities in the United States have embarked on advanced smart gas schemes in recent years, with the primary goal of deploying second-generation advanced metering infrastructure, communication modules, asset management, workforce management, security features, analytics, and Meter Data Management (MDM).
Request Free Sample
Due to various regulatory policies in Europe that have resulted in the positive development of the smart gas market, Europe is expected to show significant growth during the forecast period. Due to the simultaneous roll-out of energy meters, supported by current infrastructure, the United Kingdom now has the largest single country share in Europe. China and India have also shown very good growth during the period. This is due to development across various industries in the region.
Smart Gas Market: Key Players & Competitive Landscape
Some of key players in smart gas market are Aclara Technologies LLC, ABB Group, Cap Gemini S.A., Badger Meter, Inc., Diehl Stiftung & Co. KG, CGI Group Inc., Elster Group SE, General Electric Company, International Business Machines Corporation, Itron, among others. The companies are looking forward to establish gas plants, invest in R&D, launching newer technical advancements along with collaborations and mergers. For instance, Liberty Utilities Company awarded Itron a contract for OpenWay Riva, an Internet of Things (IoT) solution that includes an open, standard-based network for gas, electricity, and water, in June 2019. Liberty Utilities was able to improve operations and improve the customer experience thanks to the solution. To ensure the network's smooth implementation and operation, Itron also provided managed services and cloud hosting services.
The global smart gas market is segmented as follows:
By Device
By Solution
GIS
SCADA
Asset Condition Monitoring
MDM
Outage Management
Remote Monitoring
By Service
By Region
North America
Europe

France
The UK
Spain
Germany
Italy
Rest of Europe

Asia Pacific

China
Japan
India
South Korea
Southeast Asia
Rest of Asia Pacific

Latin America

Brazil
Mexico
Rest of Latin America

Middle East & Africa

GCC
South Africa
Rest of Middle East & Africa