Abstract
According to the report published by Zion Market Research, global demand for Real-Time Payments market was valued at approximately USD 7.1 Billion in 2019, and is expected to generate revenue of around USD 55.5 Billion by end of 2026, growing at a CAGR of around 29.8% between 2020 and 2026.
Global Real-Time Payments Market: Overview
Real-time payments refers to the electronic or digital payment technologies that allow the transaction to be approved in real time or immediately and the funds to be credited to the payee 's account and subsequently reported to the payer. Convenience and quicker availability of funds and the reception of money transfer provided by these systems are gaining popularity among end-users as well as service providers. It is an on-going payment service that can be made available at any time and for any period. Real-time payment can be conducted from a wide variety of apps and computers, such as tablets, laptops, mobile applications and digital wallets.
Global Real-Time Payments Market: Growth Factors
Increasing smartphones penetration, along with increasing demand for pay-now facility are among the major factors propelling growth of the real-time payments market. In addition to this, growing need for fast and secure instant payment gateways is another factor expected to fuel growth of the target industry in the near future. Furthermore, real-time payment systems are majorly used in the banking, financial services sectors and growing digitalization among multiple areas are in turn fuelling the global market growth. However, increasing market competition may hamper growth of the global market in the coming years. Nevertheless, technological advancements and improving changes in regulatory framework may create huge growth opportunities in future.
Global Real-Time Payments Market: Segmentation
The real-time payments market is segmented based on payment type, deployment mode, component, application. Based on payment type the market is divided as Person-to-Person (P2P), Person-to-Business (P2B), Business-to-Person (B2P), Business-to-Business (B2B), and Others. By Deployment Mode, the global market is segregated as on-premises and cloud. On the basis of component the global market is divided as services and solutions. Services segment is segmented as managed services, professional services and solutions segment is categorised as payment processing solution, payment gateway solution, payment security solution, fraud management solution. On the basis of application the global industry is divided as banking, financial services, and insurance (BFSI), information technology (IT) and telecom, healthcare and education, manufacturing and transportation, government and utilities, construction and retail, others.
Region-wise, the global market is segregated into North America, Europe, Asia Pacific, Latin America, and Middle East & Africa.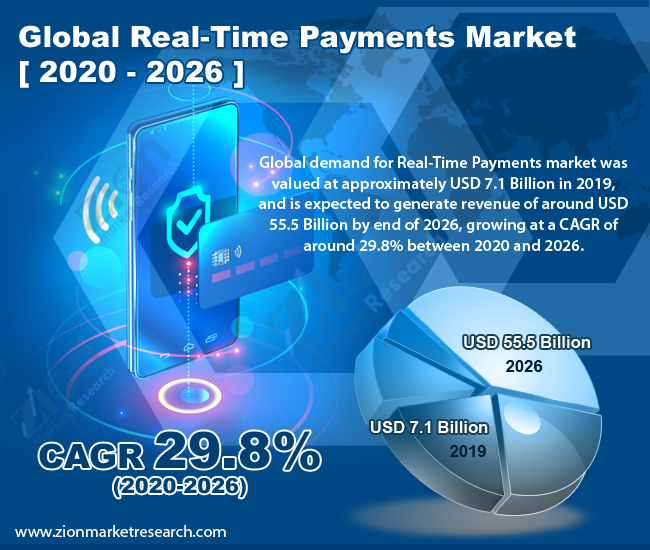 Global Real-Time Payments Market: Regional Analysis
The North America real-time payments market is projected to hold the significant share globally in the future, owing to the presence of major players, and increasing demand from various end use industries in the countries of North America. Further, penetration of smartphones and growing demand for pay-now facility are expected to fuel growth of the market in the Asia Pacific. The Europe real-time payments market is anticipated to grow at a rapid rate in the years ahead. This is due to increasing demand form banking, financial services and increasing digitalization in the countries of the region.
Global Real-Time Payments Market: Competitive Players
Some main participants of the real-time payments market are CI Worldwide, FIS, Fiserv, Mastercard, Worldline , PayPal , Visa, Apple, Ant Financial , INTELLIGENT PAYMENTS, Tmenos, Global Payments, IntegraPay, Obopay, Ripple , Pelican , Finastra, Nets , Montran , REPAY, and Icon Solutions among others.
Real-Time Payments Market: Regional Segment Analysis
North America
Europe

France
The UK
Spain
Germany
Italy
Rest of Europe

Asia Pacific

China
Japan
India
South Korea
Southeast Asia
Rest of Asia Pacific

Latin America

Brazil
Mexico
Rest of Latin America

Middle East & Africa

GCC
South Africa
Rest of Middle East & Africa
---
Frequently Asked Questions