Industry Prospective:
The global smart contracts market size was worth around USD 1750 Million in 2022 and is predicted to grow to around USD 9850 Million by 2030 with a compound annual growth rate (CAGR) of roughly 24% between 2023 and 2030. The report analyzes the global smart contracts market's drivers, restraints/challenges, and the effect they have on the demands during the projection period. In addition, the report explores emerging opportunities in the smart contracts market.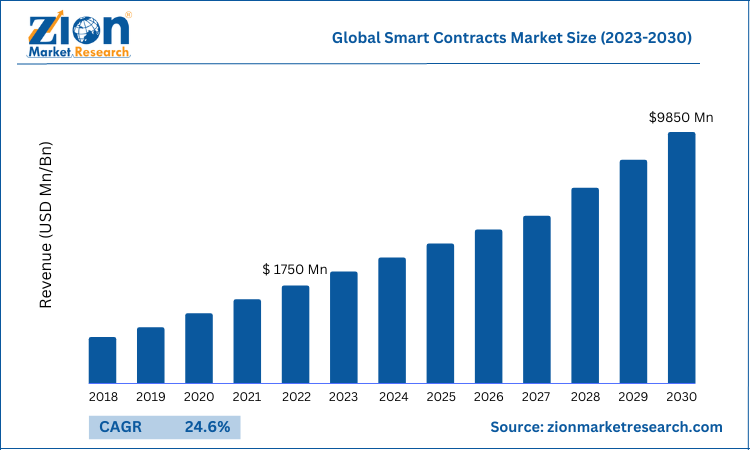 Request Free Sample
Smart Contracts Market: Overview
Smart contracts are advanced computer programs or transactional protocols dealing with the automatic and computerized execution or control of legally applicable actions or events as per contractual terms. Transaction Protocol Data Unit (TPDU) is a protocol based on packet switching and is designed to aid financial transactions that are processed over an X.25 network. Smart contracts are designed to eliminate any middlemen, reduce the number of mediators, avoid losses related to fraud, and eliminate extra costs, or any other unwanted accidental exceptions.
Cryptocurrencies play a crucial role in the use of smart contracts. The one developed by Ethereum, a decentralized, open-source blockchain is considered the most fundamental building block of applications related to decentralized finance (Defi). Vending machines are sometimes mentioned as the oldest and most commonly found form of smart contract implementation. However, smart contracts do not enjoy the authority of actual legal documents and are not considered as legally-binding documents by many institutes.
A large section of legal personnel considers smart contracts just a means of performing obligations that are derived from other agreements like technological methods associated with payments or other commitments related to the transfer of cryptocurrencies or tokens. Many scholars also argue that the declarative nature of the computer program associated with smart contracts may influence the validity of smart contracts. Ethereum smart contracts are written in a Turing-complete programming language Solidity and are compiled into low-level p-code which is then executed by Ethereum Virtual Machine. However, due to halting problems, the Turing-completeness process may be considered risky by many scholars and is avoided by Vyper language.
Key Insights
As per the analysis shared by our research analyst, the global smart contracts market is estimated to grow annually at a CAGR of around 24% over the forecast period (2023-2030).
In terms of revenue, the global smart contracts market size was valued at around USD 1750 million in 2022 and is projected to reach USD 9850 million, by 2030. Due to a variety of driving factors, the market is predicted to rise at a significant rate.
Based on end-user industry segmentation, the government was predicted to show maximum market share during the forecast period
Based on technology segmentation, Ethereum was the leading revenue-generating segment in 2022.
On the basis of region, North America was the leading revenue generator in 2022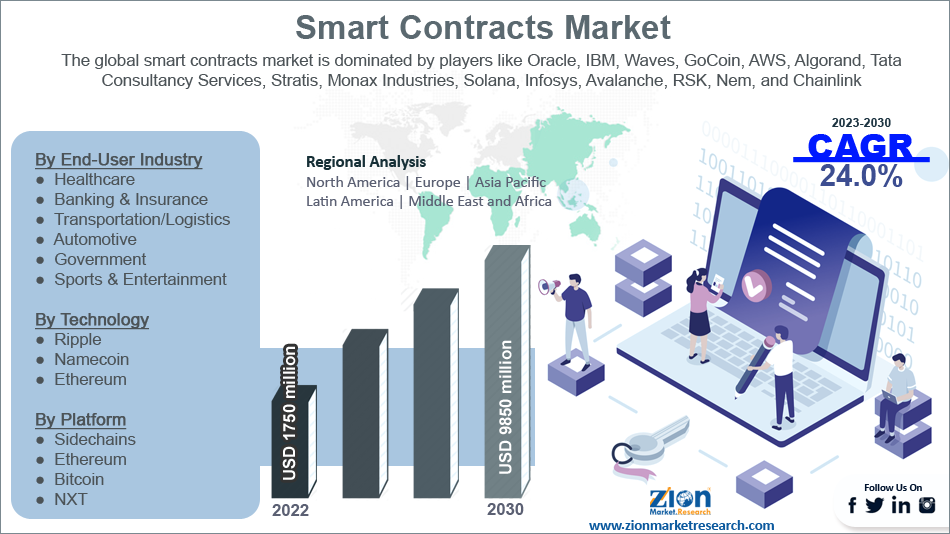 Request Free Sample
To know more about this report, Request a sample copy
Covid-19 Impact:
The adoption of smart contracts received a positive push during the Covid-19 peak. Since the virus was able to detect and reveal limitations in the healthcare sector especially pertaining to the way patients' data and payment was handled, many medical facilities witnessed a high adoption rate for smart contracts in order to deal with these problems. As per research conclusions, blockchain technology can be efficiently used for secure storage and retrieval of patient data.
Smart Contracts Market: Growth Drivers
Rise in adoption of smart contracts across sectors to propel market growth
The global contracts market cap is expected to witness significant growth owing to the rising population and adoption of smart contracts across sectors like banking, supply chain, real estate, insurance, and government. As per Statista, over USD 6.6 billion was spent on blockchain solutions in 2021. These transaction protocols have proven to be extremely useful in the banking sector which is an exponentially growing segment and one of the largest consumers of smart contracts.
Many banks use blockchain technology or smart contracts to avoid identity theft which is a highly prevalent problem in the sector causing banks to lose billions of money. In order to prevent identity theft or to prevent cybercriminals from gaining access to the personal data of bank customers, smart contracts can provide the necessary solution including a highly regulated electronic signature service thus creating an extra layer of protection.
Smart contracts can also be used to automate and standardize operational procedures like Know Your Customer (KYC) processes thus reducing manual work and optimizing the efficiency of the process. These technologically driven contracts also aid communication and transparency in banking transactions by allowing for monitoring everything related to account openings or everyday financial transactions. Such massive applications in one of the strongest industries are expected to aid global market expansion.
Smart Contracts Market: Restraints
The advanced coding used in creating smart contracts to restrict the market growth
Smart contracts are exceptionally advanced tools driven by complex programming languages or coding methods. Any small error in the code may result in complete failure of the development of the smart contract. Tracking and changing the erroneous code may become extremely time-consuming. There is also a lack of standardization or interchangeability of the programming code in the development process resulting in the creation of multiple loopholes which is anticipated to restrict smart contract industry growth trends during the forecast period.
Smart Contracts Market: Opportunities
Benefits offered by smart contracts in every sector to provide expansion opportunities
Some of the most common and regular benefits offered by smart contracts include high speed and extremely secure ways of transaction that save cost and time. These basic benefits are offered in every sector and if this technology can be customized to meet the exceptional needs of different industries, the system has the potential to dominate the technology market. Smart contracts eliminate the need for human intervention in repetitive operations thus allowing them the time to work on high-quality work which is projected to provide global smart contract market expansion opportunities.
Smart Contracts Market: Challenges
Lack of skilled professionals to challenge market cap growth
There is a significant dearth in the availability of skilled professionals capable of handling and maintaining such advanced engineering which may create challenging situations for smart contract industry growth. Skilled professionals are needed to not just develop more technologies but to also aid the upgrading of existing technology and make them more user-friendly. Even the institutes deploying smart contracts need in-house personnel to help them navigate through the deployment process to improve overall effectiveness.
Smart Contracts Market: Segmentation
The global market is segmented based on end-user, technology, platform, and region.
Based on the end-user industry, the global market segments are healthcare, banking and insurance, transportation/logistics, automotive, government, and sports & entertainment. The largest market share was held by the government sector in the year 2022 with over 36.67% and a market value of USD 53 million. The supply chain managed to generate a market value of USD 37 million in 2020
By technology, the global market segments are ripple, namecoin, and Ethereum. In 2022, Ethereum led the segmental growth with around 43% of the global market share and a value of USD 62.35 million.
By platform, the global market is segmented into sidechains, Ethereum, bitcoin, and NXT. Ethereum generated a revenue of USD 52.6 million and held a market share of 36.3% in 2022. Bitcoin was the second in the segment with an overall value of USD 42 million, in the same year.
Recent Developments:
In March 2022, Grayscale Investment, a leading digital currency asset manager, announced the launch of funds aimed at the development of smart contract platforms which will contain 7 Ethereum competitors like Solano (SOL), Polkadot (DOT), Avalanche (AVAX), Cardona (ADA), Alogrand (ALGO), Polygon (MATIC), and Stellar (XLM). Grayscale announced the inclusion of Ethereum because of the growing demand in the industry for other blockchain networks.
In September 2021, Cardona managed to successfully launch smart contracts after years of hard work. The company introduced Plutus-powered smart contracts scripts to the world. The completed Alonzo hard fork was due in the long-awaited smart work functionality of Cardona.
In June 2020, Data Gumbo and PrairieDog Venture collaborated to aid the use of smart contracts for changing capital projects. The collaboration intends to address industry concerns related to informational and transactional friction concerning capital projects, maintenance, and turnarounds across commercial, infrastructural, and industrial sectors.
Smart Contracts Market Report Scope:
Report Attributes
Report Details
Report Name
Smart Contracts Market Research Report
Market Size in 2022
USD 1750 Million
Market Forecast in 2030
USD 9850 Million
Compound Annual Growth Rate
CAGR of 24%
Number of Pages
214
Forecast Units
Value (USD Million), and Volume (Units)
Key Companies Covered
Oracle, IBM, Waves, GoCoin, AWS, Algorand, Tata Consultancy Services, Stratis, Monax Industries, Solana, Infosys, Avalanche, RSK, Nem, and Chainlink
Segments Covered
By End-User Industry, By Technology, By Platform, And By Region
Regions Covered
North America, Europe, Asia Pacific (APAC), Latin America, Middle East and Africa (MEA)North America, Europe, Asia Pacific (APAC), Latin America, Middle East and Africa (MEA)
Countries Covered
North America: U.S and Canada
Europe: Germany, Italy, Russia, U.K, Spain, France, Rest of Europe
APAC: China, Australia, Japan, India, South Korea, South East Asia, Rest of Asia Pacific
Latin America: Brazil, Argentina, Chile
The Middle East And Africa: South Africa, GCC, Rest of MEA
Base Year
2022
Historical Year
2017 to 2021
Forecast Year
2023 - 2030
Customization Scope
Avail customized purchase options to meet your exact research needs. Request For Customization
Smart Contracts Market: Regional Analysis
North America to generate the highest revenue during the forecast period.
The global smart contracts market is expected to be dominated by North America with the largest global market share of 43.5%. In 2020, North America owned over 41% of global market revenue and within two years the market share jumped by almost 2%. This growth can be attributed to the presence of multiple key players in the region and an overall high rate of acceptance of advanced technologies as compared to other economies.
The US government along with private sector players are known to invest in upgrading technologies and almost all of the major players have originated in the US. In 2020, as per a CNBC report, American citizens earned over 4 billion. This is an indication of high digital technology penetration depth in the North American market
Asia-Pacific is also anticipated to generate high revenues majorly driven by countries like India, China, Singapore, Japan, and South Korea. The regions have been moving towards infrastructural developments where smart contacts can play a crucial role. Asian countries have always shown less resistance to the adoption of cryptocurrencies or digital technology as compared to other regions. This positive approach may aid regional growth during the forecast period.
Smart Contracts Market: Competitive Analysis
The global smart contracts market is dominated by players like:
Oracle
IBM
Waves
GoCoin
AWS
Algorand
Tata Consultancy Services
Stratis
Monax Industries
Solana
Infosys
Avalanche
RSK
Nem
Chainlink
The global smart contracts market is segmented as follows:
By End-User Industry
Healthcare
Banking & Insurance
Transportation/Logistics
Automotive
Government
Sports & Entertainment
By Technology
By Platform
Sidechains
Ethereum
Bitcoin
NXT
By Region
North America
Europe

France
The UK
Spain
Germany
Italy
Rest of Europe

Asia Pacific

China
Japan
India
South Korea
Southeast Asia
Rest of Asia Pacific

Latin America

Brazil
Mexico
Rest of Latin America

Middle East & Africa

GCC
South Africa
Rest of Middle East & Africa