Blockchain-as-a-Service Market Size
The global Blockchain-as-a-Service market size was approximately $2.1 billion in 2020 and is expected to be worth approximately $26.2 billion by 2028, with a CAGR of nearly 40.1% from 2021 to 2028.
The report offers assessment and analysis of the Blockchain-as-a-Service Market on a global and regional level. The study offers a comprehensive assessment of the market competition, constraints, revenue estimates, opportunities, evolving trends, and industry-validated data. The report provides historical data from 2018 to 2020 along with a forecast from 2021 to 2028 based on revenue (USD Billion).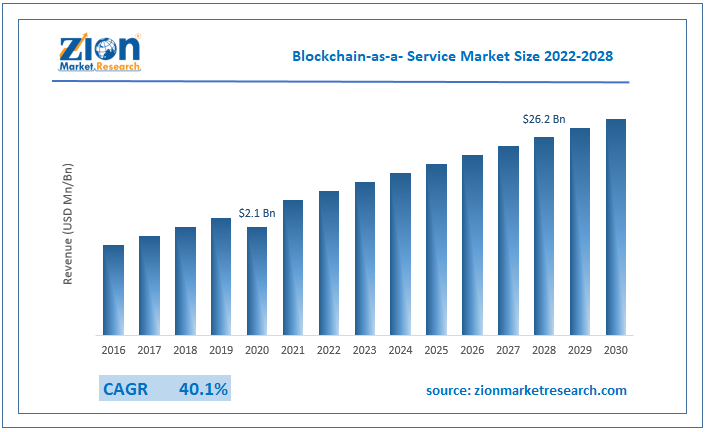 Request Free Sample
Blockchain-as-a-Service Market: Overview
In blockchain-as-a-service, firms make use of cloud solutions along with creating, hosting, and installing blockchain applications & utilities. Additionally, blockchain is a next-gen solution tool for customers, firms, and authorities for effectively connecting with each other as well as interacting in secured manner quickly with other users. Furthermore, blockchain technology is utilized in a slew of industries such as healthcare, consumer products, financial services, life sciences, manufacturing, and public utilities. This is projected to enlarge scope of growth of blockchain-as-a-service market over forecasting timeframe. Moreover, blockchain-as-a service helps in enhancing operations as well as operability of auto lending, bancasurance, cross-border payments, crypto tags, customer onboarding, EduScrypt, digital onboarding, fraud detection, Know Your Customer utility, digital onboarding integrated with KYC, and fund distribution activities. Apart from this, it improves transaction reporting, wholesale fund distribution, trade financing, and reinsurance contract activities.
Blockchain-as-a-Service Market: Growth Drivers
Rise in demand for BaaS owing to COVID-19 pandemic along with escalating requirement of supply chain transparency across different business verticals will create new growth avenues for blockchain-as-a service market. Apart from this, massive need of reducing risks and necessity of improving efficiency of financial deals will drive market trends. Large-scale use of connected things and supportive government initiatives will protrude volume of blockchain-as-a-service market growth in ensuing years. Huge acceptance of blockchain-as-a service platform across small & medium enterprises will prove beneficial for expansion of blockchain-as-a service industry. Furthermore, increase in investment in large number of ventures depending on blockchain technology in nations such as the UK, Japan, and the U.S. will unravel new growth dimensions for blockchain-as-a-service industry in years ahead.
Report Scope:
Moreover, need for strong security and efficient functioning of BFSI sector will define growth of industry in ensuing years. Huge demand for high scalability, transaction speed, and low processing costs is likely to culminate into lucrative growth of blockchain-as-a service market over forecasting period. Growing need for automating manual processes, claims processing, and contract systems or tools will leverage blockchain-as-a- service industry space. However, blockchain requires high capital funding for deployment & maintenance. It also consumes massive proportion of power & high internet bandwidth and is less utilized in emerging economies. These are some of the factors that can stagnate & truncate growth of blockchain-as-a-service market.
Regional Landscape
North America To Make Huge Revenue Contributions Towards Global Market By 2028
Growth of blockchain-as-a- service market in North America over 2021-2028 is due to increase in use of blockchain technology in software firms as well as financial institutions such as banks and insurance sectors across countries such as Canada and the U.S. Thriving e-commerce and online retail activities will contribute enormously towards regional market proceeds over forecast timespan. Growing demand for real-time processing of financial transactions in small as well as medium-scale firms in countries such as the U.S. will propel scope of regional market growth in coming decade.
Competitive Landscape
Key players profiled in report and playing a prominent role in growth of market include Microsoft Corporation, Ardor Nxt Group, IBM Corporation, SAP SE, Amazon Web Services, Inc., The Hewlett Packard Enterprise Company, Consensys, Deloitte Company, Infosys Limited, Huawei Technologies Co., Ltd., Accenture plc, and Oracle Corporation.
The global Blockchain-as-a-Service Market is segmented as follows:
By Application
Payment
Supply Chain Management
Identity Management
Governance
Risk
Compliance Management
By Vertical
BFSI
IT & Telecom
Healthcare
Retail
Manufacturing
Logistics
Government
Media & Entertainment
Energy & Utilities
By Component
By Region
North America
Europe

France
The UK
Spain
Germany
Italy
Rest of Europe

Asia Pacific

China
Japan
India
South Korea
Southeast Asia
Rest of Asia Pacific

Latin America

Brazil
Mexico
Rest of Latin America

Middle East & Africa

GCC
South Africa
Rest of Middle East & Africa