Smart Appliances Market: Industry Prospective
The size of the global smart appliances market is expected to grow at the rate of 17.85% CAGR during the forecast period from USD 33.46 billion in 2021 to approximately USD 77.14 billion in 2028. This report discusses market research on the smart appliances market, its market growth factors, and its challenges. The report also talks about the opportunities available to stakeholders and potential investors in the smart appliances market, discussing the recent changes due to the pandemic.
Smart Appliances Market: Overview
Appliances that are connected to a central system and can be programmed & controlled remotely or autonomously using electronic systems such as sensors, IoT, lights, etc. are categorized under smart appliances. A smart appliance is a more advanced version of a traditional appliance that is controlled by a network of linked devices. Tablets, computers, and smartphones are examples of linked gadgets that are designed to provide greater control and information. Advanced smart appliances are studied and created to function according to the needs of the user, and the user is told when it is time to turn them off. Smart appliances include an energy-efficient function that allows the end-user to operate with little power usage.
COVID-19 Impact:
The global smart appliance market's growth pace has slowed as a result of the COVID-19 outbreak. It has had a beneficial and bad impact. Due to the COVID-19 pandemic, demand for smart appliances such as refrigerators, washing machines, and other similar items has increased. Because the majority of the population now works from home, spending more time at home necessitates a large number of appliances that can complete tasks quickly compared to traditional methods. People, on the other hand, are primarily concerned with fundamental necessities. The retail business, as well as the smart appliance market, is projected to suffer as a result of this consumer buying mentality. Due to stalled production, all areas' manufacturing capacities have been harmed, and the supply of products from producers to end consumers has dramatically decreased.
Smart Appliances Market: Growth Drivers
Introduction of new technologies and access to the internet to boost the market growth
Smart appliances must be connected to the internet to provide consumers with 'smart' functions. Smart appliances would cease to be 'smart' if they lack additional features and functions, which always necessitate an internet connection. Smart appliances have become more accessible as the internet has grown in popularity. Furthermore, the number of smartphone users has skyrocketed in recent years. Another development driving the market is the introduction of new technologies and compact devices that occupy less space but provide improved functionality. Users are drawn to smart appliances because of the ease with which they can monitor them using their smartphones or tablets. It's a huge benefit to be able to link all of your household appliances over the internet with a single interface.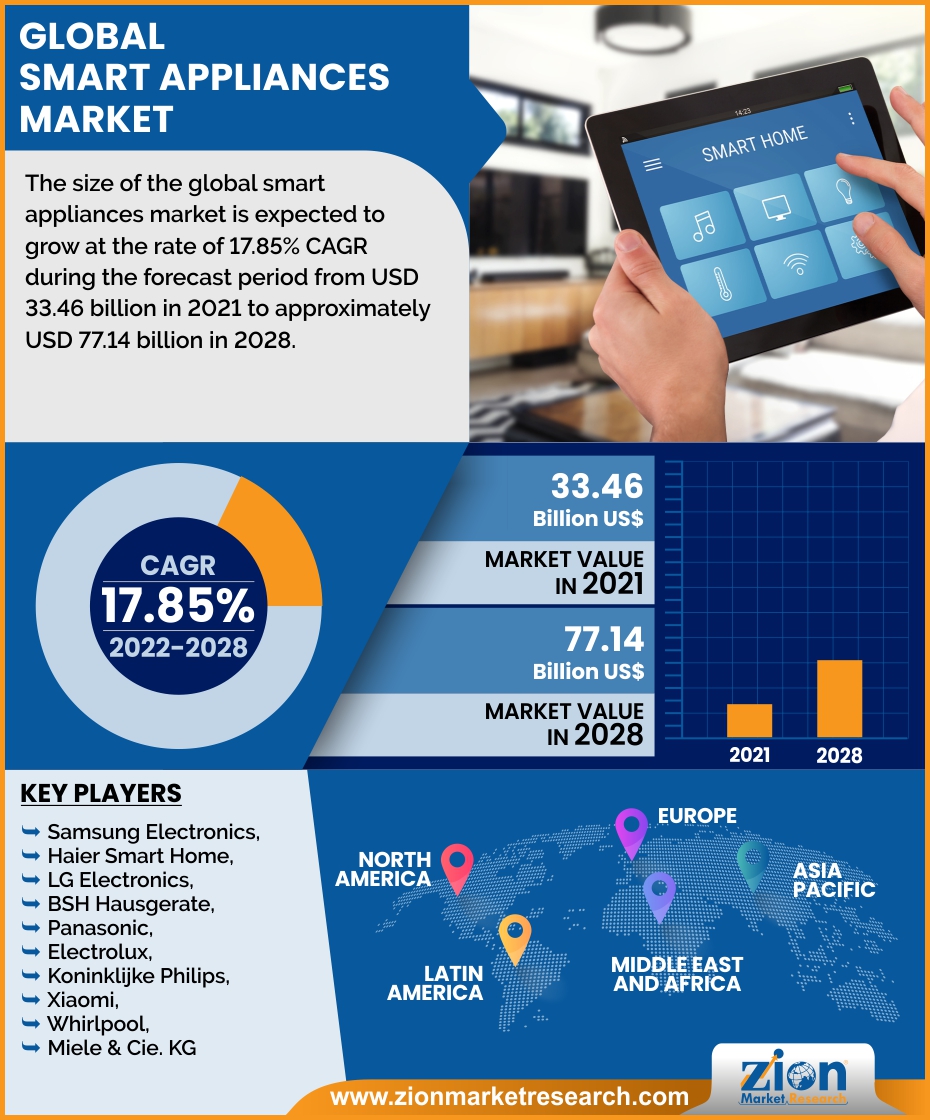 Request Free Sample
Smart Appliances Market: Restraints
Hacking and privacy issues are expected to restrict the market growth
Users of smartphones and the internet are concerned about the possibility of their personal information, such as their name, email address, home address, date of birth, and credit card credentials, being shared and seen. Furthermore, smart appliances are mostly managed by smartphone applications developed by emerging firms; corporations gather user data through these applications, further raising consumer concerns about data privacy. As a result, privacy issues might be a stumbling block to the expansion of the global smart appliance market.
Smart Appliances Market: Opportunities
Work-from-home culture and requirement to automate chores
People have begun to stay at home since the advent of the COVID-19 epidemic. As a result, in the last year, people's reliance on the internet and digital devices has grown. Because individuals aren't going out as much, key day-to-day spending has plummeted. People's discretionary income has grown as a result of this. Furthermore, because people are remaining at home, smart gadgets are being utilized more than before the epidemic. This opens up a lot of potential for smart appliance makers and suppliers to come up with more unique and user-friendly features in their products to attract customers.
Smart Appliances Market: Challenges
Durability and compatibility issues among appliances pose challenges to market growth
Many manufacturers are working on various systems that use a variety of technologies for smart appliances. It is simple to integrate and connect devices from the same manufacturer or vendor; however, linking systems from multiple manufacturers or suppliers is a time-consuming job that might result in restricted functionality and unreliable services, in addition to incompatibility difficulties. Secondly, in the era of plastics and new production materials, several appliances are delicate and not durable. As a result, lack of durability and the problem of device compatibility poses a hindrance to the market's growth.
Smart Appliances Market: Segmentation Analysis
The global smart appliances market is divided into three categories, namely technology, sales channel, end usage, and region. In terms of technology, four main segments exist namely Wi-Fi, Bluetooth, NFC, and Others.
In terms of sales channels, two main segments exist, which are online sales and offline sales. With the rising trend towards online purchases and COVID-19 restrictions, people have been inclined towards the online sales segment, purchasing products online, rather than offline stores. This segment promises the potential for the smart appliance market.
In terms of end-user, this market can be divided into residential and commercial. The residential segment is expected to grow widely, given the increased number of work-from-home employees looking to make life easier. The change in lifestyle and mass population opting for luxury smart appliances will also fuel this growth.
Report Scope:
Recent Developments
In 2021, LG Electronics released the LG CordZeroThinQ A9 vacuum cleaner equipped with two special modes with moping for a hassle-free cleaning experience. The cordless feature became a revolution in the vacuum cleaner market.
In 2020, Haier Smart Home launched a new rooftop air conditioner with a heat pump and a high-efficiency product. The heat from the outside is piped into the interior of RVs using the new AC to support furnace running revolutionizing the competition in the air conditioning market.
Smart Appliances Market: Regional Landscape
North America is likely to govern the global smart appliances market during the forecast period. The United States and Canada, out of all the areas, are seen to have a growing adoption rate of IoT devices and achieving the position of leading countries in the region. Furthermore, due to the high demand rate, Asia Pacific is expected to be the fastest-growing area in the smart appliances market, yielding the most profit. In the Asia Pacific region, the smart appliance manufacturing market in India, South Korea, Japan, and China is constantly expanding.
Smart Appliances Market: Competitive Landscape
Samsung Electronics, Haier Smart Home, LG Electronics, BSH Hausgerate, Panasonic, Electrolux, Koninklijke Philips, Xiaomi, Whirlpool, and Miele & Cie. KG are among the global smart appliances market's major players.
The global smart appliances market is segmented as follows:
By Technology
By Sales
Online Sales
Offline Sales
By End Usage
By Region
North America
Europe

France
The UK
Spain
Germany
Italy
Rest of Europe

Asia Pacific

China
Japan
India
South Korea
Southeast Asia
Rest of Asia Pacific

Latin America

Brazil
Mexico
Rest of Latin America

Middle East & Africa

GCC
South Africa
Rest of the Middle East & Africa