Free Analysis
Smart appliances are the type of next-generation connected equipment that is designed in such a way which can be controlled with the command from the central system as well as it communicates to other appliances in the network. These connected devices allow the user to manage the appliances of home and kitchen from any place of the house, with the help of a mobile, computing devices, or some kind of network which connects the user to these devices.
According to the U.S. Energy Information Administration, the global energy demand will increase to nearly 38% by 2040. Increasing use of appliances in homes and kitchens has led to higher consumption of energy, thus, challenging the power companies to produce more amount of electricity. In such circumstances, acceptance of smart appliances increases, since they provide real-time communication so as to operate the device in lower frequencies or by shifting the operation time to off-peak periods. Thereby, smart appliances are offering innovative control features to service providers as well as consumers with enhanced security, efficiency, and convenience.
Based on the product, smart appliances market is segmented into smart home appliances and smart kitchen appliances. Smart home appliances are further categorized into smart washer; smart dryer; smart air conditioner; smart lighting devices; smart vacuum cleaners; smart security devices; and smart water heaters and smart kitchen appliances are further fragmented into smart refrigerators; smart coffee maker; smart kettle; smart dishwashers; smart oven; smart cooker; and others. Based on technology, the smart appliances market is segmented Wi-Fi, Bluetooth, and NFC.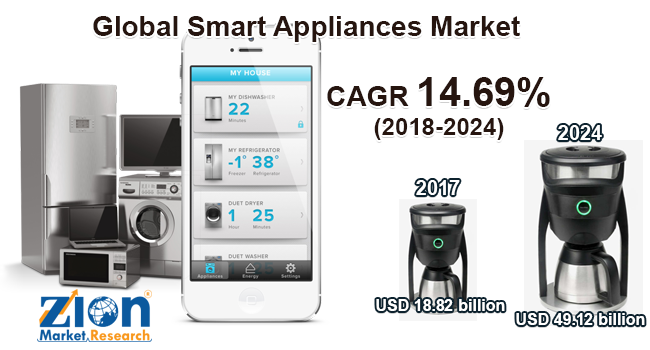 North America is projected to hold a major share in the smart appliances market. This is attributed to the changing preferences of consumers and the growing number of smart grid projects together with the subsequent rise in the purchasing power of the consumers. Additionally, increasing government initiatives to adopt energy-efficient devices is another key factor driving the industry growth over the forecast period, due to changing lifestyles of people along with increasing awareness pertaining to the benefits of these devices. The Asia Pacific is also anticipated to grow at a considerable CAGR over the forecast period.
Some of the key players in smart appliances market include as Electrolux AB, General Electric Co., Koninklijke Philips N.V., BSH Hausgerate GmbH, LG Electronics, Inc., Miele & Cie. KG, Panasonic Corp., Qingdao Haier Co. Ltd., Samsung Electronics Co. Ltd., and Whirlpool Corp.