Road Sweeper Industry Prospective:
The global road sweeper market size was worth around USD 4.38 billion in 2022 and is predicted to grow to around USD 6.21 billion by 2030 with a compound annual growth rate (CAGR) of roughly 4.49% between 2023 and 2030.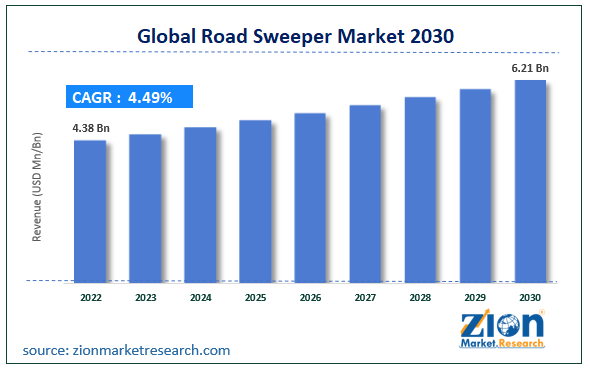 Request Free Sample
Road Sweeper Market: Overview
Road sweepers are machines used for maintaining sanitation and cleanliness on roads. These mechanical tools are specially designed to maintain hygiene on public access streets or roads. These sweepers are mostly located in urban areas however, the growing necessity of improved sanitation and hygiene in rural areas has led to higher deployment of road sweepers in remote locations as well. They are used for several purposes including dirt, chemicals, trash, motor oil, and other environmental contaminants. They are deployed before these agents reach rivers, and lakes or enter drainage systems. Several countries spend extensive amounts of resources on using advanced road sweepers to pick up trash in large volumes. The market for road sweepers is subject to several government regulations, especially in countries with widespread use of these cleaning tools. The forecast period is expected to provide promising growth avenues however, certain aspects of road sweepers may lead to delays in the road sweeper industry picking up growth momentum.
Key Insights:
As per the analysis shared by our research analyst, the global road sweeper market is estimated to grow annually at a CAGR of around 4.49% over the forecast period (2023-2030)
In terms of revenue, the global road sweeper market size was valued at around USD 4.38 billion in 2022 and is projected to reach USD 6.21 billion, by 2030.
The road sweeper market is projected to grow at a significant rate due to the rapidly growing urbanization rate
Based on product type segmentation, truck mounted sweeper was predicted to show maximum market share in the year 2022
Based on end-users segmentation, municipal was the leading segment in 2022
On the basis of region, Europe was the leading revenue generator in 2022
Road Sweeper Market: Growth Drivers
Rapidly growing urbanization rate worldwide to drive market growth
The global road sweeper market is expected to grow due to the increasing rate of urbanization across the globe. There are multiple ways in which urbanization impacts road sanitation. For instance, with more people moving from remote locations to cities and suburban areas, the population of urban regions is growing rapidly. As population density increases, the amount of road contaminants including garbage, trash, and other elements rises. The growing quantity of road trash cannot be managed by manual sweeping alone and necessitates the demand for mechanical road sweepers. Furthermore, urban areas are home to corporate houses and businesses that have a greater impact on the regional economy. These places also host international clients leading to a higher need for ensuring that urban places are clean and sanitation is in order. These factors are expected to work in tandem thus driving the demand for road sweepers.
Rising smart city development projects may lead to further growth during the projection period
The industry for street sweepers is expected to further expand as the number of smart city development projects is on the rise. More countries are working toward providing efficient housing systems to the general population. These cities are also meant to attract higher domestic and international tourism thus contributing to the regional economy. In February 2021, it was reported that 6 European countries including London had triggered an investment of USD 302.8 million through its Sharing Cities program into smart technologies. Another official report claims that almost 80% of China's total 500 major cities are a part of smart city projects and the involvement of the private sector has helped reshape the country's infrastructure. Certain countries such as Japan, Singapore, Qatar, Kuwait, and others lay extreme emphasis on maintaining hygiene in public spaces and this is made possible by drafting an efficient road sanitation program involving the use of street sweepers and other mechanisms.
Road Sweeper Market: Restraints
High cost of road sweepers to restrict market growth rate
The global road sweeper market growth rate is expected to be impacted due to the high cost of road sweepers. Some of the most essential components of road sweepers include water sprayers, suction systems, and sweeping machines. However, these are the basic units of a standard sweeper. Additional and high-technology features include a fully integrated global positioning system (GPS), safety facilities, multiple sweeping patterns to ensure optimal results, and improved filtration devices to segment contaminants based on their composition and nature. Furthermore, cleaning toxic waste from motor oil spills is more difficult and road sweepers used for these purposes are more expensive.
Road Sweeper Market: Opportunities
Increasing demand for energy-efficient road sweeper models to create extensive growth opportunities
The global road sweeper industry players must focus on the increasing demand for energy-efficient street sweeping systems. Governments across the globe are implementing policies to ascertain that road sweepers do not cause environmental damage and defeat their main purpose. For instance, The South Coast Air Quality Management District in California has implemented Rule 1186. It mandates that all new outdoor, large street sweepers must be able to run on alternate fuels and companies selling road sweepers in the California region must comply with the rule. The allowed fuels are liquid natural gas (LNG), liquified petroleum gas (LPG), and compressed natural gas (CNG). In September 2022, Ideanomics, a global leader working toward accelerated adoption of electric vehicles (EVs) across sectors, announced that its subsidiary US Hybrid will be supplying proprietary hybrid and electric propulsion kits to Global Environmental Products (GEP). These kits are used in 62 zero-emission street sweepers. Once the transaction is complete GEP will be providing these energy-efficient systems to US cities such as California, New York City, Montana, the City of Helena, and Washington D.C. These electric and hybrid models pose excellent growth prospects especially since the global EV charging infrastructure is rapidly improving aided by private sector companies and government offices.
Road Sweeper Market: Challenges
Strict governing policies defining production and distribution of road sweepers to challenge market growth trend
The road sweeper industry growth trend is expected to be challenged by the presence of strict government regulations that define laws regarding production and other transactions related to road sweepers. Every country and region has specific rules and companies must comply with these dynamic regulations. Furthermore, the growing concerns over mechanical road sweepers replacing professionals responsible for manual sweeping could lead to added constraints unless employing bodies can create a balance between human resources employed in the road sweeping industry and the use of mechanical tools.
Road Sweeper Market: Segmentation
The global road sweeper market is segmented based on end-user, product type, and others.
Based on end-user, the global market segments are seaports, airports, industrial, municipal, and others. In 2022, the highest growth was registered by the municipal segment since road sweepers are generally employed by federal and regional governments to maintain hygiene in public access roads. The growing focus on sanitation especially since COVID-19 and the demand for efficient waste management services in urban and rural areas is expected to drive segmental growth during the projection period. In September 2023, the Municipal Corporation of Delhi, India announced that it will appoint a consultant for INR 62 crore for mechanical cleaning of arterial roads in the region.
Based on product type, the road sweeper industry segments are compact sweeper, truck-mounted sweeper, and others. In 2022, the revenue generated from truck-mounted sweepers was higher mainly because of their higher price as compared to compact sweepers. Truck-mounted sweepers are used for larger road routes and networks while compact sweepers have more applications in narrow roads and remote areas. For instance, a regenerative air variant may cost around USD 151,296 to USD 336,203.
Road Sweeper Market: Report Scope
Report Attributes
Report Details
Report Name
Road Sweeper Market
Market Size in 2022
USD 4.38 Billion
Market Forecast in 2030
USD 6.21 Billion
Growth Rate
CAGR of 4.49%
Number of Pages
219
Key Companies Covered
Johnston Sweepers Limited, Dulevo International S.p.A., Hako GmbH, Nilfisk Group, Bucher Industries AG, Elgin Sweeper Company, Boschung Group, Dulevo India Pvt. Ltd., Tennant Company, Madvac Exprolink, Global Environmental Products, Aebi Schmidt Holding AG, SANY Group, TYMCO Inc., ZOOMLION, and others.
Segments Covered
By End-User, By Product Type, and By Region
Regions Covered
North America, Europe, Asia Pacific (APAC), Latin America, Middle East, and Africa (MEA)
Base Year
2022
Historical Year
2017 to 2021
Forecast Year
2023 - 2030
Customization Scope
Avail customized purchase options to meet your exact research needs. Request For Customization
Road Sweeper Market: Regional Analysis
Europe is projected to generate significant results during the forecast period.
The global road sweeper market will be led by Europe during the projection period. European countries are actively working toward reducing waste and managing generated waste through environmentally friendly means. These countries are popular for impeccable and well-sanitized roads. In addition to this, in recent times, more efforts have been made to develop and deploy eco-friendly road sweepers. In October 2020, Trombia Technologies, a Finnish street maintenance technology developer, launched the world's first autonomous, high-power electric street sweeper. It has a capacity to cut 3 million metric tons of carbon dioxide (CO2) annually.
North America has high growth potential as the region is witnessing an increasing number of activities related to the use and development of road sweepers. In June 2023, Modine, a leading manufacturing firm, announced that Elgin Sweeper Company will be using the Modine EVantage™ L-CON Battery Thermal Management System (BTMS) for producing the hybrid variant of Pelican® three-wheeled mechanical sweeper.
Road Sweeper Market: Competitive Analysis
The global road sweeper market is led by players like:
Johnston Sweepers Limited
Dulevo International S.p.A.
Hako GmbH
Nilfisk Group
Bucher Industries AG
Elgin Sweeper Company
Boschung Group
Dulevo India Pvt. Ltd.
Tennant Company
Madvac Exprolink
Global Environmental Products
Aebi Schmidt Holding AG
SANY Group
TYMCO Inc.
ZOOMLION
The global road sweeper market is segmented as follows:
By End-User
Seaports
Airports
Industrial
Municipal
Others
By Product Type
Compact Sweeper
Truck-Mounted Sweeper
Others
By Region
North America
Europe

France
The UK
Spain
Germany
Italy
Rest of Europe

Asia Pacific

China
Japan
India
South Korea
Southeast Asia
Rest of Asia Pacific

Latin America

Brazil
Mexico
Rest of Latin America

Middle East & Africa

GCC
South Africa
Rest of Middle East & Africa