Market Overview
The global Reprocessed Medical Devices market accounted for USD 3.1 Billion in 2020 and is expected to reach USD 16.3 Billion by 2028, growing at a CAGR of around 20.1% between 2021 and 2028.
Reusable medical devices can be reused by healthcare services providers to diagnose as well as to treat multiple patients. Such medical devices include surgical forceps, stethoscopes, and endoscopes. Reprocessing of such devices removes tissue, blood, and other biological debris and inactivates infectious microbes so that devices are safe for the patient.
The key players in reprocessed medical devices market are focusing aggressively on innovation, as well as on including advanced technologies in their existing products. Over the coming years, they are also expected to take up partnerships and mergers and acquisitions as their key strategy for business development, states the reprocessed medical devices market study.
In a major breakthrough witnessed across reprocessed medical devices industry, in August 2018, Cantel Medical made public that it acquired Stericycle Inc.'s controlled environment solutions business for USD 17 million. Reports state that the strategic decision was based on the firm's objective of expanding its life sciences portfolio.
COVID-19 Impact Analysis
The global Reprocessed Medical Devices market has witnessed a growth during the pandemic. This is mainly attributed to the fact that the COVID-19 pandemic situation has led to the rise in demand for public health surveillance and clinical care. However, the rising difficulty in health care delivery has slightly challenged the market in 2020.
However, the market would remain bullish in upcoming year. The growth of the global Reprocessed Medical Devices market size is estimated on the basis of the COVID-19 outbreak. Various scenarios have been analyzed on the basis of inputs from various secondary sources and the current data available about the situation.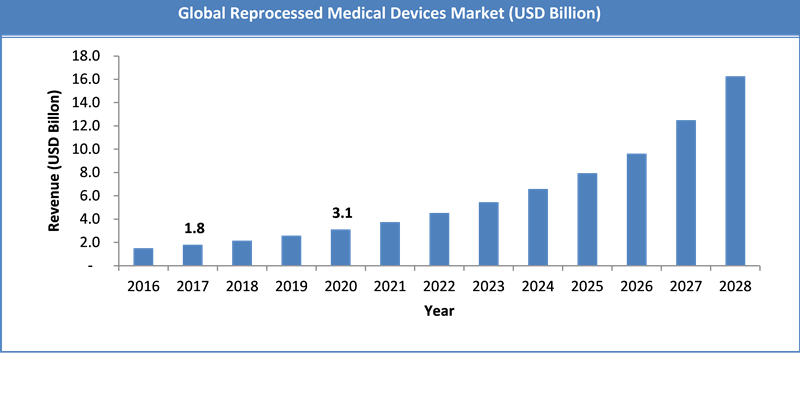 Request Free Sample
Growth Factors
Growing requirement for medical waste disposal and favorable government policies are expected to boost the development of reprocessed medical devices market. Apart from this, mounting concerns pertaining to high volume of landfills & wastes produced across the globe is projected to favorably influence the global demand for reprocessed medical devices. High product demand from hospitals as well as home healthcare sector is likely to expand the business sphere over the next few years.
Reluctance in accepting the reprocessed products, however, can obstruct the industry growth over the ensuing years. Nevertheless, low costs of reprocessed equipment are forecast to open new vistas for reprocessed medical devices market over the coming years, normalizing the impact of hindrances on the reprocessed medical devices market.
Report Scope: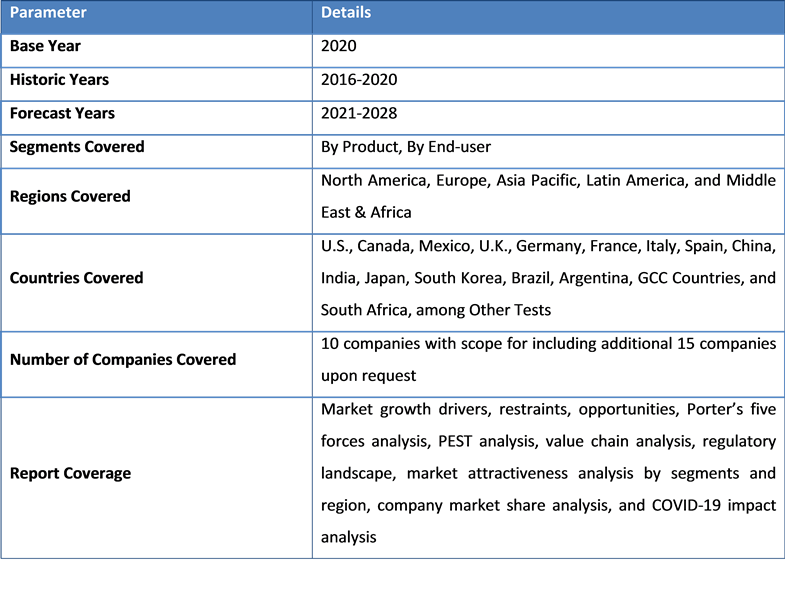 Request Free Sample
Segment Analysis Preview
The main products available in this reprocessed medical devices market are cardiovascular medical devices, arthroscopic medical devices, laparoscopic medical devices, and general surgery medical devices. Among them, the demand for cardiovascular medical devices is relatively higher and the trend is anticipated to remain so over the next few years. This is due to rising number of cardiovascular surgeries & treatments that are bolstering need for cost-efficient alternatives. In addition to this, the advent of low-cost and single-use cardiovascular reprocessed devices resulted in upsurge in adoption; hence, contributing to the overall segment growth.
Regional Analysis Preview
Regionally, North America has been leading the worldwide reprocessed medical devices market and is anticipated to continue on the dominant position in the years to come, states the reprocessed medical devices market study. High product acceptance rate and favorable government initiatives supporting the production of reprocessed medical devices is the main factor behind the dominance of the North America reprocessed medical devices market. The high number of market players being headquartered in North America is another yet significant factor that is supporting this regional reprocessed medical devices market.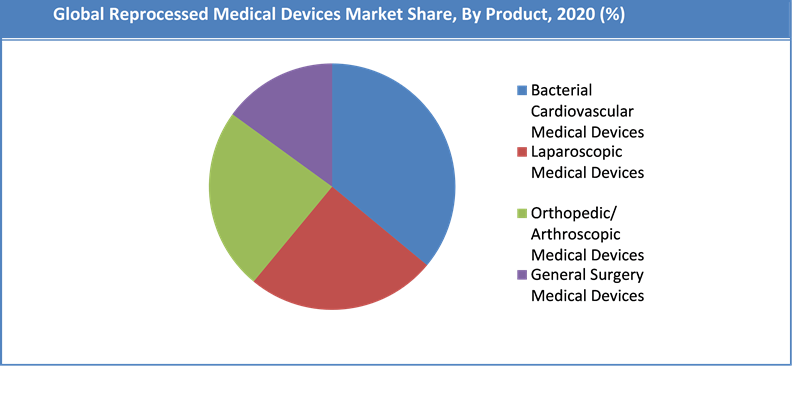 Request Free Sample
Key Market Players & Competitive Landscape
Some of the major players of the global Reprocessed Medical Devices market include Stryker Sustainability, SterilMed, Inc., ReNu Medical, Inc., MidWest Reprocessing Center, Vanguard AG, SureTek Medical, Medline ReNewal, Hygia Health Services, Inc., and Centurion Medical Products Corp. among others.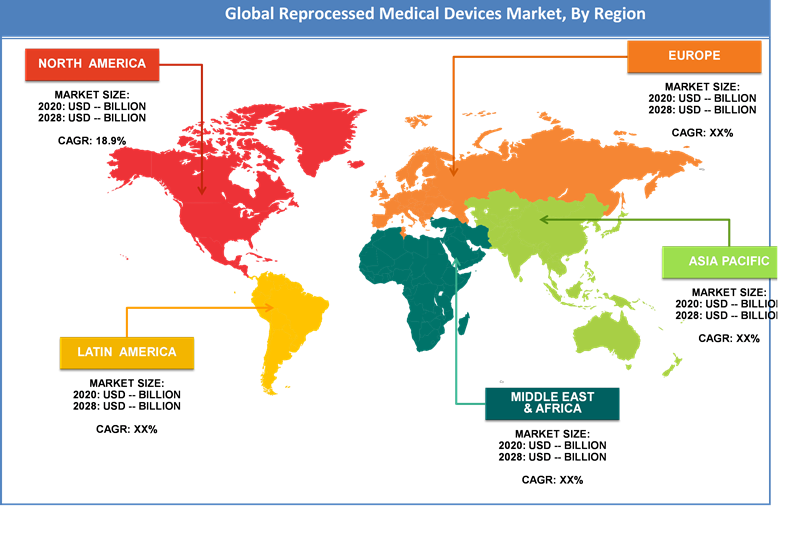 Request Free Sample
The global Reprocessed Medical Devices Market is segmented as follows:
By Products
Bacterial Cardiovascular Medical Devices

Blood Pressure Cuffs/Tourniquet Cuffs
Cardiac Stabilization And Positioning Devices
Compression Sleeves (DVT)
Diagnostic Electrophysiology Catheters
Electrophysiology Cables

Laparoscopic Medical Devices

Endoscopic Trocars And Components
Harmonic Scalpels

Orthopedic/ Arthroscopic Medical Devices

External Fixation Devices
Gastroenterology Medical Devices
Biopsy Forceps

General Surgery Medical Devices

Balloon Inflation Devices
By End-user
Hospitals
Home healthcare
By Region
North America
Europe

France
The UK
Spain
Germany
Italy
Rest of Europe

Asia Pacific

China
Japan
India
South Korea
Southeast Asia
Rest of Asia Pacific

Latin America

Brazil
Mexico
Rest of Latin America

Middle East & Africa

GCC
South Africa
Rest of Middle East & Africa