Sterilization Technologies Industry Prospective:
The global sterilization technologies market size was worth around USD 8.24 billion in 2022 and is predicted to grow to around USD 13.75 billion by 2030 with a compound annual growth rate (CAGR) of roughly 6.63% between 2023 and 2030.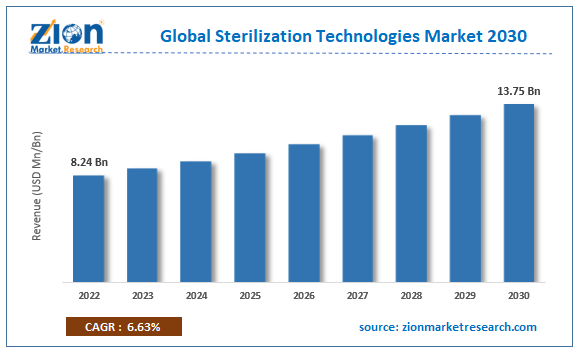 Request Free Sample
Sterilization Technologies Market: Overview
Sterilization technologies are a set of measures using advanced tools for disinfecting or sterilizing an object for safer consumption. In simple terms, sterilization is the process through which all forms of microbial growth on a given object are eliminated using chemical and physical methods. There are several forms of sterilization techniques and technologies with each method offering advantages and showcasing certain limitations. They have large-scale applications across sectors including medical devices, cosmetic products, food & beverages, medicine, spacecraft, and many more.
Sterilization and disinfection are easily confused as terms representing the same concept. However, there is a slight difference between the two which is mainly related to the level of microorganisms removed during the process. For instance, a disinfectant partly eliminates certain bacteria on the surface while sterilization aims at complete removal of living organisms on the item being sterilized. There is no risk of infection when using a sterilized item. The industry for sterilization technologies is evolving at a rapid rate and this trend will play a crucial role in its growth during the projection period.
Key Insights:
As per the analysis shared by our research analyst, the global sterilization technologies market is estimated to grow annually at a CAGR of around 6.63% over the forecast period (2023-2030)
In terms of revenue, the global sterilization technologies market size was valued at around USD 8.24 billion in 2022 and is projected to reach USD 13.75 billion, by 2030.
The sterilization technologies market is projected to grow at a significant rate due to the increasing application in the healthcare field
Based on end-user segmentation, medical devices was predicted to show maximum market share in the year 2022
Based on type segmentation, chemical & gas sterilization was the leading segment in 2022
On the basis of region, North America was the leading revenue generator in 2022
Sterilization Technologies Market: Growth Drivers
Increasing application in the healthcare field to drive market growth
The global sterilization technologies market is expected to grow owing to the increasing application in the medical and healthcare fields. All types of medical devices are constantly exposed to a range of microbes. Some of these living organisms may not be extremely harmful while some may be the reason for the spread of deadly diseases. For instance, COVID-19 was one of the most contagious diseases that could spread easily through contact with surfaces that were previously exposed to the virus. Sterilization technologies for the backbone of safe medical processes and the absence of effective techniques can lead to catastrophic results for the general population.
All healthcare and medical facilities have to adhere to strict safety standards and any error or default in following safety protocols, of which sterilization of used devices is a priority, can lead to severe fines and revocation of practice certificates along with heavy penalties. For instance, in a recent incident, the Occupational Safety and Health Administration (OSHA) agency fined the Saint Alphonsus Regional Medical Center for a total of USD 14,630 for non-compliance with safety protocols. The increasingly stricter policies and regulations in place governing the medical community at regional and global levels are expected to drive the demand for sterilization technologies.
Increasing number of patients worldwide to further push market consumption
As the number of patients dealing with various medical conditions is on the rise on a global scale, the demand for efficient sterilization technologies has soared to new levels. With an increase in patient load in the medical community, consumption levels of all forms of medical devices are on the rise, and suppliers of sterilization technologies are benefiting from the same.
Sterilization Technologies Market: Restraints
Adhering to dynamic regulatory procedures is a growth limitation
The medical community is subject to an ever-evolving and dynamic regulatory environment. This is because every country has specific rules and regulations that govern the safety standards and operational procedures in the medical sector. This poses severe growth limitations for companies operating in the sterilization technologies industry since they have to stay in sync with the changing rules and entry into a new market can prove to be an exhaustive task with excessive consumption of money and time.
Sterilization Technologies Market: Opportunities
Increased research and development in the industry to create expansion possibilities
The sterilization technologies industry can expect higher growth as the players and researchers continue to invest in novel systems for specific sectors. Every end-user industry has precise demands leading to a large and unfulfilled scope for newer systems. In May 2022, Sterigenics®, a leading player in the industry, announced the launch of a new sterilization setup at its Belgium facility. The sterilizer is equipped with Noxilizer's Nitrogen Dioxide Technology and uses NO2 gas for sterilization. In November 2019, the World Health Organization (WHO) launched a new mosquito sterilization technique called the Sterile Insect Technique (SIT) in a bid to control the spread of deadly diseases such as Zika, dengue, and chikungunya.
Additionally, the evolving nature of viruses and bacteria to survive current sterilizing techniques has propelled manufacturers of the technology to develop more creative and highly effective solutions.
Sterilization Technologies Market: Challenges
Difficulty in adopting modern methods to create expansion barriers
Even in modern times, many end-users prefer the traditional methods of sterilizing which involves the use of steam under pressure or hot air. These measures are widely still under use and there may be resistance or lack of interest in adopting modern techniques under lack of mandates. This is especially applicable in smaller units that do not fall under the radar of agencies responsible for implementing safety standards. Such incidents are major growth barriers for the global market players.
Sterilization Technologies Market: Segmentation
The global sterilization technologies market is segmented based on end-user, type, and region.
Based on end-user, the global market segments are medical devices, pharmaceuticals, agriculture, food & beverages, manufacturing, cosmetics, and others. In 2022, the highest growth was observed in the medical devices segment led by the increasing number of medical cases worldwide, rise in geriatric population, increased healthcare expenditure, and higher investments in developing affordable healthcare infrastructure that led to increased access to primary medical care even in remote locations. In 2021, healthcare spending in the US reached over USD 4.2 trillion as per official reports. The cosmetics segment is projected to grow at a rapid rate as the number of players in the industry continues to rise.
Based on type, the sterilization technologies industry segments are ionizing radiation sterilization, chemical & gas sterilization, thermal sterilization, filtration sterilization, and others. The highest CAGR was observed in the chemical & gas sterilization segment as these measures are the most widely known and used sterilization techniques. They are known for higher efficiency, reliability, and the ability to sterilize several types of bacteria. In recent times, the demand for ionizing radiation sterilization has grown since it does need to be operated at extremely high temperatures and can be considered safer for use. This technique primarily uses cobalt 60 gamma rays or electron accelerators for functional purposes.
Sterilization Technologies Market: Report Scope
Report Attributes
Report Details
Report Name
Sterilization Technologies Market
Market Size in 2022
USD 8.24 Billion
Market Forecast in 2030
USD 13.75 Billion
Growth Rate
CAGR of 6.63%
Number of Pages
223
Key Companies Covered
3M Company, Sotera Health, TSO3 Inc., Steris Corporation, Advanced Sterilization Products, Belimed AG, Anderson Products, Getinge AB, Fedegari Autoclavi S.p.A., Matachana Group, Sterigenics International LLC, Cantel Medical Corporation, Sterilmed Inc., Noxilizer Inc., MMM Group., and others.
Segments Covered
By End-User, By Type, and By Region
Regions Covered
North America, Europe, Asia Pacific (APAC), Latin America, Middle East, and Africa (MEA)
Base Year
2022
Historical Year
2017 to 2021
Forecast Year
2023 - 2030
Customization Scope
Avail customized purchase options to meet your exact research needs. Request For Customization
Sterilization Technologies Market: Regional Analysis
North America leads with the highest revenue share
The global sterilization technologies market is projected to be led by North America during the forecast period. In 2022, the region dominated over 39% of the global market share. One of the primary reasons for regional growth is the existence of several safety protocols along with strict implementation policies that ensure companies operating in all end-user verticals adhere to safety standards and guidelines. Additionally, the rise in pressure on the healthcare sector with increased medical tourism while catering to the medical needs of the regional population has helped surge in sterilization technology consumption.
Moreover, there are several key manufacturers of sterilization technology and systems in the US that are constantly investing in research and development. North America has a huge demand for sterilization measures in the cosmetics industry since several luxury brands along with affordable cosmetic product companies are located in the US and Canada region. These products have to undergo strict quality checks before they become available for sale. Asia-Pacific will emerge as a significant regional market. The rising population and surging investments by the government to improve healthcare access are likely to drive regional revenue.
Sterilization Technologies Market: Competitive Analysis
The global sterilization technologies market is led by players like:
3M Company
Sotera Health
TSO3 Inc.
Steris Corporation
Advanced Sterilization Products
Belimed AG
Anderson Products
Getinge AB
Fedegari Autoclavi S.p.A.
Matachana Group
Sterigenics International LLC
Cantel Medical Corporation
Sterilmed Inc.
Noxilizer Inc.
MMM Group.
The global sterilization technologies market is segmented as follows:
By End-User
Medical Devices
Pharmaceutical
Agriculture
Food & Beverages
Manufacturing
Cosmetics
Others
By Type
Ionizing Radiation Sterilization
Chemical & Gas Sterilization
Thermal Sterilization
Filtration Sterilization
Others
By Region
North America
Europe

France
The UK
Spain
Germany
Italy
Rest of Europe

Asia Pacific

China
Japan
India
South Korea
Southeast Asia
Rest of Asia Pacific

Latin America

Brazil
Mexico
Rest of Latin America

Middle East & Africa

GCC
South Africa
Rest of Middle East & Africa