Global Rat Model Market Overview
The global Rat Model market accounted for USD 535.9 Million in 2020 and is expected to reach USD 1,166.2 Million by 2028, growing at a CAGR of 10.2% from 2021 to 2028.
Rat model is an animal model for research in biomedical science and psycology. Rats and humans both have similarities such as physiology, similar body organs, similar genetic structure to the humans and often suffer from the same diseases.
A rat model has been used frequently in drug development, toxicology and various biomedical fields, including carcinogenicity testing. Ongoing research for the development of treatment on neurology disorder and cancer coupled with the emergence of transgenic rat models is expected to fuel the demand of rat models in coming years. In addition, advancement in bioinformatics that leads the development of tools and software for analysis of data generated after pre-clinical research using rat models is anticipated to boost the growth of this market in coming years. However, rising concern about animal cruelty, ethical concerns as well as the threat from the advancement of zebra fish models is expected to hinder the growth of the market in the forecast period.
COVID-19 Impact Analysis:
The global Rat Model market has witnessed a slight decrease due to the lockdown enforcement placed by various governments in order to contain COVID spreading. People had no option but to remain indoor, so the sales of instrument had decrease drastically. The restrictions imposed by various nations to contain COVID had stopped the Rat model resulting in a disruption across the whole supply chain. However, the world markets are slowly opening to their full potential and theirs a surge in demand. The market would remain bullish in upcoming year.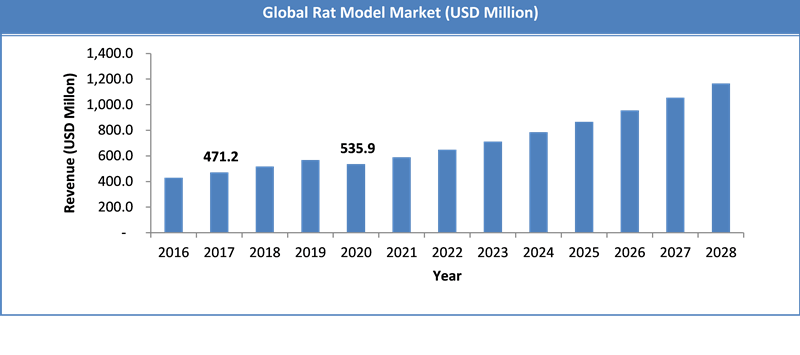 Request Free Sample
Growth Factors
Major boosting factors for Rat Model market are increasing non-government and government initiatives for fetal & maternal health all over the world, as per the analysts at Zion Market Research. In addition to this, rising awareness of manufacturers and willingness of players to spend in the development of fetal monitoring is also powering the development of Rat Model market. Moreover, enhanced models that assist to calculate the maternal parameters such as maternal heart rate, and blood pressure are also likely to fuel the development of Rat Model market in coming years. On the other hand, lack of intervening guidelines and technological challenges might hamper the development of the global Rat Model market in the years to come.
Report Scope: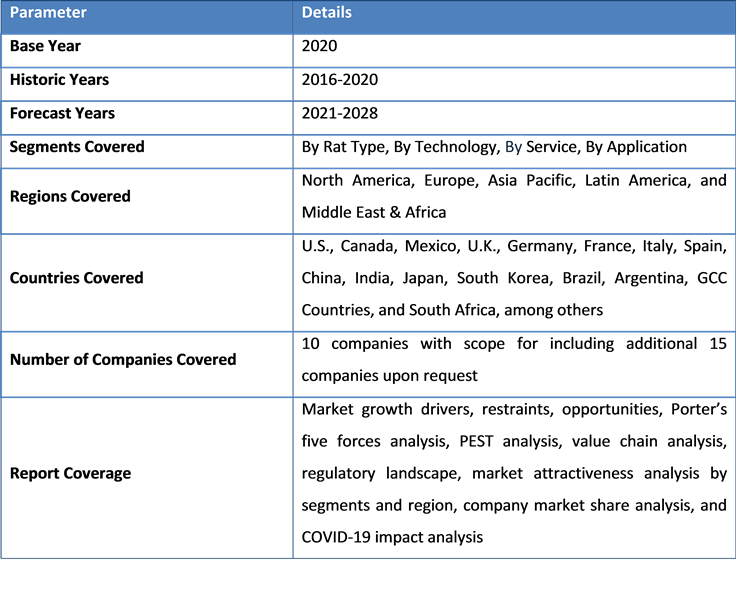 Request Free Sample
Segment Analysis Preview
On the basis of Rat Types, the Rat Model market is likely to be ruled by Outbred segment. The extensive use of outbred rats in toxicology and safety assessment studies is expected to drive the growth of rat model in coming year.
Depending on Technology, Embryonic Stem Cells segment is likely to hold the major share in the market and is anticipated to remain dominant throughout the forecast period. This is attributed to the ongoing developments of alternative methods to animal testing.
On the basis of application, Oncology segment hold the majority of Rat Model market share 2020.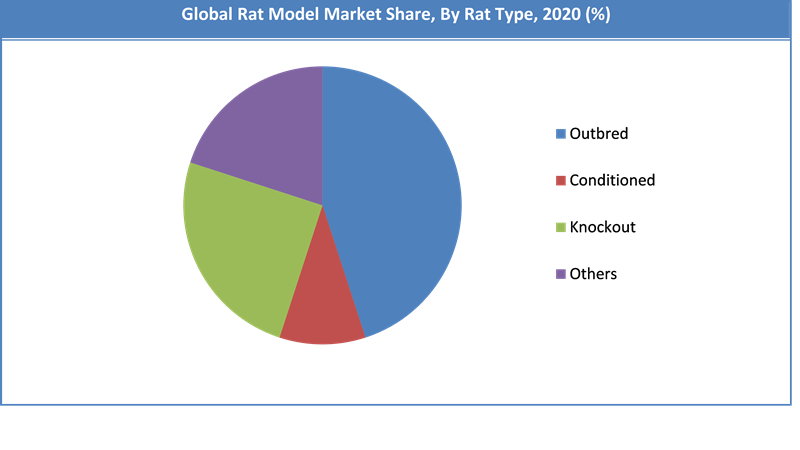 Request Free Sample
Region Analysis Preview
North America was the dominating regional market for rat model and further it would follow this trend in forecast period due to robust research activities. Europe held the second largest market share and Germany acquired the largest share in this region in 2020. An increasing number of academic and contract research organizations is the major driving factors of rat model in Asia Pacific region.
Key Market Players & Competitive Landscape
Some of key players in Rat Model Market are Covance, Inc., Transviragen Inc., SAGE Labs, Biomedical Research Models, Inc., genOway S.A., Transposagen Biopharmaceuticals, Harlan Laboratories, Inc and Charles River Laboratories amongst others.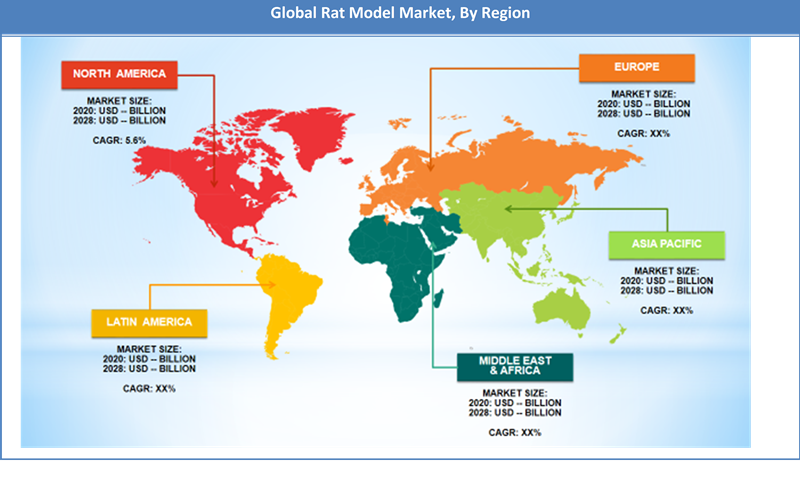 Request Free Sample
The global Rat Model Market is segmented as follows:
By Rat Type
Outbred
Conditioned
Knockout
Others
By Technology
Embryonic Stem Cells
Microinjection
Others
By Service
Breeding
Quarantine
Cryopreservation
Others
By Application
Toxicology
CNS
Oncology
Diabetes
Others
By Region
North America
Europe

France
The UK
Spain
Germany
Italy
Rest of Europe

Asia Pacific

China
Japan
India
South Korea
Southeast Asia
Rest of Asia Pacific

Latin America

Brazil
Mexico
Rest of Latin America

Middle East & Africa

GCC
South Africa
Rest of Middle East & Africa