Incubator Shaker Industry Prospective:
The global incubator shaker market size was worth around USD 290.64 million in 2022 and is predicted to grow to around USD 395.17 million by 2030 with a compound annual growth rate (CAGR) of roughly 3.92% between 2023 and 2030.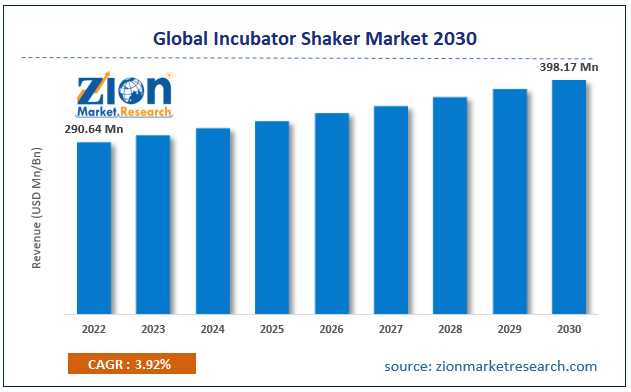 Request Free Sample
Incubator Shaker Market: Overview
An incubator shaker is a laboratory equipment and is the main component of the larger shaker group of tools used in research facilities. They are used for mixing, blending, or agitating the contents of a tube by shaking them. It is a mixture of a shaker & an incubator and is also known as a thermal shaker. This equipment can shake without compromising on the maintenance of optimal conditions required for the incubation of deoxynucleic acid (DNA) replications and microbes. An incubator is a medical apparatus used for providing controlled environmental conditions for facilitating microorganism cultivation among other benefits. Since cells require a constant flow of oxygen and nutrients to grow, shaking the incubator helps in the even distribution of these components around the culture. However, the use of an incubator shaker requires extreme attention from the user as any error or negligence in the supply of oxygen during the shaking process can lead to procedure failure. During the forecast period, the industry for incubator shakers is likely to grow at a steady pace.
Key Insights:
As per the analysis shared by our research analyst, the global incubator shaker market is estimated to grow annually at a CAGR of around 3.92% over the forecast period (2023-2030)
In terms of revenue, the global incubator shaker market size was valued at around USD 290.64 million in 2022 and is projected to reach USD 395.17 million, by 2030.
The incubator shaker market is projected to grow at a significant rate due to the increasing use in drug development
Based on application segmentation, cell culture was predicted to show maximum market share in the year 2022
Based on product type segmentation, benchtop shaking incubators was the leading segment in 2022
On the basis of region, Europe was the leading revenue generator in 2022
Incubator Shaker Market: Growth Drivers
Increasing use in drug development to drive market growth
The global incubator shaker market is expected to grow owing to the increasing use of the devices in the research and development of new drugs. Pharmaceutical industries are under tremendous pressure to meet the exponentially growing demand for the changing healthcare system, especially since COVID-19. Governments and drug developers are constantly conducting new research that can shape the future healthcare ecosystem while managing the current growing need for advanced medical care. The increasing number of patients and fatalities caused by widespread medical conditions such as cancer, AIDS, cardiovascular diseases (CVDs), diabetes, obesity, kidney conditions, and surgical & non-surgical interventions have greatly influenced the number of investments pumped into the global pharmaceutical sector. These companies are conducting novel drug development procedures on a massive scale to cater to the medical needs of the global population. Incubator shakes are used during several steps of drug development including growing microbial and cell culture, drug screening assays, protein expression followed by purification, and testing of stability.
Increasing launch of advanced incubator shaker to push for higher revenue
While the end-user verticals continue to witness steady expansion in incubator shaker applications, device manufacturers are also investing in device improvement in terms of function and attributes that could directly impact the market growth trend during the forecast period. For instance, the Esco Provocell™ Microplate Shaker/Incubator offers various mixing applications for accurate denaturation of nucleic acids and proteins and incubation of reactions. It is a result of Peltier technology and advanced microprocessor-based controller systems that allow rapid switching between cooling and heating while maintaining block uniformity and accurate temperature.
Incubator Shaker Market: Restraints
High cost of the device and expensive maintenance to restrict the market growth
The global incubator shaker market growth is expected to be restrained due to the high cost of incubator shakers. The price increases further when novel features are added to the device including integration with data logging features, multiple shaking modes, compactness, and managing humidity or temperature. For instance, the average cost of a reused INFORS HT Multitron Pro I10103P triple-stacked refrigerated incubator shaker is around USD 47000. Other used products in the market may be less priced but they cost more than USD 20000 at least. On the other hand, maintaining incubator shakers is also expensive leading to elevated costs.
Incubator Shaker Market: Opportunities
Increasing number of new advanced medical laboratories to create growth opportunities
The industry for incubator shakers is likely to come across higher growth opportunities as a result of increasing investments in the expansion of current medical laboratories for the construction of new facilities equipped with modern experiment tools. In October 2023, the European Organization for Nuclear Research (CERN) announced the inauguration of its new outreach center called Science Gateway for science education. The center will host more than 500,000 visitors a year from other countries. In other news, January 2023 witnessed the launch of a new research center by the University of Pécs named the Preclinical Research Centre of the Medical School. The center is expected to host a multitude of research on drug development while testing new therapeutic treatments. It boasts state-of-the-art architecture enabled by the latest technology and systems.
Incubator Shaker Market: Challenges
Rising competition from alternate solutions to challenge market growth
The manufacturers or incubator shakers may face growth challenges due to the growing development and demand for alternate solutions such as orbital incubators, rocking platforms, vortex mixers, and magnetic stirrers. For instance, the MIR-S100C orbital shaker launched by SANYO, a leading electronic manufacturer based out of Japan, is designed to function in incubators with high humidity or elevated concentrations of carbon dioxide. The tool is supposed to be placed inside the incubator while accessing it using an externally placed controller. The shaker section is made of antibacterial copper alloy stainless steel with a small window for spraying disinfectants.
Incubator Shaker Market: Segmentation
The global incubator shaker market is segmented based on application, product, and region.
Based on application, the global market segments are pharmaceuticals, biofuel, microbiology, cell culture, drug development, bio processing, bacteriology, and others. In 2022, the highest growth was observed in the cell culture segment referring to the removal of plants and animals and keeping them under a suitable artificial environment for further research. During the forecast period, the microbiology segment is expected to cross over USD 77 million in terms of revenue as it deals with the study of fungi, bacteria, viruses, and other microbes for research purposes.
Based on type, the incubator shaker industry divisions are floor model shaking incubator, benchtop shaking incubator, and incubating mini shaker. In 2022, the highest demand was observed for benchtop shaking incubators since it does not consume a lot of space while offering optimum performance. It includes microplate vortex mixers, and bacterial culture shakers and is heated along with a cooled tube. The incubating mini shaker segment is expected to generate a total revenue of more than 97 million by 2030 and is ideal for laboratories running a concurrent high number of tests in smaller batches.
Incubator Shaker Market: Report Scope
Report Attributes
Report Details
Report Name
Incubator Shaker Market
Market Size in 2022
USD 290.64 Million
Market Forecast in 2030
USD 395.17 Million
Growth Rate
CAGR of 3.92%
Number of Pages
230
Key Companies Covered
Stuart (A Cole-Parmer Company), New Brunswick Scientific (A Subsidiary of Eppendorf Group), Thermo Fisher Scientific, Memmert, Eppendorf, BMT USA, Benchmark Scientific, Boekel Scientific, Labnet International, Grant Instruments, IKA Works, Talboys, BINDER GmbH, OHAUS Corporation, Sheldon Manufacturing (A Subsidiary of Thermo Fisher Scientific), and others.
Segments Covered
By Application, By Product Type, and By Region
Regions Covered
North America, Europe, Asia Pacific (APAC), Latin America, Middle East, and Africa (MEA)
Base Year
2022
Historical Year
2017 to 2021
Forecast Year
2023 - 2030
Customization Scope
Avail customized purchase options to meet your exact research needs. Request For Customization
Incubator Shaker Market: Regional Analysis
Europe to deliver the highest results during the assessment period
The global incubator shaker market is expected to generate the highest growth in Europe with Germany acting as the largest revenue generator during the forecast period. Several laboratory device manufacturers and suppliers are located in Germany. The leading producers of incubator shakers such as IKA Works, Eppendorf, and others have headquarters in Europe. Furthermore, the expensive number of research facilities along with growing investments in future-oriented research for the development of novel medicines act as crucial regional growth contributors. Europe has a rich ecosystem that promotes the growth of biotechnology giants including Novartis, Roche, AstraZeneca, Gilead Sciences, and others. These companies have been pioneers in revolutionizing the market for laboratory research promoting devices and systems. In September 2021, AstraZeneca announced its plans to invest USD 360 million toward the development of a new and highly advanced manufacturing facility for next-generation active pharmaceutical ingredients (API) in Ireland. On the other hand, AstraZeneca India is expected to invest USD 10 million in constructing a new research facility in Delhi, India.
Incubator Shaker Market: Competitive Analysis
The global incubator shaker market is led by players like:
Stuart (A Cole-Parmer Company)
New Brunswick Scientific (A Subsidiary of Eppendorf Group)
Thermo Fisher Scientific
Memmert
Eppendorf
BMT USA
Benchmark Scientific
Boekel Scientific
Labnet International
Grant Instruments
IKA Works
Talboys
BINDER GmbH
OHAUS Corporation
Sheldon Manufacturing (A Subsidiary of Thermo Fisher Scientific)
The global incubator shaker market is segmented as follows:
By Application
Pharmaceuticals
Biofuel
Microbiology
Cell Culture
Bio Processing
Bacteriology
Others
By Product Type
Floor Model Shaking Incubator
Benchtop Shaking Incubator
Incubating Mini Shaker
By Region
North America
Europe

France
The UK
Spain
Germany
Italy
Rest of Europe

Asia Pacific

China
Japan
India
South Korea
Southeast Asia
Rest of Asia Pacific

Latin America

Brazil
Mexico
Rest of Latin America

Middle East & Africa

GCC
South Africa
Rest of Middle East & Africa