The global Printed Electronics Market accrued earnings worth approximately 10.26 (USD Billion) in 2021 and is predicted to gain revenue of about 35.2 (USD Billion) by 2028, is set to record a CAGR of nearly 22.4% over the period from 2022 to 2028. The study provides assessment and analysis of the Printed Electronics Market on a global & regional level. It offers a comprehensive assessment of the market competition, constraints, revenue estimates, opportunities, evolving trends, and industry-validated data. The report provides historical data from 2018 to 2021 along with a forecast from 2022 to 2028 based on revenue (USD Billion).
COVID-19 Impact Analysis Of Printed Electronics Market
Outbreak of pandemic in first half of 2020 has negatively impacted printed electronics industry. Moreover, it has reduced printed electronics shipment from one country to another. Rapid spread of coronavirus has resulted in display panel production interruptions due to elongated period of lockdowns in various countries. Citing an instance, the effect on COVID-19 was witnessed on OLED production of LG Display Company Limited. The firm experienced delays in production owing to COVID pandemic, thereby leading to reduction in display shipments.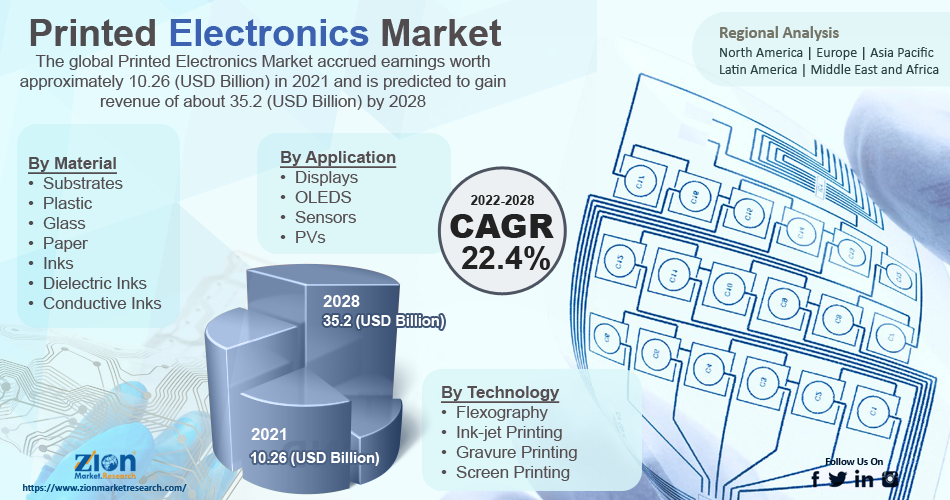 Request Free Sample
Printed Electronics Market: Outlook
Printed electronics is a set of printing procedures that are utilized in developing electrical equipment on various kinds of substrates. Moreover, printing electronics makes use of common printing device fit for describing patterns on materials including inkjet, screen printing, gravure, flexography, and offset lithography. In addition to this, printed electronics are low cost methods which help optical inks deposition on substrates including resistors, thin film transistors, resistors, capacitors, and coils. Most common applications of printed electronics are flexible displays, active clothing, smart labels, and decorative & animated posters. Benefits of using printed electronics include reduced costs, ease in manufacture, and ease of integration.
Printed Electronics Market: Growth Dynamics
Rise in demand for printed electronics methods in automotive & transportation sector will drive market trends. Moreover, printed electronics find slew of applications in automotive sector due to its flexibility, thinness, and robust features. In addition to this, printed electronics have proved beneficial for various vehicle manufacturers for producing OLED-driven display panels & lightening in automobiles, conductive elements in vehicle seats, and printed sensors. This has favored growth of printed electronics market. Furthermore,
Printed Electronics Market: Restraints
High investment costs of printed electronics as well as costs incurred on importing raw materials & equipment for research on printed electronics can prove as a deterrent to growth of printed electronics market in coming years. Development of novel techniques requires precision equipment and trained workforce which also adds to overall costs on printed electronics activities.
Report Scope:
Printed Electronics Market: Regional Landscape
Asia Pacific Printed Electronics Market Revenue To Escalate Over 2022-2028
Growth of printed electronics market in Asia Pacific over next few years can be credited to rise in acceptance of printed electronics methods in consumer products. In addition to this, Asia Pacific is a manufacturing hub for electronic equipment and this has boosted expansion of printed electronics market in Asia Pacific zone. A prominent increment in funding of research activities pertaining to printed electronics in sub-continent has enhanced demand for printed electronics methods in various sectors in sub-continent.
Printed Electronics Market: Competitive Landscape
Few of the giant players have established a strong foothold in printed electronics market and will continue to do so even in next few years. They are Novaled AG, Blue Spark technologies, Nano Solar Inc., BASF SE, eMagin Corp., Kovio Inc., Aveso Group, Printechnologics GMBH, Polyic Gmbh & Co. Kg, Toppan Forms (HK) Limited, Sipix Imaging Inc., and E Ink Holdings Inc.
The global Printed Electronics Market is segmented as follows:
By Material
Substrates
Plastic
Glass
Paper
Inks
Dielectric Inks
Conductive Inks
By Technology
Flexography
Ink-jet Printing
Gravure Printing
Screen Printing
By Application
Displays
OLEDS
Sensors
PVs
By Region
North America
Europe

France
The UK
Spain
Germany
Italy
Rest of Europe

Asia Pacific

China
Japan
India
South Korea
Southeast Asia
Rest of Asia Pacific

Latin America

Brazil
Mexico
Rest of Latin America

Middle East & Africa

GCC
South Africa
Rest of Middle East & Africa