Description
This report analyzes and estimates the inkjet coder market at global, regional, and country level. Assessment of the global inkjet coder analysis provides detailed insights of the market growth and restraining factors along with their impact analysis at the global level from 2020 to 2026.
The report includes an in-depth analysis of the strategies adopted by the utmost competitors in the global inkjet coder market. The research study contains market attractiveness analysis, wherein segment type, end user and regional segments are benchmarked on the basis of their market size and growth rate.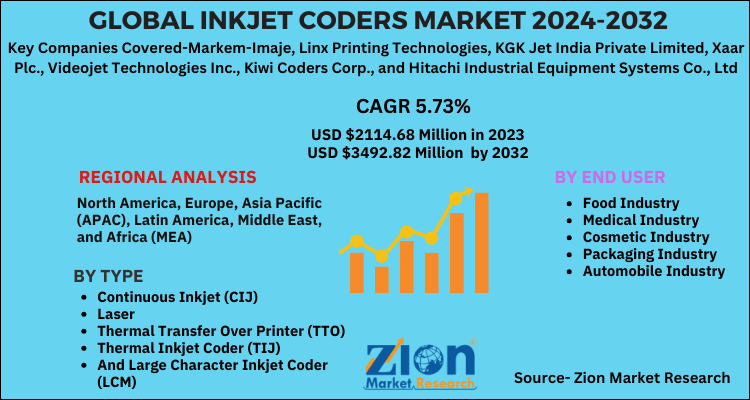 The research study provides a decisive view on the global inkjet coder market based on type, end user, and region. All the segments of the global inkjet coder market have been analyzed based on the past, present, and future trends. The market is estimated from 2020-2026. The regional segmentation includes the past, present, and forecasted demand for Middle East & Africa, North America, Asia Pacific, Latin America and Europe. The regional segment is further divided into the U.S., UK, France, Germany, China, Japan, India, and Brazil among others.
Detailed analysis of the major players in the global inkjet coder market includes their financial overview, business strategies, new developments, and the product offered by them in the market. This will help in analyzing the market competition. Key competitors included in this report are Markem-Imaje, Linx Printing Technologies, KGK Jet India Private Limited, Xaar Plc., Videojet Technologies Inc., Kiwi Coders Corp., and Hitachi Industrial Equipment Systems Co., Ltd.