Market Overview
The global Polymerase Chain Reaction (PCR) in Agro-Food Market accounted for USD 734.03 Million in 2020 and is expected to reach USD 1,229.24 Million by 2028, growing at a CAGR of 11.4 % from 2021 to 2028.
The presence of pathogen in Food products has been emerged as important health hazard over the past few years. Hence, there is an urgent need for detection and identification of pathogens using several techniques. The technique which is unique, universal, sensitive, simple, cheap and rapid (within less than 24 hours) includes Polymerase chain reaction (PCR). PCR detects viral pathogens like Hepatitis A virus (HAV), Human Rotavirus (HRV), Bovine Coronaviruses (BCoV) etc., bacterial pathogens like Staphylococcus aureus (SA) . It is expected that the knowledge of this technique will help in diagnosing diseases based on presence or absence of genetic material and thus provide insight into clinical practice in Food testing laboratories.
PCR is a powerful molecular technique for identifying specific genes or DNA sequences. It can detect very small amounts of DNA and can provide results quickly compared with other testing methods. The potential economic benefit of being able to detect GM material is significant, as growers would be able to market their non-GM crops at a premium price. Using PCR technology will provide accurate information quickly and without the need for time-consuming additional testing.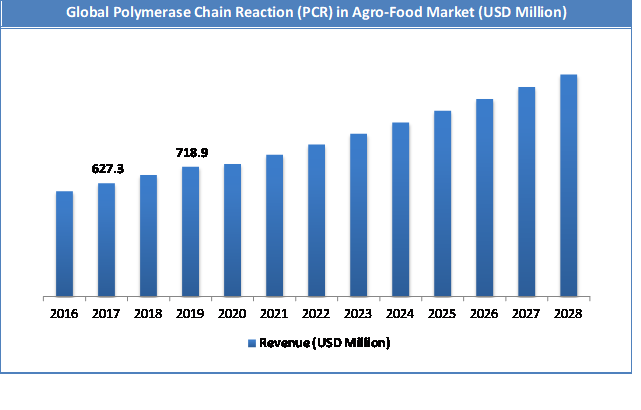 Request Free Sample
COVID-19 Impact Analysis
PCR is a powerful tool for pathogen detection and has been successfully used in food safety analysis. The demand for PCR testing increased during a pandemic as a means of detecting contaminated food products from Covid outbreaks. It was observed that large number of food producing companies paid high attention to the growing concerns regarding spread of corona virus through food items. This has further compelled the producers to test for the presence of virus alongside other set of potential pathogens that can lead to infection and outbreak. As a result, the global market witnessed improved demand for PCR in this sector. It is further projected that such benefits will continue to drive the market in future as well. The growing concerns regarding safety of food items and rise in demand for pathogen detection tools will support growth of this market during forecast period as well.
Growth Factors
PCR is being increasingly used across the global food processing and production industry. Most of the market players are relying on the on the technology for effective and rapid screening of pathogen in food products before entering the market. This offers them an upper hand for ensuring the product safety and reduces the chances of product recall, which can prove to be expensive. On the other hand, the demand for PCR is growing at a healthy CAGR on account of limited presence of alternatives and high chances of them offering false-positive results.
Moreover, developing economies such as China and India are projected to be highly lucrative regions on account of rise in awareness about food safety coupled with growing population base which consumes packaged food items on regular basis. On account of changing taste and preference of consumers, the market players are adopting innovative methods such as new product launches and improving on quality, packaging and branding strategies. Some manufacturers even offer free replacement for products bearing false-positive results; this helps in garnering consumer confidence leading to improved demand for PCR devices.
Report Scope:
Product Segment Analysis Preview
Consumables & Reagents segment held a share of around 59.36% in 2020. This is attributable to as PCR plastics are integral to the process of PCR. They include tubes, plates for holding samples and reagents during different stages of a reaction, caps for sealing these materials when not in use, heat sealers which prevent evaporation from causing an unreliable sample or one that doesn't produce expected results. In addition to this, PCR plates, tubes and caps, and PCR plate seals are used.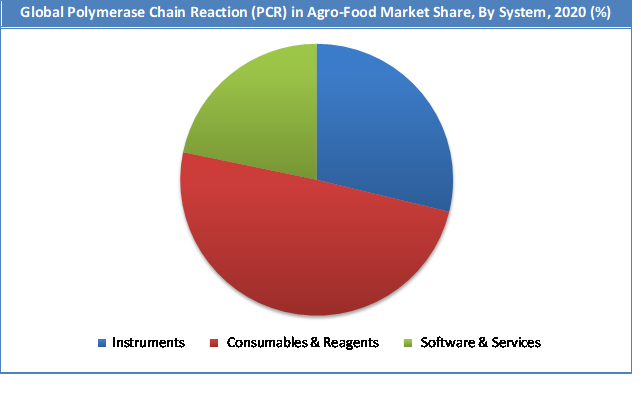 Request Free Sample
Instruments Type Segment Analysis Preview
Real-Time PCR Systems segment held a share of around 50.54 % in 2020. This is attributable to as RT-PCR has attracted more and more attention in many areas of molecular biology. Only a few applications of this technique have been reported in food sciences up to now. These are mainly related to virus detection and characterization, determination of intron-exon structure, assessment of RNA editing or gene expression analysis. The last three application fields have helped to improve understanding of gene function and expression by providing precise information on transcript molecules.
Regional Analysis Preview
The Asia Pacific region held a share of 23.22% in 2020. This is attributable to the presence of top companies such as Biotecon diagnostics, Hygiena llc, among others. Moreover, the increasing usage of automated solutions in logistics sector is expected to generate huge demand for the market in this region.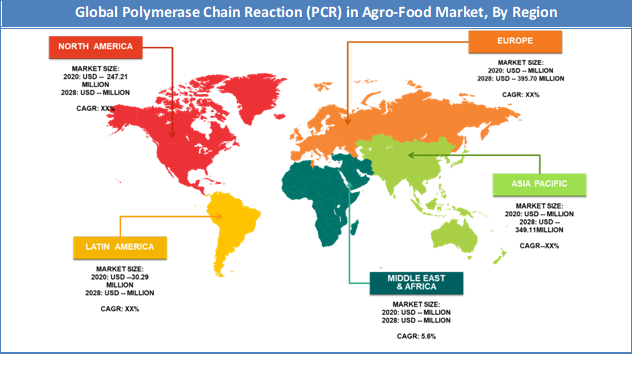 Request Free Sample
The Europe region is projected to grow at a CAGR of 7.2% over the forecast period. The global food processing companies, which proves to be a lucrative market for the PCR. With the increasing concerns regarding food safety and growing out-break of infectious diseases through contaminated food, large number of agrofood companies are making use of PCR of effectively detecting pathogen in food products to avoid further spread of the pathogens. This is further supported by stringent government regulations and frequent monitoring and auditing food producing plants by FDA and related authorities.
Key Market Players & Competitive Landscape
Some of key players in Polymerase Chain Reaction (PCR) in Agro-Food Market are Agilient technologies, Biomerieux, Bio rad laboratories, Biotecon diagnostics, Hygiena llc, Minverva biolabs, Qiagen NV, R biopharma, Thermofischer, among others.
bioMérieux pursues a growth strategy based on geographic expansion, acquisitions and partnerships, and product innovation. In the area of partnerships, it struck six deals in 2014, including agreements with COPAN (to automate clinical microbiology labs), Astute Medical (to develop an immunoassay test), Illumina (for a sequencing solution for epidemiological typing), and Novartis (to validate its existing THxID-BRAF test).
Bio-Rad pursue acquisitions of and investments in complementary companies, products and technologies. In order to be successful in these activities, they must, among other things: assimilate the operations and personnel of acquired companies; retain acquired business customers; minimize potential disruption to the ongoing business; retain key technical and management personnel; integrate acquired companies into their strategic and financial plans; accurately assess the value of target companies, products and technologies; comply with new regulatory requirements; harmonize standards, controls, procedures and policies; minimize the impact to their relationships with the employees and customers; and assess, document and remediate any deficiencies in disclosure controls and procedures and internal control over financial reporting.
Polymerase Chain Reaction (PCR) in Agro-Food Market: Report Scope
Report Attributes
Report Details
Report Name
Polymerase Chain Reaction (PCR) in Agro-Food Market Report
Market Size in 2020
734.03 Million
Market Forecast in 2025
USD 1,229.24 Million
Growth Rate
CAGR of 11.4%
Number of Pages
170
Key Companies Covered
Agilient technologies, Biomerieux, Bio rad laboratories, Biotecon diagnostics, Hygiena llc, Minverva biolabs, Qiagen NV, R biopharma, Thermofischer, among others.
Segments Covered
By Product, By Instruments Type, By Application, and By Region
Regions Covered
North America, Europe, Asia Pacific (APAC), Latin America, Middle East, and Africa (MEA)
Base Year
2020
Historical Year
2017 to 2020
Forecast Year
2021 - 2028
Customization Scope
Avail customized purchase options to meet your exact research needs. Request For Customization
The global Polymerase Chain Reaction (PCR) in Agro-Food Market is segmented as follows:
By Product
Instruments
Consumables & Reagents
Software & Services
By Instruments Type
Standard PCR Systems
Real-Time PCR Systems
By Region
North America
Europe

France
The UK
Spain
Germany
Italy
Rest of Europe

Asia Pacific

China
Japan
India
South Korea
Southeast Asia
Rest of Asia Pacific

Latin America

Brazil
Mexico
Rest of Latin America

Middle East & Africa

GCC
South Africa
Rest of Middle East & Africa