Photosensitive Polyimide (PSPI Industry Prospective:
The global photosensitive polyimide (PSPI) market size was worth around USD 327.01 million in 2022 and is predicted to grow to around USD 1245.86 million by 2030 with a compound annual growth rate (CAGR) of roughly 17.94% between 2023 and 2030.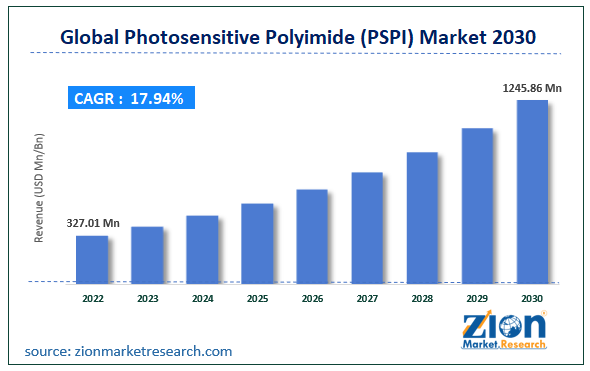 Request Free Sample
Photosensitive Polyimide (PSPI) Market: Overview
Photosensitive polyimides (PSPIs) are a type of dielectric material exhibiting dual functions of heat resistance and photosensitivity. They represent a class of functional photoresists that combine two functionalities that are high-temperature and dielectric stability, and common photoresists for polyimide dielectrics. Due to their inherent properties, PSPIs are used extensively in the manufacturing of passivation layers used for protecting semiconductor chips in interlayer dielectrics for flexible organic light-emitting diode (OLED) devices, microelectronic fabrication, or coatings for optical fibers. Their photosensitive aspect allows them to undergo chemical reactions upon being exposed to several forms of radiation including ultraviolet (UV) rays. PSPIs, in recent times, are being widely used across industries as they can be easily processed using photolithography techniques which is a patterning process dealing with selectively exposing a photosensitive polymer to light using a mask. This leads to the emergence of a latent image in the polymer that can be further dissolved selectively to provide patterned access to an underlying substrate. The demand for PSPIs is growing steadily and is expected to reach new heights during the projection period.
Key Insights:
As per the analysis shared by our research analyst, the global photosensitive polyimide (PSPI) market is estimated to grow annually at a CAGR of around 17.94% over the forecast period (2023-2030)
In terms of revenue, the global photosensitive polyimide (PSPI) market size was valued at around USD 327.01 million in 2022 and is projected to reach USD 1245.86 million, by 2030.
The photosensitive polyimide market is projected to grow at a significant rate due to the growing applications in semiconductor packaging
Based on application segmentation, printed circuit board was predicted to show maximum market share in the year 2022
Based on type segmentation, negative photosensitive polyimide (PSPI) was the leading SEGMENT 2 in 2022
On the basis of region, Asia-Pacific region was the leading revenue generator in 2022
Photosensitive Polyimide (PSPI) Market: Growth Drivers
Growing applications in semiconductor packaging to drive market growth
The global photosensitive polyimide (PSPI) market is projected to grow owing to the rising application of the material in packaging semiconductor chips. One of the primary attributes for higher applications in the segment is the excellent thermal resistance of PSPI which is an essential aspect of semiconductor packaging solutions. Research and experiments have concluded that heat is the waste product of semiconductors. Furthermore, semiconductor losses also dissipate heat and hence packaging solutions have to be such that they can handle the high heat. In addition to this, photosensitive polyimides are known to adhere to a wide range of substrates making them an ideal choice for the semiconductor industry as PSPIs can adhere to substrate materials such as silicon wafers to provide an excellent supporting and strong framework.
Other attributes making PSPIs highly popular in the thriving semiconductor industry include resistance to harsh chemicals, photosensitivity, excellent mechanical properties such as rigidity and flexibility, and dielectric properties. The semiconductor industry remains one of the fastest-growing industries as the world continues to shift toward advanced technologies. Semiconductors form the basis of modern electronic and digital tools. Semiconductors are an essential component of consumer electronics such as smartphones, laptops, and wearables. The growing investments in the semiconductor segment is likely to push the consumption rate of PPIs. A July 2023 report stated that the Europe region has attracted around USD 100 billion in terms of investments in the regional semiconductor industry.
Photosensitive Polyimide (PSPI) Market: Restraints
Limited production rate of PSPIs may restrict the market growth
The global photosensitive polyimide market growth is expected to remain limited due to the unavailability of large quantities of PPIs. As compared to other polymers, photosensitive polyimides (PSPIs) are produced in fewer quantities partly because they are more expensive to produce. Additionally, the limited production rate, in turn, impacts the price of these materials as the production requires the use of complex machines and techniques. Photolithography, a leading PSPI manufacturing technique, is extremely sophisticated and difficult. It needs the assistance of experienced professionals and dedicated facilities causing the production rate to remain high.
Photosensitive Polyimide (PSPI) Market: Opportunities
Growing preference and investment toward 5G technology may create growth opportunities
The photosensitive polyimide industry growth trend is projected to gain higher momentum due to the increasing investments toward 5G technology since advanced architecture can only be created using high-quality materials necessary for seamless and uninterrupted communication and data exchange. PSPIs are likely to have applications in the production of radio-frequency (RF) and antenna components. Photosensitive polyimides are used during the production of printed circuit boards due to their photosensitivity. 5G technologies deploy highly complex PCBs as compared to 4G networks. This is expected to create more growth avenues for PSPI suppliers as PCBs made of the photosensitive material will be able to handle the high throughput data which is an essential component of 5G networks. In recent developments, the Australian government is increasingly working toward exploring regionally untapped potential in Australia. The government intends to spend AUD 550 million through its Connecting Victoria scheme which will allow the government to partner with top telecommunication companies in co-developing and providing 5G infrastructure.
Rising sales of electric vehicles and further research to deliver higher expansion possibilities
The PSPI industry is expected to gain more consumers from the expanding electric vehicles (EVs) sector as the need for superior PCBs continues to grow. EVs are powered by smart and advanced printed circuit boards. They are used to manage several aspects of an electric vehicle including battery management, telematics, vehicle control units, charging systems, safety features, and others. As fuel prices continue to remain volatile as well as looming concerns about the supply of essential fuel such as petrol, diesel, and gas, the market expansion rate of EVs will continue to remain positive leading to excellent growth possibilities for PSPI producers.
Photosensitive Polyimide (PSPI) Market: Challenges
Navigating through supply chain disruptions may challenge market growth
The global photosensitive polyimide market growth will be challenged by the concerns over supply disruptions as a result of extremely tense geopolitical situations across the globe. Other factors such as the environmental impact of PSPI production and consumption along with the availability of other substitutes may lead to restricted growth.
Photosensitive Polyimide (PSPI) Market: Segmentation
The global photosensitive polyimide (PSPI) market is segmented based on application, type, and region.
Based on application, the global market segments are chip packaging, memory, display panel, printed circuit board, and others. In 2022, the highest demand was witnessed in the printed circuit board segment since PSPIs are used extensively during the production of complex and simple PCBs used in growing industries such as telecommunications, technology, and electric vehicles. PSPS provides essential mechanical, thermal, and chemical resistance needed for PCBs to last longer and perform as per expectations. In 2022, the global PCB market was valued at USD 83 billion and will cross over USD 130 by 2030.
Based on type, the photosensitive polyimide industry fragments are negative photosensitive polyimide and positive photosensitive polyimide. The 2022 year was dominated by the negative variant since they have heavy applications in the electronics and semiconductor industries. The use is related to acting as photoresist material in the fabrication of microelectronics as well as an insulating layer. The demand for positive PSPI is also significant. The Td value of PSPI ranges between 350°C and 400°C.
Photosensitive Polyimide (PSPI) Market: Report Scope
Report Attributes
Report Details
Report Name
Photosensitive Polyimide (PSPI) Market
Market Size in 2022
USD 327.01 Million
Market Forecast in 2030
USD 1245.86 Million
Growth Rate
CAGR of 17.94%
Number of Pages
215
Key Companies Covered
Kolon Industries Inc., DuPont, HD MicroSystems, Nissan Chemical Corporation, The Chemours Company, UBE Industries Ltd., Kaneka Corporation, Chang Chun Group, Mitsui Chemicals Inc., SKC Kolon PI, Toray Industries Inc., Asahi Kasei, Showa Denko K.K., Sumitomo Chemical, Eternal Materials Co. Ltd., HITACHI Chemical Co. Ltd., JSR Corporation, and others.
Segments Covered
By Application, By Type, and By Region
Regions Covered
North America, Europe, Asia Pacific (APAC), Latin America, Middle East, and Africa (MEA)
Base Year
2022
Historical Year
2017 to 2021
Forecast Year
2023 - 2030
Customization Scope
Avail customized purchase options to meet your exact research needs. Request For Customization
Photosensitive Polyimide (PSPI) Market: Regional Analysis
Asia-Pacific projected to lead market growth during the projected period
The global photosensitive polyimide (PSPI) market will be led by Asia-Pacific during the projection period. One of the crucial growth drivers is the presence of a large and prominent semiconductor industry in Taiwan and China. The former produces more than 60% of the world's semiconductors. Among the most advanced semiconductors, the export rate of Taiwan is over 90%. The country is home to some of the largest semiconductor producing companies including Taiwan Semiconductor Manufacturing Corporation (TSMC). China, on the other hand, is working toward improving its semiconductor manufacturing capabilities. A recent report claimed that the country has launched a state fund worth USD 40 billion to improve its chip-making industry. Similar trends are observed in other nations such as Japan and India. The former nation is making excellent strides in the production of sophisticated and highly efficient PSPIs. In January 2022, Toray Industries, Inc., announced that it has developed a new negative photosensitive polyimide material that continues to offer traditional features such as mechanical, thermal, and adhesive properties while showing improved resolution and formation of high dimension patterns on films as thick as 100 micrometers or more.
Photosensitive Polyimide (PSPI) Market: Competitive Analysis
The global photosensitive polyimide (PSPI) market is led by players like:
Kolon Industries Inc.
DuPont
HD MicroSystems
Nissan Chemical Corporation
The Chemours Company
UBE Industries Ltd.
Kaneka Corporation
Chang Chun Group
Mitsui Chemicals Inc.
SKC Kolon PI
Toray Industries Inc.
Asahi Kasei
Showa Denko K.K.
Sumitomo Chemical
Eternal Materials Co. Ltd.
HITACHI Chemical Co. Ltd.
JSR Corporation
The global photosensitive polyimide (PSPI) market is segmented as follows:
By Application
Chip Packaging
Memory
Display Panel
Printed Circuit Board
Others
By Type
Negative Photosensitive Polyimide
Positive Photosensitive Polyimide
By Region
North America
Europe

France
The UK
Spain
Germany
Italy
Rest of Europe

Asia Pacific

China
Japan
India
South Korea
Southeast Asia
Rest of Asia Pacific

Latin America

Brazil
Mexico
Rest of Latin America

Middle East & Africa

GCC
South Africa
Rest of Middle East & Africa