The oxygen conserving devices market is set for a rapid growth over the forecast period. In terms of revenue, the global oxygen conserving devices market accounted for USD 1,033.71 Million in 2019 and is expected to reach USD 2,368.16 Million by 2026, growing at a CAGR of 12.57%
Global Oxygen Conserving Devices Market: Overview
Oxygen-Conserving Device (OCD) monitors the transfer of oxygen from the oxygen supplier to the patient. OCD releases oxygen only after the patient inhales, thereby greatly expanding the amount of time that the patient can utilize the oxygen supply. This gives patients improved mobility and relaxation from preventing a constant supply of oxygen to the nose. OCDs ultimately aim to make oxygen therapy more effective, more convenient and less intrusive.
Global Oxygen Conserving Devices Market: Growth Factors
The rising prevalence of Chronic Obstructive Pulmonary Disease (COPD) diseases, including chronic bronchitis, emphysema, and other chronic respiratory diseases, is a significant factor that is likely to drive the growth of the demand for oxygen-conserving devices. Over the past few decades, due to the introduction of new technology, unmet needs, rising demand for better medicine & treatment, and the beginning of a variety of medical devices, the healthcare sector has witnessed a tremendous amount of growth. Many researches have been based on how oxygen therapy has played an important role in improving dyspnea, providing relief from several disorders associated with chronic respiratory hypercapnic diseases, including pulmonary hypertension.
Despite essential advancements, prescribing and educating patients about how oxygen should be used for home therapy continues to pose a problem for doctors at present. A host of oxygen preservation equipment and techniques have flooded the business in the current scenario, which are progressively used as a stand-alone or hybrid treatment. The demand for portable oxygen storage devices has seen significant growth, especially in patients suffering from advanced lung disease and needing oxygen for a prolonged period.
Oxygen conserving devices are gaining enormous popularity over continuous oxygen supply, as these devices provide pulsed oxygen only when the patient inhales. Demand for oxygen conserving devices is increasing steadily as these devices improve the lifespan of oxygen cylinders and minimize oxygen waste. In addition, as these devices have been shown to minimize the use of oxygen by 50 percent, the adoption of these devices appears to reach new heights.
Technological developments leading to the production of oxygen storage, in particular for the control of oxygen flow as per pulse demand, and new products for the adult and pediatric population are anticipated to boost the market. It is expected that an increase in the geriatric population, rise in chronic respiratory diseases and growth in mergers and strategic alliances would drive global oxygen conservation devices market.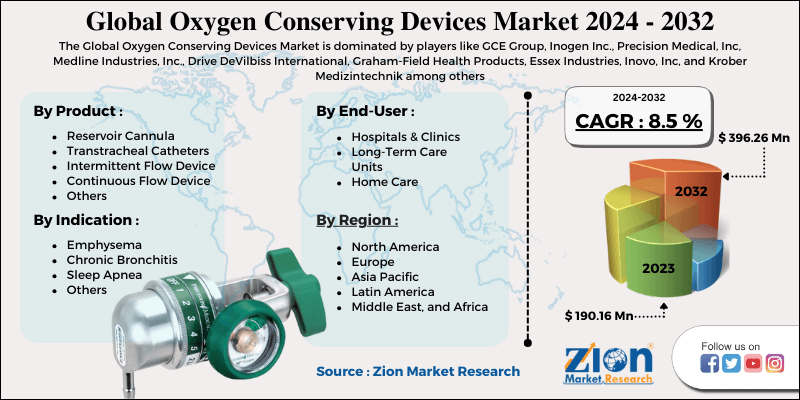 Request Free Sample
Global Oxygen Conserving Devices Market: Segmentation
On the basis of products, continuous flow oxygen is a common and efficient way of supplying oxygen to most chronic lung disease patients both in the hospital and at home. Reservoir cannulas were the first systems to become widely available and used. Although the use of these devices in the home environment has significantly contributed to the demand for pulse devices, they are essential as they provide another choice for the effective and efficient delivery of oxygen to outpatients – especially those with higher flow requirements.
In terms of indication, the chronic bronchitis segment accounted for a large market share of oxygen conserving devices in 2019. It is expected to retain its supremacy owing to the rising prevalence across the globe. This is a very common COPD disorder that is common in the United States. According to the 2018 National Health Interview Survey, in United States, nearly 9.03 million people were affected by chronic bronchitis, while 3.7 million people were affected by emphysema.
Based on end user, the hospital segment held a significant market share due to well-established hospital care and well-equipped facilities coupled with expertise and growing enrollment of people with chronic respiratory conditions. The homecare segment is projected to expand with a significant CAGR due to the efficient use of oxygen storage devices in household settings to provide additional oxygen to patients, especially geriatric patients.
Global Oxygen Conserving Devices Market: Regional Analysis
By Geography, the oxygen conserving devices market is segmented into North America, Europe, Latin America, Asia Pacific, and Middle East and Africa.
North America held the largest market share in 2019, due to an increase in the incidence of COPD such as chronic bronchitis and emphysema, combined with an increase in other chronic respiratory conditions. In addition, an increase in the aging populations, aging baby boomers, and technical advances to improve oxygen conservation and to provide supplementary therapy have led North America to maintain a significant share of the market.
According to research published by National Center for Biotechnology Information (NCBI), the prevalence of COPD in the United States is expected to be between 10.2 per cent and 20.9 per cent in 2019, which is likely to drive the demand for oxygen conserving devices during the forecast period. The involvement of key players and the launch of technologically advanced oxygen preserves are likely to boost the market in the region.
Europe holds a large market share for oxygen conserving devices, due to a significant increase in the smoking population, an increase in health care spending, a rise of investments in oxygen conserver production, the launch of disposable oxygen conserving devices and an increasing awareness of supplemental oxygen therapy. It is expected that the involvement of private players, such as the GCE Group and the powerful distribution chain of medical devices, would boost the demand for oxygen conservation devices in the region.
The increase in the number of COPD cases in Asia Pacific and the increase in disposable income are projected to drive the demand for oxygen conservation devices in the country. According to the Journal of Lung, Pulmonary & Respiratory Research, there are an estimated 500,000 deaths per year due to COPD in India. These factors fuel the need for oxygen conservers as an alternative treatment for patients with chronic respiratory diseases. Moreover, the increasing incidence of conditions such as asthma and cancer in Latin America and the Middle East & Africa is driving demand for oxygen conserving devices market.
Global Oxygen Conserving Devices Market: Competitive Players
The major players in the global oxygen conserving devices market include GCE Group, Inogen Inc., Precision Medical, Inc, Medline Industries, Inc., Drive DeVilbiss International, Graham-Field Health Products, Essex Industries, Inovo, Inc, and Krober Medizintechnik among others.
The report segment of global oxygen conserving devices market are as follows:
Global Oxygen Conserving Devices Market: Product Segment Analysis
Reservoir Cannula
Transtracheal Catheters
Intermittent Flow Device
Continuous Flow Device
Others
Global Oxygen Conserving Devices Market: Indication Segment Analysis
Emphysema
Chronic Bronchitis
Sleep Apnea
Others
Global Oxygen Conserving Devices Market: End-User Segment Analysis
Hospitals & Clinics
Long-Term Care Units
Home Care
Global Oxygen Conserving Devices Market: Regional Segment Analysis
North America
Europe

France
The UK
Spain
Germany
Italy
Rest of Europe

Asia Pacific

China
Japan
India
South Korea
Southeast Asia
Rest of Asia Pacific

Latin America

Brazil
Mexico
Rest of Latin America

Middle East & Africa

GCC
South Africa
Rest of Middle East & Africa