Description
Market Overview
The global organic coconut water market accounted for USD 217.1 Million in 2020 and is expected to reach more than USD 637.4 Million by 2028, growing at a CAGR of 16.1% from 2021 to 2028.
Coconut water has risen its properties across the world in recent years. The rising demand of coconut water can be attributed primarily to its hydrating and refreshing properties. The main differentiator between regular coconut water and organic coconut water is that organic water contains lower chemicals. Moreover, other characteristics such as the presence of better taste, antioxidants, and micronutrients content could shift the demand of conventional soft drinks to organic coconut water.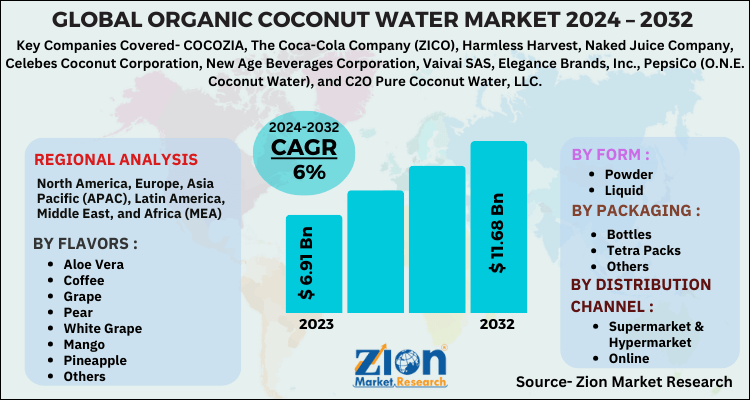 COVID-19 Impact Analysis
COVID-19 severely impacted demand and supply for organic coconut water. Lockdown in several countries has adversely impacted the organic coconut water brands. The pandemic led to various challenges to the food sector, the coconut market was badly affected across the globe. The factors like supply, the risk of continuing production, lack of workforce, distribution, and lesser development activities have impacted the supply and demand.
Growth Factors
Organic coconut water market is estimated to be driven by its health benefits, better taste, micronutrients content, antioxidants capacity, and others. Organic coconut water health benefits are, it has several minerals and vitamins which helps in keeping body hydrated, and is also good for digestive system since it cures many disorders like diarrhea, dysentery, vomiting, it is also good for heart as it controls cholesterol, hence, reducing chances of attacks and strokes. Consumption of coconut water improves skin texture and manages weight issues these are also the reasons of increased consumption.
Report Scope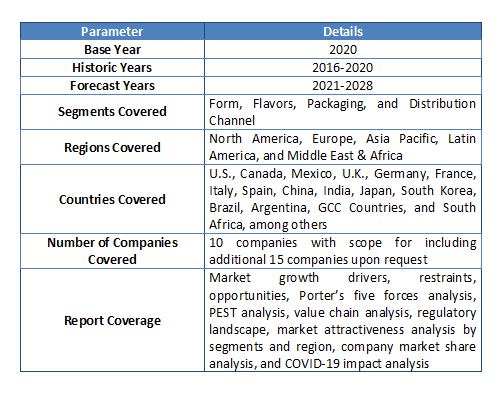 Packaging Segment Analysis Preview
Tetra pack segment held a share of over 40% in 2020. Tetra pack packaging offers long life to the liquid inside, it helps in protecting the content from bacteria and microbes. The product can be kept safe for months. Tetra pack packaging is made up of multiple layers. Different components are used in each layer, including paperboard which is made from wood, another one is polyethylene, it is a type of polymer, and aluminum. Tetra Pack packaging also helps in keeping light packaging.
Another reason is the rapid adoption of the packaging and is its recyclability. Moreover, manufacturers are using FSC wood (100%) to make it sustainable. The paper-based packaging makes it easy to handle, open and also gives it a healthy environmental profile.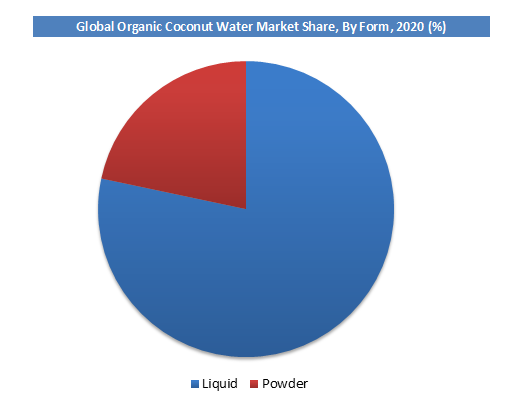 Distribution Channel Segment Analysis Preview
Online segment is projected to grow at a CAGR of around 18% from 2021 to 2028. The online platform has evolved as a new preferred platform among generation Y, Z, and Alpha for shopping. The preference is a result of the 24/7 availability of these stores. Customers can shop while relaxing back at home which gives an ease of shopping, this is one of the key factor for the growth of this platform.
Supermarkets & hypermarkets are contributing majorly in the growth of organic coconut water. These stores are one stop shop solution since it provides various goods for daily requirements. Coconut water comes in daily need for the consumers and therefore these stores are able to generate more revenue.
Regional Analysis Preview
North America accounted for a share of over 22% in 2020. Concern towards health consciousness is playing an important role for the rise in revenue for organic coconut water market regionally. The U.S. is contributing majorly due to the rising trend of veganism, also coconut water is a part of daily diet in nearing countries.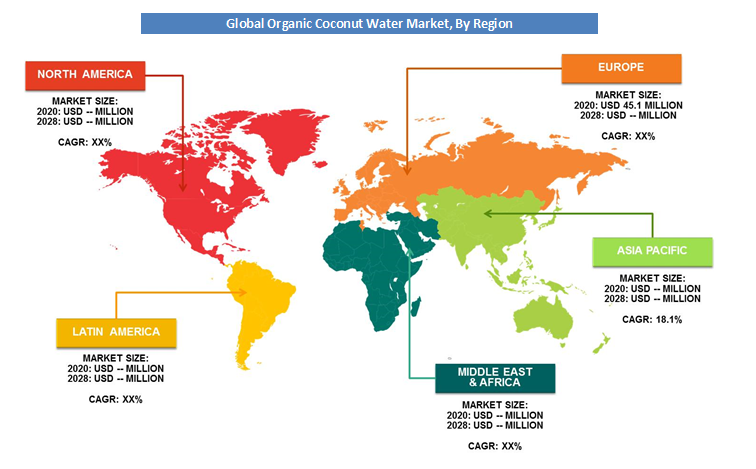 Middle East & Africa is projected to grow at a CAGR of around 13% from 2021 to 2028. It is a developing region and packed content is considered to be more hygienic. Tropical countries such as Sri Lanka, Brazil, India, European countries, Japan, and Thailand where production and consumption of coconuts are on the higher side, is expected to witness substantial growth in demand for organic coconut water.
Key Market Players & Competitive Landscape
Some of key players in organic coconut water market are COCOZIA, The Coca-Cola Company (ZICO), Harmless Harvest, Naked Juice Company, Celebes Coconut Corporation, New Age Beverages Corporation, Vaivai SAS, Elegance Brands, Inc., PepsiCo (O.N.E. Coconut Water), and C2O Pure Coconut Water, LLC, among others. Industry players are focusing on strategies such as joint ventures and new product development to gain a competitive advantage.
For instance, in 2019 August, a new product was launched by Vita Coco "sparkling coconut water" a substitute for sugary beverages. In 2020 August, Elegance Brands, Inc. and KC Distributing came into a strategic partnership which means KC Distributing can only sell Elegance's products for 12 months.
The global organic coconut water market is segmented as follows:
By Form
By Flavors
Aloe Vera
Coffee
Grape
Pear
White Grape
Mango
Pineapple
Others
By Packaging
Bottles
Tetra Packs
Others
By Distribution Channel
Supermarket & Hypermarket
Online
Others
By Region
North America
Europe

France
The UK
Spain
Germany
Italy
Rest of Europe

Asia Pacific

China
Japan
India
South Korea
Southeast Asia
Rest of Asia Pacific

Latin America

Brazil
Mexico
Rest of Latin America

Middle East & Africa

GCC
South Africa
Rest of Middle East & Africa