Industry Perspective:
The global multimode fiber cable market size was worth around USD 872.5 million in 2021 and is estimated to grow to about USD 1,216.7 million by 2028, with a compound annual growth rate (CAGR) of approximately 5.7% over the forecast period. The report analyzes the multimode fiber cable market's drivers, restraints/challenges, and the effect they have on the demands during the projection period. In addition, the report explores emerging opportunities in the multimode fiber cable market.
Dental Periodontics Market: Overview
Sales of multimode fiber optic cables and associated services are what make up the multimode fiber optic cable industry. These cables are utilized in a variety of sectors, including electricity, communication, broadcasting, and the military & aerospace. An optical fiber cable called a multimode fiber cable is made to transmit several light beams at once, each with a slightly varied angle of reflection. Given that the modes spread over longer lengths, multimode fiber cable is suitable for usage over short distances. The market expansion for multi-mode fiber cable will be accelerated by the rising demand for more capacity and faster speeds. Business and consumer demand for high bandwidth are increasing as more people use the internet for video chats, gaming, online shopping, and social networking. Fiber optic cable uses light, not electricity, to convey data, allowing for faster internet connections that can handle greater capacity. The emphasis on additional bandwidth leads to an increase in video consumption. As a consequence of the rising need for higher speed connections and greater capacity, the market for multi-mode fiber cable is growing. Speed and range limitations in the multimode fiber cable industry are serious problems.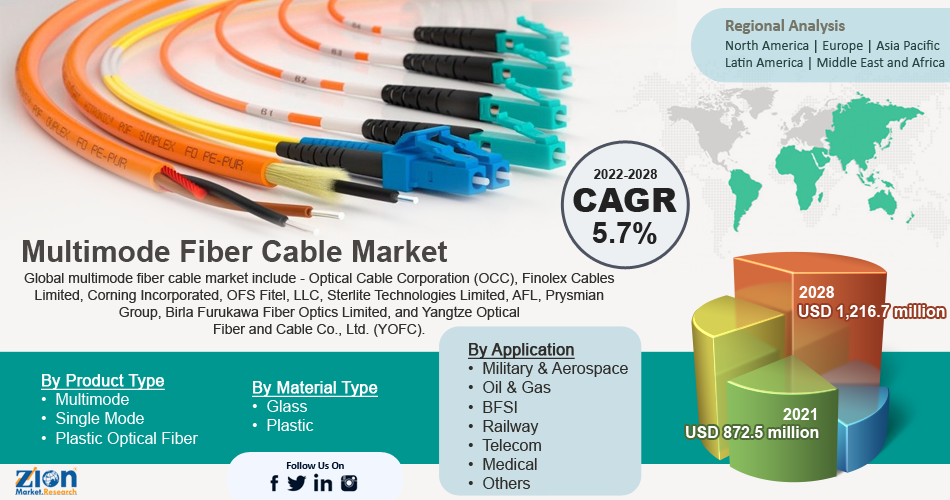 COVID-19 Impact:
In the first part of 2020, the COVID-19 pandemic significantly affected the global supply chain for raw materials and components. The pandemic also forced the closure of fiber optics production facilities, which to some part slowed the global multimode fiber cable market's expansion. However, some market participants were able to run their production plants during COVID-19 with a restricted capacity. COVID-19 has caused a rise in interest in work-from-home jobs and online learning programs. This sharp rise has accelerated the rollout of 5G and internet communication infrastructure around the globe. To address the growing demand for high bandwidth and dependability, telecom operators throughout the world will begin making significant investments in the construction of 5G communication infrastructure in 2022.
Key Insights
Multimode fiber cable market value is projected to grow at a CAGR of 5.7% over the forecast period.
The global multimode fiber cable market size was worth around USD 872.5 million in 2021 and is estimated to grow to about USD 1,216.7 million by 2028
The multi-mode fiber cable industry is expanding as a result of technological developments in fiber optic cables.
The Asia Pacific led the multimode fiber optic cable market in 2021.
In 2021, plastic-type multimode cable dominated the market.
The multimode product type acquired a major share in the market in 2021.
Multimode Fiber Cable Market: Growth Drivers
Increasing data volume and internet usage to drive the market growth
The number of internet users has been increasing exponentially over the world. Social networking services, online entertainment, Voice over IP (VoIP), and mobile payments have all grown widespread thanks to the rise in internet usage. As a result of the widespread use of tablets, laptops, smartphones, and other wireless devices, traffic related to data services, video streaming, online gaming, and the internet has significantly increased. To get to its destination, wireless traffic uses a fiber optic wireline network. As a result, landline networks like front haul and backhaul are largely responsible for the rise of mobile communications. An enormous amount of data is created and replicated globally as a result of rising multimedia usage. The expansion of the global multimode fiber cable market will be fueled by the increased deployment of new fiber optic cables and subsystems due to the increasing quantity of data being created.
Multimode Fiber Cable Market: Restraints
Adoption of wireless communication technologies is growing faster than that of wired systems.
One of the main inhibitors for multimode fiber optics producers is the rising usage of wireless communication solutions in place of cable ones. In wireless communications systems, a microwave radio spectrum is used to send data from one place to another. The receiving devices, antenna systems, and dishes receive the data from one central point. Radiofrequency (RF) and fiber space optics (FSO) are the two main technologies for wireless communication. Both RF and FSO technologies offer non-interference with one another and cost less to install. In comparison to fiber optics technology, these solutions boost communication application efficiency. Further limiting the global multimode fiber cable market development is the fact that wireless communication solutions are becoming more popular than multimode fiber optics, particularly in applications needing a greater data transmission rate.
Multimode Fiber Cable Market: Opportunities
Rapidly expanding 5G communication networks to bring up opportunities for market growth
The widespread use of 5G in established and developing countries would present advantageous market possibilities for vendors of multimode fiber optics. The deployment of optical fibers is crucial to the development of 5G infrastructure. These optical multimode fibers are capable of transmitting a significant quantity of data quickly between two locations. Telecom service providers are putting a lot of emphasis on building newer 5G base stations as 5G services continue to be commercialized to obtain a competitive edge in the market.
Multimode Fiber Cable Market: Challenges
Difficulties constructing fiber optic networks in challenging terrain and high installation costs
There are major difficulties in establishing the conduits along trenchless installations, even though multimode fiber optic cables are normally put within conduits beside the pipeline. Technical and administrative issues might be the cause of challenges in multimode fiber utilization. With subsea fiber optic cable networks, several telecom corporations have telecommunications infrastructure around the world. The majority of underground fiber optic cables are found on city streets and highways. However, in a region where any development or business site comes without authority, constructing a fiber network and adhering to it becomes challenging. These elements significantly hinder the market expansion for multimode fiber cables.
Multimode Fiber Cable Market: Segmentation
The global multimode fiber cable market is segregated on the basis of product type, material type, application, and region.
By product type, the market is divided into multimode, single mode, and plastic optical fiber. The multi-mode market category is anticipated to rule the whole world. Multi-mode is still the preferred fiber of choice for many applications, even though single-mode is simple to update and helps in "future proof" setups. Since the core diameters of multi-mode fiber optic cables are larger, several light paths and a range of light wavelengths may be communicated. They need less money to install, run, and maintain. At a cheaper cost than single-mode fiber, multimode optical fiber can readily accommodate the majority of lengths required for corporate and data center networks. Additionally, multi-mode fiber optic connections provide tremendous bandwidth and speed over brief distances. Thus, because of these benefits, multi-mode fiber optic cable demand is anticipated to increase in the upcoming years.
Based on application, the market is divided into military & aerospace, oil & gas, BFSI, railway, telecom, medical, and others. In 2021, the BFSI sector dominated the market.
By material type, the global multimode fiber cable market is divided into glass and plastic. The plastic category is anticipated to expand at significant rate over the projected period. Since the base material used to produce plastic optic fiber is different from the base material used to produce multimode and single-mode optic fiber, the market for these fibers is predicted to develop significantly over the projected period. The primary components utilized in the production of POF cables set it apart from its single- and multimode-mode cousins. While the core of single- and multimode fiber optics are made of glass, the core of POF cables is made of a polymer. This allows for cost reductions while providing a complicated structure. This is anticipated to accelerate the market expansion for multimode fiber-type optics.
Report Scope:
| Report Attribute | Details |
| --- | --- |
| Base Year | 2020 |
| Historic Years | 2016 - 2020 |
| Forecast Years | 2021 - 2028 |
| Segments Covered | By Product Type, By Application, and By End Use |
| Forecast Units | Value (USD Billion), and Volume (Units) |
| Quantitative Units | Revenue in USD million/billion and CAGR from 2021 to 2028 |
| Regions Covered | North America, Europe, Asia Pacific, Latin America, and Middle East & Africa, and Rest of World |
| Countries Covered | U.S., Canada, Mexico, U.K., Germany, France, Italy, Spain, China, India, Japan, South Korea, Brazil, Argentina, GCC Countries, and South Africa, among others |
| Number of Companies Covered | 10 companies with scope for including additional 15 companies upon request |
| Report Coverage | Market growth drivers, restraints, opportunities, Porter's five forces analysis, PEST analysis, value chain analysis, regulatory landscape, market attractiveness analysis by segments and region, company market share analysis, and COVID-19 impact analysis. |
| Customization Scope | Avail customized purchase options to meet your exact research needs. |
Multimode Fiber Cable Market: Regional Landscape
Asia Pacific will acquire major market share due to advancement in the telecom sector
During the projected period, Asia Pacific is anticipated to account for the highest share of the global multimode fiber cable market. The significant market share is attributed to the region's growing number of regional government efforts to boost multimode fiber optic expansion. The expansion of the market in the area will be supported by the widespread deployment of 5G base stations throughout China, South Korea, and Japan. Due to the area's expanding industrialization and infrastructure development, there is a significant growth potential for the deployment of fiber optic cables across a range of applications. The expansion of multimode fiber-optic cable networks has boosted the speed and size of the data networks used by cable providers and cellular carriers, allowing for the quicker transport of more data. This discovery should fuel additional industry revenue growth.
Multimode Fiber Cable Market: Competitive Landscape
Some of the main competitors dominating the global multimode fiber cable market include - Optical Cable Corporation (OCC), Finolex Cables Limited, Corning Incorporated, OFS Fitel, LLC, Sterlite Technologies Limited, AFL, Prysmian Group, Birla Furukawa Fiber Optics Limited, and Yangtze Optical Fiber and Cable Co., Ltd. (YOFC).
Global Multimode Fiber Cable Market is segmented as follows:
By Product Type
Multimode
Single Mode
Plastic Optical Fiber
By Material Type
By Application
Military & Aerospace
Oil & Gas
BFSI
Railway
Telecom
Medical
Others
By Region
North America
Europe

France
The UK
Spain
Germany
Italy
Rest of Europe

Asia Pacific

China
Japan
India
South Korea
Southeast Asia
Rest of Asia Pacific

Latin America

Brazil
Mexico
Rest of Latin America

Middle East & Africa

GCC
South Africa
Rest of Middle East & Africa