Millimeter Wave Technology Industry Prospective:
The global millimeter wave technology market size was worth around USD 2.60 billion in 2022 and is predicted to grow to around USD 10.82 billion by 2030 with a compound annual growth rate (CAGR) of roughly 19.45% between 2023 and 2030.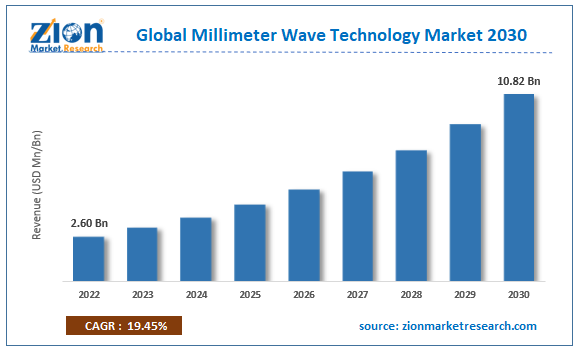 Request Free Sample
Millimeter Wave Technology Market: Overview
Millimeter wave is a spectrum band that consists of wavelengths between 10 millimeters and 1 millimeter. It is also known as a millimeter band or with the name issued by the International Telecommunication Union (ITU) called extremely high frequency (EHF). Millimeter wave technology belongs to the electromagnetic spectrum band that has a wide range of applications in modern, digital, and fast-paced networks. The telecommunication industry uses the technology to provide improved services on wireless and mobile networks. The millimeter wave technology is considered the future of the modern telecommunication ecosystem while leaving a significant impact on Radio Detection and Ranging (RADAR) systems. The industry for millimeter wave technology is expected to grow rapidly during the forecast period with continued research and investments.
Key Insights:
As per the analysis shared by our research analyst, the global millimeter wave technology market is estimated to grow annually at a CAGR of around 19.45% over the forecast period (2023-2030)
In terms of revenue, the global millimeter wave technology market size was valued at around USD 2.60 billion in 2022 and is projected to reach USD 10.82 billion, by 2030.
The millimeter wave technology market is projected to grow at a significant rate due to the increasing investment in 5G
Based on component segmentation, frequency sources & related components was predicted to show maximum market share in the year 2022
Based on end-user industry segmentation, mobile & telecommunication was the leading SEGMENT 2 in 2022
On the basis of region, Asia-Pacific was the leading revenue generator in 2022
Millimeter Wave Technology Market: Growth Drivers
Increasing investment in 5G to create higher demand
The global millimeter wave technology market is projected to grow owing to the increasing application of the communication tool in 5G infrastructure. Research indicates that the technology will be helpful in creating a 5G network through which all present and future applications are expected to have higher internet speed and reliability. Network providers across the globe are investing in deploying 5G infrastructure starting from developed countries to emerging nations. 5G technology has the capacity to power all data-intensive applications. As per predictions, the future of 5G systems entails the development of all major sectors including smart homes, telemedicine, autonomous automobiles, supply-chain logistics, traffic management, education, and every other field.
Recently, the European Commission issued a commitment of more than €700 million to the Horizon 2020 Program to reach a global consensus on creating 5G architecture in European territory. On the other hand, India is expected to witness an investment of USD 25 billion in 5G by Jio, a leading regional network provider. The company has already spent USD 11 billion to acquire 5G spectrum. The United States registered an investment of USD 430 billion by Apple when it initiated a deal with Broadcom to promote the production of 5G components. These statistics indicate that the telecom industry is rapidly evolving and millimeter wave technology will play a crucial role in ensuring smooth transitions.
Millimeter Wave Technology Market: Restraints
Higher manufacturing costs and requirement of skilled labor to restrict market growth
The global millimeter wave technology market growth is likely to be affected by the high cost of manufacturing millimeter wave technology components since they are high-precision and sophisticated devices. Additionally, a skilled labor force is required for building, maintaining, and developing the technology further. However, the cost restricts entry or new players while the gap in supply and demand for skilled labor limits the expansion strategy adopted by operating companies. The practical application of millimeter wave technology has shown certain drawbacks to the system. For instance, at extremely high frequencies, millimeter wave technology has significant attenuation and hence cannot be used for long-range transmissions. Companies will have to invest in building and installing more antennas which ultimately impacts the total allocated budget.
Millimeter Wave Technology Market: Opportunities
Emerging applications in the aerospace industry to create growth opportunities
The millimeter wave technology industry size may be further promoted owing to the emerging applications of the tools in the aerospace and defense sectors where satellite communication plays a crucial role. Since the millimeter wave technology provides exceptional performance in short-range communications, it can be used to produce high-performance radar and communication systems. These frequencies are used extensively for linking data to unmanned aerial vehicles (UAVs), drones, and other satellites. Moreover, the technology is known to be helpful in detecting smaller military and defense objects such as missiles and drones. The increased spending on military technology by global leaders in the backdrop of the Russia-Ukraine war could trigger higher adoption of the millimeter wave technology. In July 2023, the Indian government joined hands with France to promote joint development of next-generation military equipment.
Millimeter Wave Technology Market: Challenges
Limited application of millimeter wave and severe environmental impact to create challenges against growth
Millimeter wave technology, even though efficient for short-distance communication, has limited application. The technology fails to provide sufficient results in case of severe weather conditions as humidity and rain are known to impact signal strength. This concept is known as rain fade which also impacts the propagation distance of the technology since at higher frequencies the signal can only travel a few meters, thus putting the cost efficiency of the technology under doubt. Moreover, millimeter waves may have a serious impact on the environment due to excessive consumption of fuel which ultimately leads to severe environmental pollution.
Millimeter Wave Technology Market: Segmentation
The global millimeter wave technology market is segmented based on component, product, end-user industry, license type, and region.
Based on component, the global market is divided into radiofrequency (RF) & radio components, antennas & transceiver components, sensors & controls, power & battery components, communication & networking components, frequency sources & related components, and others. In 2022, the highest growth was observed in the frequency sources & related components segment. These equipment generate signals with strength between 30 GHz and 300 GHz. The quality of the signal generated is directly dependent on the performance of the components used for generating the signal. Since it is difficult to meet system requirements using conventional direct oscillators at high frequencies, the demand for frequency oscillators is higher to produce high frequency demanded by millimeter wave technology.
Based on product, the millimeter wave technology industry divisions are radar & satellite communication systems, scanning systems, telecommunication equipment, and others.
Based on end-user industry, the global market segments are automotive & transportation, mobile & telecommunication, industrial, consumer & commercial, healthcare, and imaging. The highest market growth was recorded in the mobile & telecommunication sector since the millimeter wave technology is a crucial driver promoting the development of the 5G services market which is currently valued at over USD 107.5 billion. The limited yet growing application of the technology in several factory levels of interconnecting industrial equipment digitally could promote higher segmental growth.
Based on license type, the millimeter wave technology industry is segmented into fully licensed, unlicensed, and light licensed.
Millimeter Wave Technology Market: Report Scope
Report Attributes
Report Details
Report Name
Millimeter Wave Technology Market
Market Size in 2022
USD 2.60 Billion
Market Forecast in 2030
USD 10.82 Billion
Growth Rate
CAGR of 19.45%
Number of Pages
222
Key Companies Covered
Keysight Technologies, Qualcomm Technologies Inc., NEC Corporation, Siklu Communication Ltd., Bridgewave Communications, L3Harris Technologies, Millimeter Wave Products Inc., Millitech Inc., Radiowave Inc., Farran Technology Ltd., Aviat Networks Inc., Sage Millimeter Inc., BAE Systems plc, E-Band Communications LLC, Vubiq Networks Inc., ROHDE & SCHWARZ GmbH & Co KG, Anokiwave Inc., Millimeter Wave Wireless Inc., Cognizant Communication Corporation, TeraView Limited., and others.
Segments Covered
By Component, By Product, By End-User Industry, By License Type, and By Region
Regions Covered
North America, Europe, Asia Pacific (APAC), Latin America, Middle East, and Africa (MEA)
Base Year
2022
Historical Year
2017 to 2021
Forecast Year
2023 - 2030
Customization Scope
Avail customized purchase options to meet your exact research needs. Request For Customization
Millimeter Wave Technology Market: Regional Analysis
Asia-Pacific to witness a higher growth rate during the forecasted timeline
The global millimeter wave technology market will witness the highest growth rate in Asia-Pacific since it is home to some of the most rapidly developing economies that are aggressively investing in upgrading the regional telecommunication sector with the advancement in the 5G network. Additionally, with the growing population and changing consumer demand with increasing adoption of smart systems, millimeter wave technology can help companies and governments meet the expectations of the general population. Since millimeter waves can inherently allow high data transfer without being genotoxic, it is ideal for network providers to leverage the ability of the technology to penetrate obstacles.
North America is projected to grow at a significant pace with increasing research to improve applications of millimeter wave systems and devices. Additionally, the rise in investment by network providers for improving 5G infrastructure with the increased adoption of the Internet of Things (IoT) and other advanced networking systems is likely to assist in higher regional growth.
Millimeter Wave Technology Market: Competitive Analysis
The global millimeter wave technology market is led by players like :
Keysight Technologies
Qualcomm Technologies Inc.
NEC Corporation
Siklu Communication Ltd.
Bridgewave Communications
L3Harris Technologies
Millimeter Wave Products Inc.
Millitech Inc.
Radiowave Inc.
Farran Technology Ltd.
Aviat Networks Inc.
Sage Millimeter Inc.
BAE Systems plc
E-Band Communications LLC
Vubiq Networks Inc.
ROHDE & SCHWARZ GmbH & Co KG
Anokiwave Inc.
Millimeter Wave Wireless Inc.
Cognizant Communication Corporation
TeraView Limited.
The global millimeter wave technology market is segmented as follows:
By Component
RF & Radio Components
Antennas & Transceiver Components
Sensors & Controls
Power & Battery Components
Communication & Networking Components
Frequency Sources & Related Components
Others
By Product
Radar & Satellite Communication Systems
Scanning Systems
Telecommunication Equipment
Others
By End-User Industry
Automotive & Transportation
Mobile & Telecommunication
Industrial
Consumer & Commercial
Healthcare
Imaging
By License Type
Fully Licensed
Unlicensed
Light Licensed
By Region
North America
Europe

France
The UK
Spain
Germany
Italy
Rest of Europe

Asia Pacific

China
Japan
India
South Korea
Southeast Asia
Rest of Asia Pacific

Latin America

Brazil
Mexico
Rest of Latin America

Middle East & Africa

GCC
South Africa
Rest of Middle East & Africa