According to the report published by Zion Market Research, global demand for Data Center RFID Market was valued at approximately USD 0.42 Billion in 2019, and is expected to generate revenue of around USD 10.30 Billion by end of 2026, growing at a CAGR of around 36.5 % between 2020 and 2026.
Global Data Center RFID Market: Overview
A data centre is nothing but a storage facility that stores those computers that are essential to the growth of a business. These data centres are equipped to provide reliable, timely and secure data within the company. Nowadays however, increasing threats to data and information have become a matter of concern for data centre managers. As a result, these managers are using various technologies to protect their data. Radio frequency identification (RFID) is one such technology that can be used to track assets such as routers, servers, and others. Automation through RFID reduces human error and inefficiency, reduces complexity and cost while increasing control and flexibility. RFID enables firms to collect and identify a bunch of data centre assets metrics.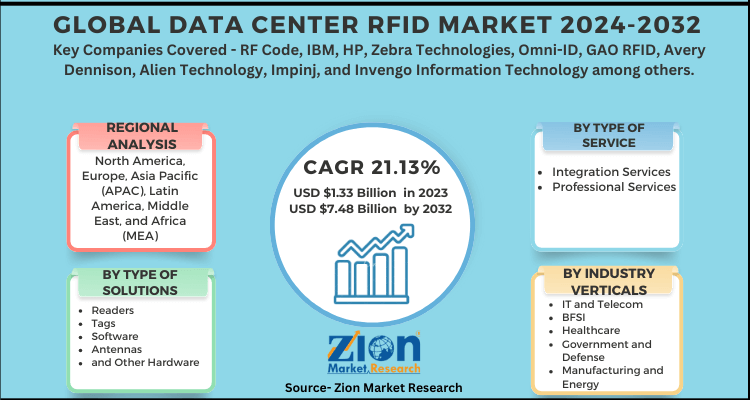 Global Data Center RFID Market: Growth Factors
The global market for RFID data centres does one thing that is good for every organisation. It helps track costly data centres and reduces additional operating costs. This is the main reason why the global market for RFID data centres has suddenly risen. In addition, a large number of data centres opt for RFID technology to reduce costs, improve operational efficiency and increase inventory accuracy. When RFID tags are used on data centre equipment rack, they can help to provide rack data within a few seconds. In addition, the mislaid elements can be located without effort without reading the serial number individually.
Global Data Center RFID Market: Segmentation
Based on the type of solutions, the global data center RFID market is segmented as readers, tags, software, antennas, and other hardware. On the basis of the type of service, the global market is diversified as integration services and professional services. On the basis of industry verticals, the global data center RFID market is classified as IT and telecom, BFSI, healthcare, government and defense, manufacturing and energy, research and academic, and retail.
Global Data Center RFID Market: Regional Analysis
Latin America, North America, the Middle East, Africa and Asia-Pacific add to the regional diversification of the global RFID data centre industry. In this, Asia Pacific is said to dominate the global economy. Growing digitization in Asia-Pacific countries such as India and China is driving the development of the global RFID data centre industry. The remaining regions of the world will see slow yet consistent growth in the global demand for RFID data centres.
Global Data Center RFID Market: Competitive Players
Some main participants of the data center RFID market are RF Code, IBM, HP, Zebra Technologies, Omni-ID, GAO RFID, Avery Dennison, Alien Technology, Impinj, and Invengo Information Technology among others.
Data Center RFID Market: Regional Segment Analysis
North America
Europe

France
The UK
Spain
Germany
Italy
Rest of Europe

Asia Pacific

China
Japan
India
South Korea
Southeast Asia
Rest of Asia Pacific

Latin America

Brazil
Mexico
Rest of Latin America

Middle East & Africa

GCC
South Africa
Rest of Middle East & Africa