Metal Magnesium Market: Industry Perspective
The global metal magnesium market size was worth around USD 4.3 billion in 2021 and is predicted to grow to around USD 6.45 billion by 2028 with a compound annual growth rate (CAGR) of roughly 5.45% between 2022 and 2028. The report analyzes the global metal magnesium market's drivers, restraints/challenges, and the effect they have on the demands during the projection period. In addition, the report explores emerging opportunities in the metal magnesium market.
Metal Magnesium Market: Overview
Magnesium, with atomic number 12 and chemical symbol Mg is a chemical element, shiny gray solid, and is a part of the 6 alkaline earth metals. It is produced in aging stars, which are astronomical objects, and is a result of adding 3 helium (He) nuclei to one carbon (Ca) nucleus. When the aging stars explode, they expel some of the Mg in the interstellar medium whey they may be recycled in new astronomical systems. Magnesium is present in abundance in Earth's crust and ranks 8th in the list of elements found in plentitude. It is also the fourth most common element after iron, oxygen, and silicon found on Earth.
Magnesium makes for 13% of the Earth's total mass and contributes significantly to the planet's mantle which is a layer between the core and the crust of a planet. After sodium and chlorine, Mg is the third element dissolving in seawater at a large scale. Magnesium does not occur naturally just by itself and can only be found in combination with other elements.
The free element of Mg called metal is produced artificially but it is highly reactive. In the atmosphere, metal gets coated with oxide forming a thin layer that helps the metal to inhibit its reactive nature. Metal is created by electrolyzing magnesium salts that are obtained from brine and it is widely used as a major component in aluminum-magnesium alloys.
Since Mg is less dense than aluminum, the combination of both elements is popular owing to their high strength and lightweight. Magnesium is also found in the human body and is the eleventh most abundant element present, acting as an essential component for over 300 enzymes and all cells. It can interact with other polyphosphate compounds like deoxyribonucleic acid (DNA), Ribonucleic acid (RNA), and Adenosine triphosphate (ATP) critical to all living beings. All enzymes require a sufficient amount of Mg for their proper functioning. Magnesium is used for its medicinal properties and can be found in the market as antacids, and laxatives, as well as a stabilizer for blood vessel spasms or to control abnormal nerve excitation.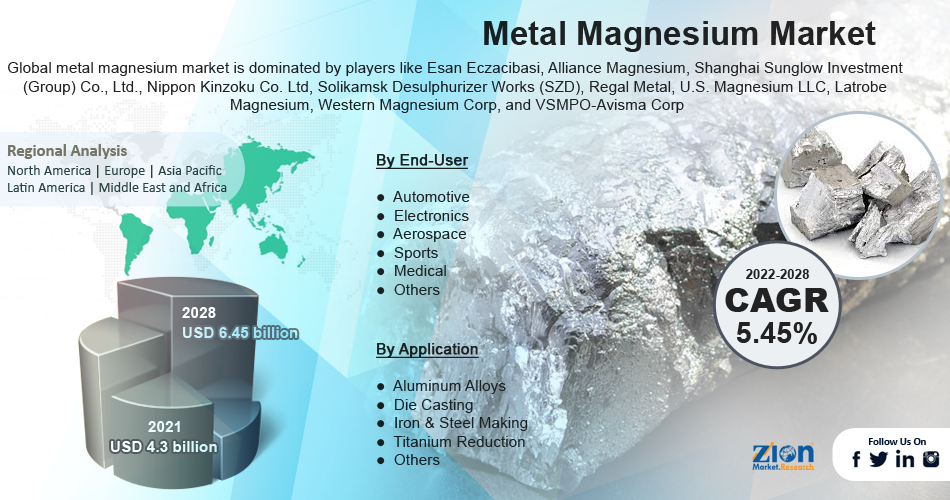 Key Insights
As per the analysis shared by our research analyst, the global metal magnesium market is estimated to grow annually at a CAGR of around 5.45% over the forecast period (2022-2028).
In terms of revenue, the global metal magnesium market size was valued at around USD 4.3 billion in 2021 and is projected to reach USD 6.45 billion, by 2028. Due to a variety of driving factors, the market is predicted to rise at a significant rate.
Based on application segmentation, die casting was predicted to show maximum market share in the year 2021
Based on the end-user segmentation, automotive was the leading revenue-generating end-user in 2021.
On the basis of region, Asia-Pacific was the leading revenue generator in 2021
Covid-19 Impact
The global market cap witnessed changes in the price of metal magnesium during Covid-19. The high price fluctuation was driven by the temporary closure of multiple industries and metal-creating factories due to lockdown impositions. International transport of products was also restricted resulting in supply chain issues in the export or import of the element.
Metal Magnesium Market: Growth Drivers
Growing demand for lightweight products to propel market growth
The global metal magnesium market is anticipated to grow because of the rising demand for lightweight elements across heavy industries like vehicle manufacturing, aerospace, and infrastructure development. Since these sectors require elements that can help further developments & advancements and metal magnesium exhibits exceptional and versatile properties like high strength, and low weight, along with good heat conductivity and electromagnetic screening properties, it has found multiple applications which are expected to grow even further during to the ongoing research activities in understanding the properties of the element when combined with other units.
The global market demand is projected to be propelled by the rising trend of utilizing lightweight but strong materials in aircraft manufacturing to help reduce the overall weight of the product. The main reason why the product has high demand is because of its extreme versatility making it useful to manufacturers in different parts of the same product and not just one specific section. For instance, in the aircraft sector, it is used to create wings, fuel tanks, control hinges, and engine mounts.
The global market expansion may also be attributed to the rising demand for the product manufactured smart devices like laptops, smartphones, television, and others. In 2021, the sales of laptops went up by over 20% and the number is expected to grow further in the next few years which will also lead to higher demand for low-weight building materials like metal magnesium.
Metal Magnesium Market: Restraints
High corrosion rate to restrict the market growth
Magnesium alloys are proven to have a low resistance to corrosion and in their ideal state, they are highly reactive. This is also coupled with the low creep strength which is related to the power to withstand high temperature which is very low in the case of metal magnesium. These factors restrict the application of the element by itself subsequently impacting the global market growth. However, there are ongoing efforts to understand more about the element and its uses.
Metal Magnesium Market: Opportunities
Environmental friendliness of the element to aid the generation of growth opportunities
Since magnesium itself is a naturally occurring element, it is extremely environmentally friendly and does not affect the environment negatively. It can be easily and widely recycled which is one of the key components of sustainable development. By developing effective processes to recycle magnesium metals, more than 5% to 10% of greenhouse gas emissions can be reduced. Owing to these factors, many governments are pushing commodity manufacturers to utilize metal magnesium wherever possible, especially in segments that make use of heavy elements or metals. Such initiatives to encourage the use of metal magnesium by international and domestic entities are projected to provide growth opportunities for global metal magnesium market expansion.
Metal Magnesium Market: Challenges
Concerns related to the impact of magnesia mining activities to challenge market growth
The global market may face some challenges during its growth period owing to the rising concerns related to unethical and environmentally unfriendly methods of magnesia mining. As per many reports, the mining process includes poor working and rehabilitation conditions for people working at mining sites along with low remuneration leading to workers' exploitation. The growing tension surrounding the impact that mining activities themselves have on the environment pollution may add challenges to the global market
Metal Magnesium Market: Segmentation
The global metal magnesium market is segmented based on application, end-user, and region.
Based on application, the global market is divided into aluminum alloys, die casting, iron & steel making, titanium reduction, and others. In 2021, the global market was led by die-casting applications with a total market share of over 38%. As compared to other metals, magnesium metals are 75% less in weight without losing their strength capacity and are deemed as the better metal for creating thin-walled, complex net shaped to close to net-shaped casting offering better dimension stability. The second most application of metal magnesium is aluminum alloys which are used extensively in the engineering sector.
Based on end-user, the global market is segmented into automotive, electronics, aerospace, sports, medical, and others. The global market witnessed the highest growth in the automotive sector because of the increasing demand for magnesium metal alloys for manufacturing lightweight vehicles. By 2020, the global automotive manufacturers had aimed to use an average of 350lbs of magnesium in vehicles including parts like small panels, trunk lids, and car components like car seats. Electronics is also a high-consuming end-user in the global market.
Recent developments:
In June 2022, Western Magnesium Corporation, a global market leader in high-quality clean magnesium metal and alloys, announced that it had successfully managed to produce magnesium metal at its commercial pilot plant. The move has empowered the company to meet the surging demand for clean magnesium metals and allows in the aerospace, automotive, airline, defense, and other eco-friendly industries, by coming closer to the commercial production of magnesium metal.
In March 2020, the International Magnesium Association (IMA), the globally recognized unit for the magnesium industry, launched a 3 Dimensional Automotive Application Demonstrator, capable of showcasing the value that magnesium holds because of its lightweight and utilization throughout vehicle production, starting from structural to body-in-white (BIW), all the way to the transmission components along with the interior applications.
Metal Magnesium Market Report Scope:
Report Attributes
Report Details
Report Name
Metal Magnesium Market Research Report
Number of Pages
167
Key Companies Covered
Esan Eczacibasi, Alliance Magnesium, Shanghai Sunglow Investment (Group) Co., Ltd., Nippon Kinzoku Co. Ltd, Solikamsk Desulphurizer Works (SZD), Regal Metal, U.S. Magnesium LLC, Latrobe Magnesium, Western Magnesium Corp, and VSMPO-Avisma Corp
Segments Covered
By Product Type, By Application, and By End Use
Forecast Units
Value (USD Billion), and Volume (Units)
Regions Covered
North America, Europe, Asia Pacific (APAC), Latin America, Middle East and Africa (MEA)
Countries Covered
North America: U.S and Canada
Europe: Germany, Italy, Russia, U.K, Spain, France, Rest of Europe
APAC: China, Australia, Japan, India, South Korea, South East Asia, Rest of Asia Pacific
Latin America: Brazil, Argentina, Chile
The Middle East And Africa: South Africa, GCC, Rest of MEA
Base Year
2021
Historical Year
2016 to 2020
Forecast Year
2022 - 2028
Customization Scope
Avail customized purchase options to meet your exact research needs. Request For Customization
Metal Magnesium Market: Regional Analysis
Asia-Pacific to lead market growth during the projection period
The global metal magnesium market is projected to grow at the highest and fastest CAGR in Asia-Pacific because of the growing demand for the product, especially in the automotive and aerospace industry. The region held around 44.9% of the global market share in 2021. Regions like China, India, Japan, and Singapore are witnessing a surge in demand for electric vehicles along with infrastructural development.
This rising trend is aided by the efforts undertaken by private companies as well the government units aiming toward the high overall development of the countries. As per a report by Daxue Consulting, China's electric vehicle market generated a sales revenue of over USD 2.92 million while also dominating more than 53% of the global market share.
This is related to the country's efforts toward fulfilling its 2060 carbon neutrality plan. The regional growth may also be driven by the dominant steel industry in Japan, China, and India which rank as the top 3 steel-producing countries in the entire world. Since Asia-Pacific houses the top largest producers, the region is projected to grow at a faster rate. For instance, China produced over 99.5 metric tons of steel by May 2021, whereas India produced around 9.2 metric tons, followed by Japan with 8.4 metric tons of steel.
Metal Magnesium Market: Competitive Analysis
The global metal magnesium market is dominated by players like Esan Eczacibasi, Alliance Magnesium, Shanghai Sunglow Investment (Group) Co., Ltd., Nippon Kinzoku Co. Ltd, Solikamsk Desulphurizer Works (SZD), Regal Metal, U.S. Magnesium LLC, Latrobe Magnesium, Western Magnesium Corp, and VSMPO-Avisma Corp
The global metal magnesium market is segmented as follows:
By Application
Aluminum Alloys
Die Casting
Iron & Steel Making
Titanium Reduction
Others
By End-User
Automotive
Electronics
Aerospace
Sports
Medical
Others
By Region
North America
Europe

France
The UK
Spain
Germany
Italy
Rest of Europe

Asia Pacific

China
Japan
India
South Korea
Southeast Asia
Rest of Asia Pacific

Latin America

Brazil
Mexico
Rest of Latin America

Middle East & Africa

GCC
South Africa
Rest of Middle East & Africa