Medical X-Ray Film Industry Prospective:
The global medical X-ray film market size was worth around USD 962.8 million in 2022 and is predicted to grow to around USD 1258.76 million by 2030 with a compound annual growth rate (CAGR) of roughly 3.52% between 2023 and 2030.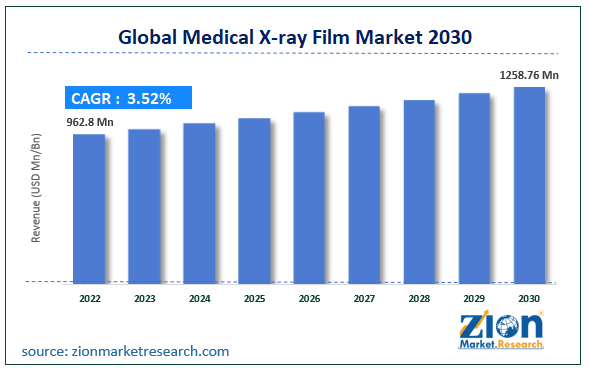 Request Free Sample
Medical X-Ray Film Market: Overview
Medical X-ray films are used in medical settings. The images generated by X-ray machines in a medical unit are displayed on X-ray films. The images consist of body parts of patients and X-ray procedures are carried out only when recommended by a medical professional. In simple terms, medical X-ray films are display units for medical X-ray images. The machines producing these images use X-ray radiation that captures specific, detailed, and highly accurate pictures of a certain body part and uses techniques such as conventional radiography or radiographic film imaging to transfer the image from the machine to the film.
Medical-grade X-ray films are made of several layers and the latent image is produced on the emulsion layer which undergoes further processing to display the latent image into a visible film. The layers consist of base, substratum, emulsion, and protective layer. The base unit is made of polyester or cellulose triacetate for support while the substratum is an adhesive layer containing solvents and gelatin creating a bond between the base and the emulsion layer. The third layer is made of gelatin or silver halide while some hardening agents may also be used for better performance. The final layer is responsible for protecting the emulsion layer from any external damage. The demand for medical X-ray films is growing slowly and may continue the same trend during the forecast period.
Key Insights:
As per the analysis shared by our research analyst, the global medical X-ray film market is estimated to grow annually at a CAGR of around 3.52% over the forecast period (2023-2030)
In terms of revenue, the global medical X-ray film market size was valued at around USD 962.8 million in 2022 and is projected to reach USD 1258.76 million, by 2030.
The medical X-ray film market is projected to grow at a significant rate due to the increasing rate of X-ray procedures in medical settings
Based on application segmentation, the hospital was predicted to show maximum market share in the year 2022
Based on type segmentation, full-speed blue was the leading type in 2022
On the basis of region, Asia-Pacific was the leading revenue generator in 2022
Medical X-Ray Film Market: Growth Drivers
Increasing rate of X-ray procedures in medical settings to drive market growth
The global medical X-ray film market is expected to grow owing to the rising rate of X-ray procedures in the global healthcare industry. Medical X-ray is one of the standard tests conducted for several medical conditions including dental X-ray, chest X-ray, detecting broken bones or fractures, orthopedic conditions, and emergency cases or trauma are some of the examples from the long list of medical X-ray applications. This medical imaging procedure is also helpful in detecting serious conditions such as lung cancer or other heart diseases. As per a June 2023 report by the World Health Organization (WHO) lung cancer is one of the leading causes of death across the globe. It accounts for the highest mortality rates in women and men. The WHO report also claims that nearly 85% of lung cancer cases are caused by smoking. However, early diagnosis and detection are known to improve survival rates and X-ray procedures are one of the primary ways for detecting lung cancer resulting in higher demand for medical-grade X-ray films.
Growing investments in healthcare infrastructure to push for higher revenue
The demand for medical X-ray films will boost due to the growing investments in global healthcare infrastructure. This includes a rising number of medical care facilities and diagnostic centers equipped with advanced medical tools such as X-ray machines and ancillary products such as X-ray films. For instance, in September 2023, Canon Medical Systems Europe announced the inauguration of its state-of-the-art facility Canon Medical Academy Europe spread across 8642 m2. The facility has more than 17 training rooms and is equipped with advanced medical tools such as Diagnostic and Interventional X-ray, Computed Tomography, and an Angio-CT system among others.
Medical X-Ray Film Market: Restraints
Environmental concerns associated with X-ray films may restrict market growth
The global medical X-ray film market is expected to witness certain growth limitations due to the environmental impact of the materials used in the production of medical X-ray films. These imaging accessories typically consist of silver which is released into the environment when medical X-ray films are discarded. Other harsh chemicals include fixing agents such as ammonium thiosulfate or acetic acid which is sometimes one of the chemicals used during the production process. In addition to this, there is a general lack of an efficient medical X-ray film disposal process. These films are non-biodegradable due to their extensive plastic content. With the growing rate of X-ray procedures, used films are compiling at an exponential rate and being discarded in open environments leading to serious environmental pollution.
Medical X-Ray Film Market: Opportunities
Growing production innovation to generate growth opportunities
The growth avenues for the medical X-ray film industry are projected to gain higher momentum as a result of growing research and development in terms of X-ray film efficiency. Global manufacturers are moving toward developing films that provide higher image quality and precision. They are also focusing on limiting the use of harsh chemicals. Furthermore, the market can gain significant revenue resulting from the growing popularity of portable X-ray machines that are witnessing a surging demand in the medical care sector. For instance, during the COVID-19 United States Agency for International Development (USAID) announced that it would partner with the Center for Health Development (CHD) – CALABARZON, Department of Health (DOH), Fujifilm Philippines to improve tuberculosis (TB), and National Tuberculosis Control Program (NTP) for the introduction of portable chest X-ray machines to screen and detect tuberculosis in patients.
Growing elderly population in emerging economies to generate significant revenue
During the projection period, emerging economies are predicted to witness significant demand for medical X-ray films as the elderly population in these nations continues to rise. The geriatric population is highly prone to several medical conditions out of which orthopedic and dental issues are the leading concerns. As per a report by the Lawrence Berkeley National Laboratory, around 50% of women over the age of 50 and 25% of men over 50 years are likely to suffer from age-induced bone fracture at some point in their lives.
Medical X-Ray Film Market: Challenges
Growing competition from digital X-ray systems to challenge market growth
One of the key challenges faced by the medical X-ray film industry players is the increasing shift toward the use of digital X-ray systems that do not depend on medical X-ray films for imaging purposes. Several countries have reported piling of unused X-ray films in abundance that are getting wasted. Medical centers and healthcare facilities are increasingly promoting the use of digital medical X-ray tools that use digital detectors for functional purposes. In July 2022, Siemens Healthineers launched Mobilett Impact. It is the company's latest mobile X-ray system that offers digitally integrated solutions at an affordable price. It can connect to patients' bedside and is safer as compared to traditional medical X-ray films using imaging machines. Furthermore, research indicates that films are getting increasingly difficult to procure due to reduced production rates and availability.
Medical X-Ray Film Market: Segmentation
The global medical X-ray film market is segmented based on application, type, and region.
Based on application, the global market segments are clinics, hospitals, and others. In 2022, the hospitals segment was the leading revenue generator as these units typically have a larger number of patients to cater to. Growing accommodation of crucial imaging equipment and other medical devices has allowed the segment to prosper in the last few years. However, the forecast period is projected to be slow as hospitals continue to invest in digital systems. The high price of traditional X-ray machines ranging between USD 35000 to USD 200,000 will further impact segment growth.
Based on type, the global market divisions are half speed blue, green, and full speed blue. In 2022, the most used medical X-ray film type was full speed blue since these variants have higher applications across the board. They are designed to meet the sensitive needs of medical X-rays while being highly effective in delivering accurate images for routine checkups. The typical size ranges available in the market are 20 cm x 25 cm and 28 cm x 35 cm.
Medical X-ray Film Market: Report Scope
Report Attributes
Report Details
Report Name
Medical X-ray Film Market
Market Size in 2022
USD 962.8 Million
Market Forecast in 2030
USD 1258.76 Million
Growth Rate
CAGR of 3.52%
Number of Pages
213
Key Companies Covered
Fujifilm Holdings Corporation, Agfa-Gevaert Group, FUJIFILM Wako Diagnostics, Carestream Health, Agilent Technologies, Kodak Alaris, Varian Medical Systems Inc., Imaging Dynamics Company Ltd., Siemens Healthineers, SONY Corporation, Hitachi Healthcare, and others.
Segments Covered
By Application, By Type, and By Region
Regions Covered
North America, Europe, Asia Pacific (APAC), Latin America, Middle East, and Africa (MEA)
Base Year
2022
Historical Year
2017 to 2021
Forecast Year
2023 - 2030
Customization Scope
Avail customized purchase options to meet your exact research needs. Request For Customization
Medical X-Ray Film Market: Regional Analysis
Asia-Pacific to register the highest growth rate during the projected period
The global medical X-ray film market will witness the highest growth in Asia-Pacific primarily because most Asian countries continue to use traditional X-ray machines that facilitate the use of associated films. Although certain countries such as China, India, South Korea, and Japan are slowly phasing out the use of traditional X-ray methods, the regional market for X-ray films in the medical sector continues to remain significant. Factors such as the steady sale of conventional X-ray machines and less expensive pricing of X-ray films are the driving reasons.
Growth in Asia-Pacific may also be led by the growing adoption of portable traditional X-ray machines. However, the regional market is steadily moving toward digital solutions as prices for digital X-ray machines are reducing due to ongoing research and development. Africa is expected to contribute significantly to the global market. The absence of robust healthcare systems and higher use of historically popular X-ray machines are the leading causes of higher regional demand.
Medical X-Ray Film Market: Competitive Analysis
The global medical X-ray film market is led by players like:
Fujifilm Holdings Corporation
Agfa-Gevaert Group
FUJIFILM Wako Diagnostics
Carestream Health
Agilent Technologies
Kodak Alaris
Varian Medical Systems Inc.
Imaging Dynamics Company Ltd.
Siemens Healthineers
SONY Corporation
Hitachi Healthcare
The global medical X-ray film market is segmented as follows:
By Application
By Type
Half Speed Blue
Green
Full Speed Blue
By Region
North America
Europe

France
The UK
Spain
Germany
Italy
Rest of Europe

Asia Pacific

China
Japan
India
South Korea
Southeast Asia
Rest of Asia Pacific

Latin America

Brazil
Mexico
Rest of Latin America

Middle East & Africa

GCC
South Africa
Rest of Middle East & Africa