Industry Prospective:
The global medical image analysis software market was worth approximately USD 3.26 million in 2021, and is predicted to grow to about USD 4.95 million by 2028, with a CAGR of around 9.4 percent. Throughout the forecast period, the report analyses the market's drivers, challenges, and restrains, as well as the influence they have on the demand of the product. In addition, the report examines the latest opportunities that aid in medical image analysis software markets expansion.
Medical Image Analysis Software Market: Overview
Medical imaging software helps doctors to keep track of patient photos, store them, edit them, and manage their administrative processes. Medical image analysis software is an important component of diagnostic devices, as it aids in the enhancement of picture characteristics, hence improving the efficacy and efficiency of medical therapy. This software is used to store, view, train, and share medical information.
COVID-19 Impact:
The impact of the COVID-19 pandemic on the global medical image analysis software market was moderate to low. The demand for medical image analysis software increased for cardiology and respiratory applications during the pandemic which maintained the growth of the market. However, supply chain disruptions hinder market expansion to some extent.
Medical Image Analysis Software Market: Growth Drivers
Wide use of computer-aided diagnosis is anticipated to foster the market growth
Computer-aided diagnosis (CAD) strives to give a computer-assisted technique of data interpretation. Statistics, physics, mathematics, computer vision, and image processing are all combined in CAD to aid radiologists in their analysis and operational decisions. Image feature extraction, initial detection, and image enhancement, including segmentation, are all part of CAD image analysis. This approach benefits radiologists in reducing manual data interpretation errors and in diagnosing problems that are frequently overlooked during manual analysis operations. This approach was originally developed for mammographic image processing, but it has now been expanded to include the detection and analysis of cancers of the prostate, liver, lung, and colon. All such factors coupled with the rise in prevalence of diseases, improving healthcare infrastructure, and increase in spending power on healthcare are fueling the growth of the market.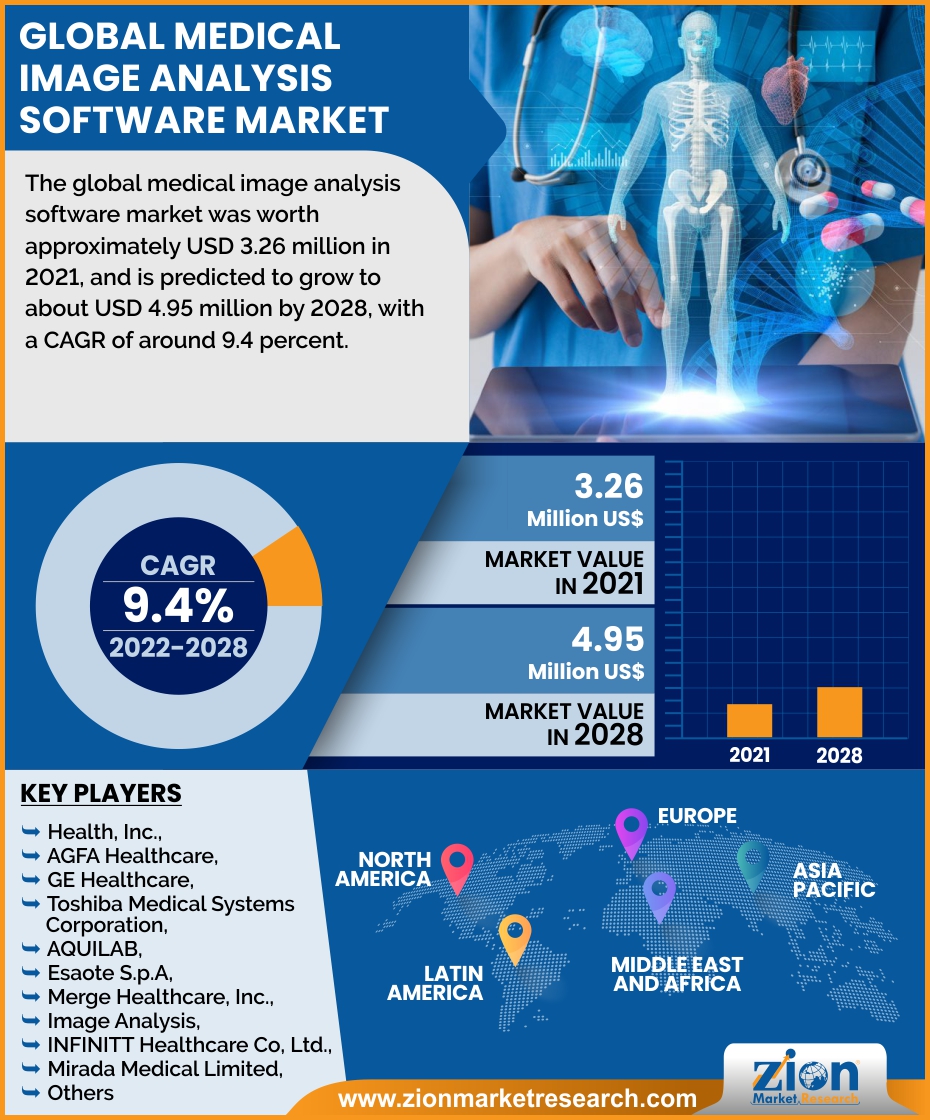 Request Free Sample
Medical Image Analysis Software Market: Restraints
High cost associated with the imaging devices is likely to limit the growth of the market
The high prices of imaging equipment, along with the high cost of software development and license, is a key constraint limiting market expansion, particularly in countries with inadequate reimbursement scenarios. Because of the high installation and maintenance costs, most healthcare institutions in underdeveloped nations, such as diagnostic centers and hospitals, cannot afford these systems. Healthcare organizations in emerging nations are hesitant to spend on newer or high-tech systems due to the increasing price of these systems and limited financial resources. End users also have a significant cost burden due to deployment and licensing/subscription fees for sophisticated imaging technologies. These variables have the potential to stifle digitalization in healthcare institutions and impede the use of modern diagnostic and analytical technology thereby hindering the growth of the medical image analysis software market.
Report Scope:
Medical Image Analysis Software Market: Opportunities
Growing adoption of image analysis software that is accessible through the cloud
Cloud-based image analysis software offers real-time investigation and data accessibility, the cloud-based model has developed as a practical option for delivering image analysis software. Cloud-based image analysis tools make it simple to extract information and insights from a multi-terabyte database from anywhere, at any time, and on any platform. Every alteration in data is gathered and immediately updated on the dashboard in real-time using these solutions. Additionally, a cloud-based imaging solution requires no upfront hardware investment, decreases the load on healthcare systems by reducing or eliminating the need for in-house IT workers, and allows for speedier data transmission across companies. Because of these benefits, end customers are projected to place a growing interest in cloud-based image analysis systems in the forthcoming years creating numerous opportunities for market growth. Also, many players are launching new products and expanding their footprint in the cloud-based medical image analysis software market to capitalize on the potential prospects.
Medical Image Analysis Software Market: Challenges.
The increasing risk of hacking imaging equipment & software is a challenge for market growth
In the global medical image analysis software market, hacking is a big problem as hackers can easily alter the systems' equipment which can result in data breaches and affect patient outcomes. Furthermore, the increasing reliance on software raises difficulties such as flaws, breakdowns, and susceptibility to cyber-attacks. As a result of the negative repercussions of unintentional dysfunction and hacking, healthcare professionals are hesitant to use IT solutions, such as image analysis software, in medical operations. Medical equipment hacking can result in a loss of effectiveness and unfavorable effects on patients. Other high-risk businesses, such as avionics, have safety procedures in place, but the medical equipment manufacturing industry does not. As a result, medical equipment is not equipped with the most recent improvements in IT security, which can guard against hacking. This may serve as a major challenge for market growth.
Medical Image Analysis Software Market: Segmentation
The global medical image analysis software market is categorized based on type, image type, modality, application, end-user, and region. By type, the market is segregated into standalone software and integrated software. The image type segment is split into 3D Imaging, 4D Imaging, and 2D Imaging. Modality is segmented into ultrasound imaging, traumatic brain injury, radiographic imaging, and combined modalities. The application segment is bifurcated into neurology, oncology, orthopedics, dental applications, cardiology, obstetrics and gynecology, nephrology and urology mammography, and respiratory applications. Based on end-user, the market is divided into diagnostic centers, hospitals, and research centers.
Recent Developments
In November 2021, At RSNA 2021, Philips unveiled a new AI-enabled MR range of smart diagnostic equipment, workflow optimization, and integrated clinical solutions.
In July 2021, GE Healthcare announced the implementation of Spectronic Medical AB AI-based software for more accurate cancer treatment planning. This will assist to improve the pictures and information offered to doctors for treatment planning in radiation oncology.
Medical Image Analysis Software Market: Regional Landscape
North America to lead the global market over the forecast period.
The global medical image analysis software market is likely to be dominated by North America. The increasing elderly population, high prevalence of multiple diseases, significant number of imaging centers in this region, high investments in the research, rapid acceptance of technically sophisticated imaging systems, and rising awareness about the benefits of early disease diagnosis are just a few of the key factors driving the market growth in this region. The market in Asia Pacific is expected to rise rapidly in the next years. This is due to the increased usage of medical image analysis software by healthcare professionals in the region. A crucial component predicted to drive expansion is increased knowledge of the related benefits of these systems. Furthermore, rising healthcare spending and disposable income levels in nations like China and India are helping to propel the market forward.
Medical Image Analysis Software Market: Competitive Landscape
Some of the key players operating in the global medical image analysis software market include Carestream Health, Inc., AGFA Healthcare, GE Healthcare, Toshiba Medical Systems Corporation, AQUILAB, Esaote S.p.A, Merge Healthcare, Inc., Image Analysis, INFINITT Healthcare Co, Ltd., Mirada Medical Limited, MIM Software Inc., Philips Healthcare, Siemens Healthineers, ScienceSoft USA Corporation, and Xinapse Systems Ltd.
Global medical image analysis software market is segmented as follows:
By Type
Integrated Software
Standalone Software
By Image Type
2D Imaging
3D Imaging
4D Imaging
By Modality
Traumatic Brain Injury (TBI)
Ultrasound Imaging
Radiographic Imaging
Combined Modalities
By Application
Orthopedics
Dental Applications
Neurology
Cardiology
Oncology
Obstetrics and Gynecology
Mammography
Respiratory Applications
Urology and Nephrology
By End User
Hospitals
Diagnostic Centers
Research Centers
By Region
North America
Europe

France
The UK
Spain
Germany
Italy
Rest of Europe

Asia Pacific

China
Japan
India
South Korea
Southeast Asia
Rest of Asia Pacific

Latin America

Brazil
Mexico
Rest of Latin America

Middle East & Africa

GCC
South Africa
Rest of Middle East & Africa