The medical hyperspectral imaging market is set for a rapid growth over the forecast period. In terms of revenue, the global medical hyperspectral imaging market accounted for USD 2.15 Billion in 2019 and is expected to reach USD 5.80 Billion by 2026, growing at a CAGR of 15.24%
Global Medical Hyperspectral Imaging Market: Overview
Hyperspectral Imaging (HSI), also known as imaging spectrometer are derived from remote sensing and has been explored for various NASA applications. HSI has been used in a variety of fields, including archaeology and art conservation, food quality and safety control, plant and water resource management, forensic medicine, biomedicine, crime scene identification, and so on, because of its ability to acquire two-dimensional images across a broad range of electromagnetic spectrum.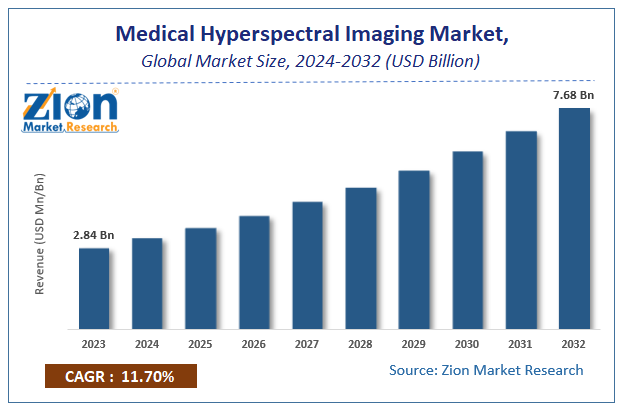 Request Free Sample
HSI, as a revolutionary imaging modality for medical use, has a huge amount of potential for surgical guidance and noninvasive disease diagnosis. When light passes through biological tissue, it is scattered several times due to the inhomogeneity of biological structures and is absorbed mainly by haemoglobin, melanin, and water. The fluorescence, absorption, and scattering characteristics of tissue are thought to change as disease progresses. As a result, HSI collects quantitative diagnostic knowledge about tissue pathology in the form of absorbed, fluorescent, and transmitted light from tissue. Developments in hyperspectral cameras, image processing techniques, and computational capacity have enabled a slew of new medical applications in recent years.
HSI can provide near-real-time images of biomarker content, such as absorption spectra of oxy/deoxy-hemoglobin, as well as tissue pathophysiology assessments based on the spectral characteristics of different tissues. Thus, HSI is becoming more widely used in image-guided surgery and medical diagnosis. HSI has been used in the diagnosis of hemorrhagic shock, the evaluation of peripheral artery disease, the early detection of dental caries, the rapid characterization of kidney stone forms, the detection of laryngeal disorders, and many other applications.
Report Scope:
Report Attributes
Report Details
Report Name
Medical Hyperspectral Imaging Market Report
Market Size in 2019
USD 2.15 Billion
Market Forecast in 2026
USD 5.80 Billion
Compound Annual Growth Rate
CAGR of 15.24%
Number of Pages
110
Forecast Units
Value (USD Billion), and Volume (Units)
Key Companies Covered
Headwall Photonics, Inc., Norsk Elektro Optikk AS, SPECIM, SPECTRAL IMAGING LTD., IMEC and Surface Optics Corporation
Segments Covered
By Type,By end-user, And By Region
Regions Covered
North America, Europe, Asia Pacific (APAC), Latin America, Middle East and Africa (MEA)
Countries Covered
North America: U.S and Canada
Europe: Germany, Italy, Russia, U.K, Spain, France, Rest of Europe
APAC: China, Australia, Japan, India, South Korea, South East Asia, Rest of Asia Pacific
Latin America: Brazil, Argentina, Chile
The Middle East And Africa: South Africa, GCC, Rest of MEA
Base Year
2021
Historical Year
2016 to 2020
Forecast Year
2022 - 2030
Customization Scope
Avail customized purchase options to meet your exact research needs. Request For Customization
Global Medical Hyperspectral Imaging Market: Growth Factors
The key factors driving the demand for medical hyperspectral imaging market include, the ageing population and the rising occurrence of chronic diseases. In addition, the launch of portable and handheld hyperspectral imaging systems with high operability and protection, coupled with growing number of diagnostic procedures, are expected to boost the demand for global medical hyperspectral imaging market.
The global medical hyperspectral imaging market has enormous growth opportunities in both developed and developing regions. Medical hyperspectral imaging systems are being developed by the manufacturers to support image analysis and speed up the process of various imaging facilities, mainly during surgeries. Imaging systems for high-quality imaging, screening and diagnostic testing are rapidly implemented due to increased access and support from government and other healthcare agencies, in particular in the United States, Canada, France, Germany and the United Kingdom.
Global Medical Hyperspectral Imaging Market: Segmentation
HSI has an enormous potential for disease screening, identification and diagnosis because it is capable of detecting biochemical changes due to the development of disorders, such as cancer cell metabolism.
HSI has shown promising potential in the diagnosis of cancers of the cervix, breast, gastrointestine, colon, skin, ovary, prostate, urothelial carcinoma, esophagea, oral tissue, tongue, trachea, brain, and lymph nodes as compared to optical spectroscopy, that measures tissue spectra point-by-point.
Mechanical access or invasive biopsy of the retina is typically not possible due to the fragile nature of the eye. As a result, optical imaging techniques are heavily used in the modern diagnosis of retinal disease. To allow optical imaging of the eyes, an HSI system is typically combined with a fundus camera.
Global Medical Hyperspectral Imaging Market: Regional Analysis
By Geography, the medical hyperspectral imaging market is segmented into North America, Europe, Latin America, Asia Pacific, and Middle East and Africa.
In North America, the United States and Canada are the leading countries due to the largest number of diagnostic cases in 2020. This field is dominated by the overall presence of hyperspectral imaging in healthcare and has the most diversified instruments available on the market. The region has the largest proportion of the aging population with many individuals suffering from chronic diseases such as neurovascular disorders, CVD, orthopaedic surgery, and other urology-related disorders. This has enabled most vendors to maintain and expand over the timeframe and to maintain their product presence in the market.
Europe is the second leading region and held a significant market share in 2020. The demand in Europe has primarily been driven by advances in the technology of medical devices. Some of the key factors such as an increase in the prevalence of diseases, the continuous implementation of new technology and an increase in the ageing population are driving the demand in the region. Germany, France, the United Kingdom and Italy are the leading countries in Europe.
Global Medical Hyperspectral Imaging Market: Competitive Players
The major players in the global medical hyperspectral imaging market include Headwall Photonics, Inc., Norsk Elektro Optikk AS, SPECIM, SPECTRAL IMAGING LTD., IMEC and Surface Optics Corporation among others.
The report segment of global medical hyperspectral imaging market are as follows:
Global Medical Hyperspectral Imaging Market: Application Segment Analysis
Cancer
Cardiac Disease
Retinal Disease
Tissue Pathology
Image-Guided Surgery
Global Medical Hyperspectral Imaging Market: End User Segment Analysis
Diagnostic Centers
Hospitals
Research Centers
Global Medical Hyperspectral Imaging Market: Regional Segment Analysis
North America
Europe

France
The UK
Spain
Germany
Italy
Rest of Europe

Asia Pacific

China
Japan
India
South Korea
Southeast Asia
Rest of Asia Pacific

Latin America

Brazil
Mexico
Rest of Latin America

Middle East & Africa

GCC
South Africa
Rest of Middle East & Africa