Diabetic Foot Ulcer (DFU) Treatment Market Size & Industry Analysis
The global Diabetic Foot Ulcer (DFU) Treatment market accrued earnings worth approximately 4.10 (USD Billion) in 2019 and is set to record a CAGR of more than 8.1% over the period from 2020 to 2026. The report offers assessment and analysis of the Diabetic Foot Ulcer (DFU) Treatment market on a global and regional level. The study offers a comprehensive assessment of the market competition, constraints, revenue estimates, opportunities, evolving trends, and industry-validated data. The report provides historical data from 2017 to 2019 along with a forecast from 2020 to 2026 based on revenue (USD Billion).
Diabetic foot ulcers occur most prominently in the patients suffering from diabetes mellitus that is not controlled in the proper manner. Moreover, it is a result of poor glycemic control, dry skin, ischemia, peripheral vascular disorder, Osteomyelitis, calluses, poor foot care, foot infection, and underlying neuropathy. Furthermore, it causes foot osteomyelitis and can lead to amputating of lower limbs. Patients having diabetes mellitus develop severe atherosclerosis of blood vessels in foot as well as in legs and this causes diabetic foot ulcers in the subjects.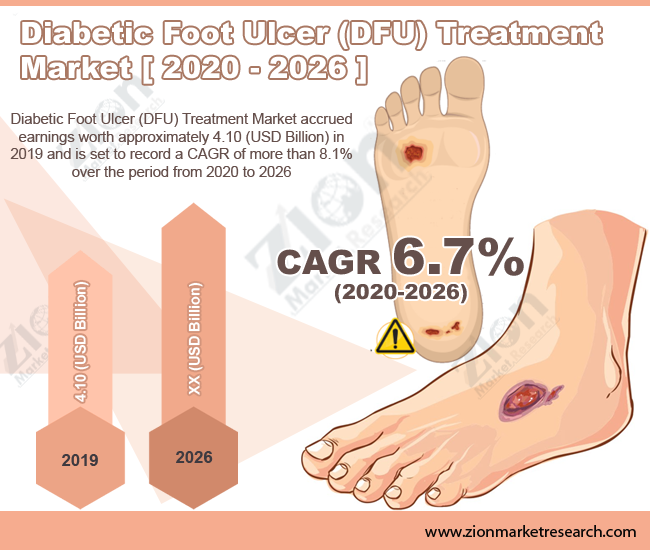 Request Free Sample
Additionally, these foot ulcers are found in the areas of foot that are exposed to continuous trauma as well as pressure sensations. According to NCBI, nearly five percent of diabetes mellitus patients suffer from foot ulcers. As per NIH researchers, diabetic foot ulcers are the most common ones and nearly more than eighty percent of amputations of foot are caused due to these ulcers. For the record, in developing countries like India large number of people affected due to diabetic foot ulcers have to undergo leg amputation each year. The factors responsible being barefoot walking, lack of knowhow about diabetic foot ulcers, and late patient representation in hospitals as well as financial hitches.
Moreover, several treatment options are available for treating diabetic foot ulcers including surgical debridement, blood sugar control, wound off-loading, glycemic control, vascular assessment, infection, and dressings facilitating moist wound environment. Other adjunct type of treatments used for quick healing of diabetic foot ulcers include hyperbaric oxygen treatment, systemic therapy, electrical stimulation, bio-engineered skin, negative pressure wound therapy, and use of non-surgical wound debridement agents. The latter ones have proved to be beneficial in healing the wounds caused due to foot ulcers to a large extent.
Market Growth Dynamics
Rise in the aging population prone to chronic ailments like diabetes will open new vistas of growth for the diabetic foot ulcer (DFU) treatment industry over the years to come. Apparently, high global occurrence of diabetic mellitus and acceptance of new wound care equipment for treating these foot ulcers will drive the market trends. In addition to this, escalating awareness pertaining to myriad treatment alternatives for diabetic foot ulcers will drive the business growth over the forecast timespan.
Furthermore, surge in the healthcare spending and huge investments for developing new & advanced treatment methods will exponentiate the market growth rate within the next couple of years. Nonetheless, poor healthcare infrastructure facility available in underdeveloped as well as emerging economies and huge costs of diabetic foot ulcer management will decimate the market growth over the forecast timeline. However, launching of new therapeutics methods for treating the disease along with enhanced biologics and constant focus on research activities to avoid limb amputations will offset the adverse impact of the hindrances on the market growth over 2020-2026.
North American Market To Establish Dominant Position Over 2020-2026
The growth of the market in the sub-continent over the estimated timespan is due to increase in the number of diabetics among the U.S. patient population. As per NCBI, high cases of foot ulcers witnessed in Latinos, Native Americans, and African Americans in the U.S. will further drive the regional market trends.
Key players influencing the market growth are Medtronic Plc.; Medline Industries, Inc., B. Braun Melsungen AG; Acelity L.P. Inc.; ConvaTec, Inc.; Smith & Nephew Plc.; Organogenesis; Coloplast A/S; 3M Healthcare; Molnlycke Health Care AB; Inc.; and BSN Medical GMBH.
The global diabetic foot ulcer (DFU) treatment market is segmented as follows:
By Treatment Type
Wound Care Dressings
Alginate Dressings
Hydrofiber Dressings
Foam Dressings
Film Dressing
Hydrocolloid Dressings
Surgical Dressings
Hydrogel Dressings

Biologics

Growth Factors
Skin Grafts

Therapy Devices

Negative Pressure Wound Therapy
Ultrasound Therapy

Antibiotic Medications
Others
By Ulcer Type
Neuropathic Ulcers
Ischemic Ulcers
Neuro-ischemic Ulcers
By Region
North America
Europe

France
The UK
Spain
Germany
Italy
Rest of Europe

Asia Pacific

China
Japan
India
South Korea
Southeast Asia
Rest of Asia Pacific

Latin America

Brazil
Mexico
Rest of Latin America

Middle East & Africa

GCC
South Africa
Rest of Middle East & Africa