Industry Prospective:
The Global Lithium Titanate Batteries Market size was worth around USD 60.07 billion in 2021 and is predicted to grow to around USD 179.22 billion by 2030 with a compound annual growth rate (CAGR) of roughly 14.64% between 2022 and 2030. The report analyzes the Global Lithium Titanate Batteries Market's drivers, restraints/challenges, and the effect they have on the demands during the projection period. In addition, the report explores emerging opportunities in the Lithium Titanate Batteries Market.
Lithium Titanate Batteries Market: Overview
LTO batteries are expected to be both more capable and safer than graphite-based lithium-ion batteries. LTO batteries have excellent weather resistance. It would work just as well in tropical environments where the ambient temperature might reach 45 degrees or more as it would at minus 10 or 20 degrees Celsius. Due to their high resilience, LTO batteries are fire-resistant. There is currently no industrial production of lithium titanate or lithium titanate batteries in India. One of the top LTO battery producers in the world is a Japanese company called Toshiba. American electric vehicle juggernaut Tesla is one of the leading automakers looking into the potential of titanate-based batteries as opposed to graphite-based ones. Batteries made of titanate will last 10 to 20 times longer than conventional batteries and charge more quickly. Ten to fifteen minutes are needed to fully charge them.
Key Insights
As per the analysis shared by our research analyst, the Global Lithium Titanate Batteries Market is estimated to grow annually at a CAGR of around 14.64% over the forecast period (2022-2030).
In terms of revenue, the Global Lithium Titanate Batteries Market size was valued at around USD 60.07 billion in 2021 and is projected to reach USD 179.22 billion, by 2030.
The major factors propelling the Global Market for Lithium Titanate Batteries include the growing need for electronic cars, rising demand for battery-operated equipment due to automation in many industries, ongoing improvements in smart gadgets, and the growing use of lithium-ion batteries, particularly in the field of renewable energy.
Based on the type, the 5000-10000mAh segment is expected to dominate the market during the forecast period.
Based on the application, the energy storage segment is expected to hold the largest market share over the forecast period.
Based on region, Asia Pacific is expected to dominate the market during the forecast period.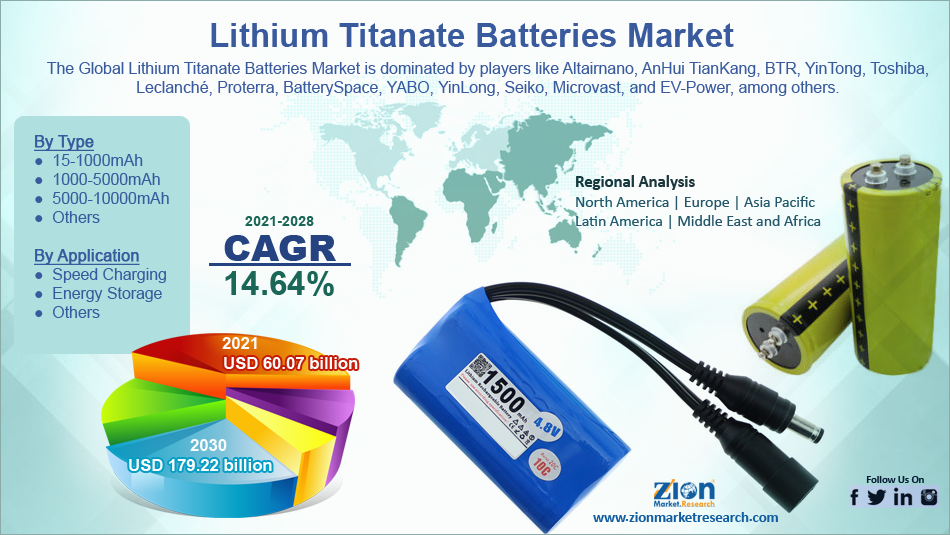 Request Free Sample
Lithium Titanate Batteries Market: Growth Drivers
High Usage of Batteries in Energy Storage and Power Grid Systems
The global lithium titanate batteries market is expanding as batteries are used more frequently in grid and energy storage systems. The low cost, low self-discharge rate, and small installation area of lithium-ion batteries also make them a popular choice for smart grid and energy storage systems. Due to its increased resistance to high temperatures, the product is perfect for use in remote areas and in thermal control applications.
Increased Demand for Electric Vehicles
The growing demand for electric vehicles is the main factor driving the lithium titanate battery market. In recent years, there has been a significant push toward electrifying transportation in order to minimize carbon emissions from gasoline consumption. Governments have taken action to lessen our reliance on fossil fuels in response to the ongoing threat that climate change poses to our planet's natural resources, such as by encouraging the sale of electric vehicles and strengthening rules limiting the use of alternative energy sources. The rising emphasis on renewable energy sources will likely lead to an expansion in the usage of sodium-ion batteries, a technology that has the potential to provide far higher capacities than typical lithium-ion cells while being more ecologically friendly.
Lithium Titanate Batteries Market: Restraints
High Cost with Less Value
The cost of LTO batteries is a barrier to their acceptance in the business world. It is impossible to compare it to typical NMC and LFP batteries that are sold on the market because of their high cost. Due to the higher cost and weight of the battery, LTO battery manufacturers have not grown their production capacity as much as those of other Lithium-ion battery chemistries. The longevity and functionality of lithium batteries are influenced by a number of elements, primarily the four primary components. It is hard to provide the product with an unassailable advantage because lithium titanate is merely a negative electrode material, regardless of how innovative the material is. The component that most affects how effectively lithium batteries function is the cathode material. The claimed long service lives of lithium titanate batteries are more difficult to certify. Battery life is also influenced by the electrolyte, separator, cathode material, and operating temperature in combination. These factors are all limiting the growth of the global lithium titanate battery market.
Lithium Titanate Batteries Market: Opportunities
Ideal for Future Energy Solutions
As the need for energy storage grows in industries including electric vehicles, high capacity backup, and power grid storage, lithium titanate (LTO) batteries are gaining popularity as an eco-friendly answer. In a redesigned lithium-ion battery, the anode surface is coated with lithium titanate nanocrystals instead of graphite. Quick charging (increased charging current), high power, long cycle life, and excellent durability of lithium titanate batteries are advantages of this special advancement. Additionally, it contributes to the growing demand for cleaner energy sources. Compared to conventional lithium-ion batteries, rechargeable lithium-titanate batteries (LTO) have a lower energy density but can charge more quickly. Technologies like lithium titanate batteries are essential for the development of renewable energy sources since they provide possibilities for application in vehicles and mobile energy. Due to its longer lifespans, higher efficiency, increased safety, low-temperature performance capabilities, and great potential for integration with wind power, the lithium-titanate battery (LTO) is a leading contender for future energy storage solutions.
Lithium Titanate Batteries Market: Segmentation
The Global Lithium Titanate Batteries Market is segmented based on type, application, and region.
Based on the type, the global market is bifurcated into 15-1000mAh, 1000-5000mAh, 5000-10000mAh, and Others. The 5000-10000 mAh type segment is anticipated to drive the market at the highest CAGR during the forecast period. A lithium titanate battery with a capacity of 5000–10,000 mAh is a high-capacity battery with a large energy storage capacity. These batteries are typically used in systems that require a lot of power and long run times, such as electric vehicles and backup power systems.
Based on application, the global lithium titanate batteries are categorized into speed charging, energy storage, and others. The energy storage segment is accounted to have the largest growth of the market during the forecast period. The rise in government support for sustainable energy initiatives has significantly contributed to the demand. For instance, in Germany, government subsidies have allowed individuals and companies to finance investments of more than USD 1 billion in a range of grid-connected battery systems. Over the projection period, these trends are anticipated to fuel demand for lithium titanate batteries.
Recent Developments:
In October 2022, a Li-ion Cell with a World-Beating Carbon Footprint was delivered by Echion Technologies - XNO®. While simultaneously relieving pressure on the world's battery materials supply chain, XNO® will offer a greener option to conventional LTO battery anode materials. From the perspective of carbon footprint, XNO® performed noticeably better than the LTO anode.
In June 2021, Bureau Veritas will certify Echandia's Lithium Titanate Oxide (LTO) Battery Technology for Marine Use. Commercial workboats and passenger ferries need to be able to charge quickly since they frequently run continuously for extended periods of time. According to Echandia, the battery systems for the energy storage systems will be modular, air-cooled, and based on Toshiba's LTO cells. This is a crucial turning point for the brand-new, secure, and reliable LTO battery technology.
Lithium Titanate Batteries Market Report Scope:
Report Attributes
Report Details
Report Name
Lithium Titanate Batteries Market Research Report
Market Size in 2021
USD 60.07 Billion
Market Forecast in 2030
USD 179.22 Billion
Compound Annual Growth Rate
CAGR of 14.64%
Number of Pages
296
Forecast Units
Value (USD Billion), and Volume (Units)
Key Companies Covered
Altairnano, AnHui TianKang, BTR, YinTong, Toshiba, Leclanché, Proterra, BatterySpace, YABO, YinLong, Seiko, Microvast, and EV-Power, among others.
Segments Covered
By Type, By Application And By Region
Regions Covered
North America, Europe, Asia Pacific (APAC), Latin America, Middle East and Africa (MEA)
Countries Covered
North America: U.S and Canada
Europe: Germany, Italy, Russia, U.K, Spain, France, Rest of Europe
APAC: China, Australia, Japan, India, South Korea, South East Asia, Rest of Asia Pacific
Latin America: Brazil, Argentina, Chile
The Middle East And Africa: South Africa, GCC, Rest of MEA
Base Year
2021
Historical Year
2016 to 2020
Forecast Year
2022 - 2030
Customization Scope
Avail customized purchase options to meet your exact research needs. Request For Customization
Lithium Titanate Batteries Market: Regional Analysis
Asia Pacific is expected to dominate the market during the forecast period
Asia Pacific is anticipated to have the largest growth in the global lithium titanate batteries market during the forecast period. The rising demand for electric vehicles in nations like China, India, and Japan is responsible for this expansion. The infrastructure for renewable energy is also expected to rise significantly in the region during the next few years, which will increase demand for the product. The increasing usage of these applications by key application sectors like transportation & logistics (trucks), renewable energy storage (solar panels), etc., are propelling the growth of the market in this region.
Europe accounted for more than 25% of global revenue share in 2021, owing to the growing consumer preference towards speed charging batteries used for electronic devices such as smartphones and laptops among others. Due to its high power density and lightweight qualities, lithium titanate batteries are also being utilized more frequently in important applications such as medical devices, lighting & electronics, and automotive, which is encouraging industry growth in this area as well.
Lithium Titanate Batteries Market: Competitive Analysis
The Global Lithium Titanate Batteries Market is dominated by players like:
Altairnano
AnHui TianKang
BTR
YinTong
Toshiba
Leclanché
Proterra
BatterySpace
YABO
YinLong
Seiko
Microvast
EV-Power
The Global Lithium Titanate Batteries Market is segmented as follows:
By Type
15-1000mAh
1000-5000mAh
5000-10000mAh
Others
By Application
Speed Charging
Energy Storage
Others
By Region
North America
Europe

France
The UK
Spain
Germany
Italy
Rest of Europe

Asia Pacific

China
Japan
India
South Korea
Southeast Asia
Rest of Asia Pacific

Latin America

Brazil
Mexico
Rest of Latin America

Middle East & Africa

GCC
South Africa
Rest of Middle East & Africa