Industry Prospective:
The global Energy Storage Systems market was worth around USD 189.1 billion in 2021 and is estimated to grow to about USD 301.8 billion by 2028, with a compound annual growth rate (CAGR) of approximately 8.10 percent over the forecast period. The report analyzes the Energy Storage Systems market's drivers, restraints/challenges, and the effect they have on the demands during the projection period. In addition, the report explores emerging opportunities in the Energy Storage Systems market.
Global Energy Storage Systems Market: Overview
In Global Energy Storage Systems Market Report, Due to rising electricity demand in developing countries, worldwide energy consumption has increased significantly. Governments and international organizations have implemented a slew of measures to address the growing need for stored energy. The paradigm shifts toward renewable energy generation and advanced energy storage systems to minimize GHG emissions promotes the use of various storage technologies, which will positively affect the industry outlook and benefit the global market. Globally, innovative energy storage systems are being used to preserve renewable-generated electricity and provide an uninterrupted supply during power outages. The global advanced energy storage systems market will grow as the number of plug-in electric vehicles (PHEVs) sold grows.
Due to their high energy efficiency, greater high-temperature performance, and minimal self-discharge over time, solid-state batteries, such as Lithium-ion (Li-ion) batteries, are commonly utilized in PHEVs, HEVs, and EVs. Because of their dependability, safety, high power, and low cost, lead-acid batteries are also being used in commercial electric cars, boosting the global industry. For self-consumption, the commercial and industrial (C&I) sector is progressively adopting renewable energy generation sources such as solar and wind energy. Renewable energy, on the other hand, is an intermittent power source, and the C&I industry is not making full use of these resources. As a result, in order to boost the utilization rate of renewable energy sources, the C&I sector is likely to adopt energy storage systems at a faster rate, which will give significant potential for ESS providers in the future.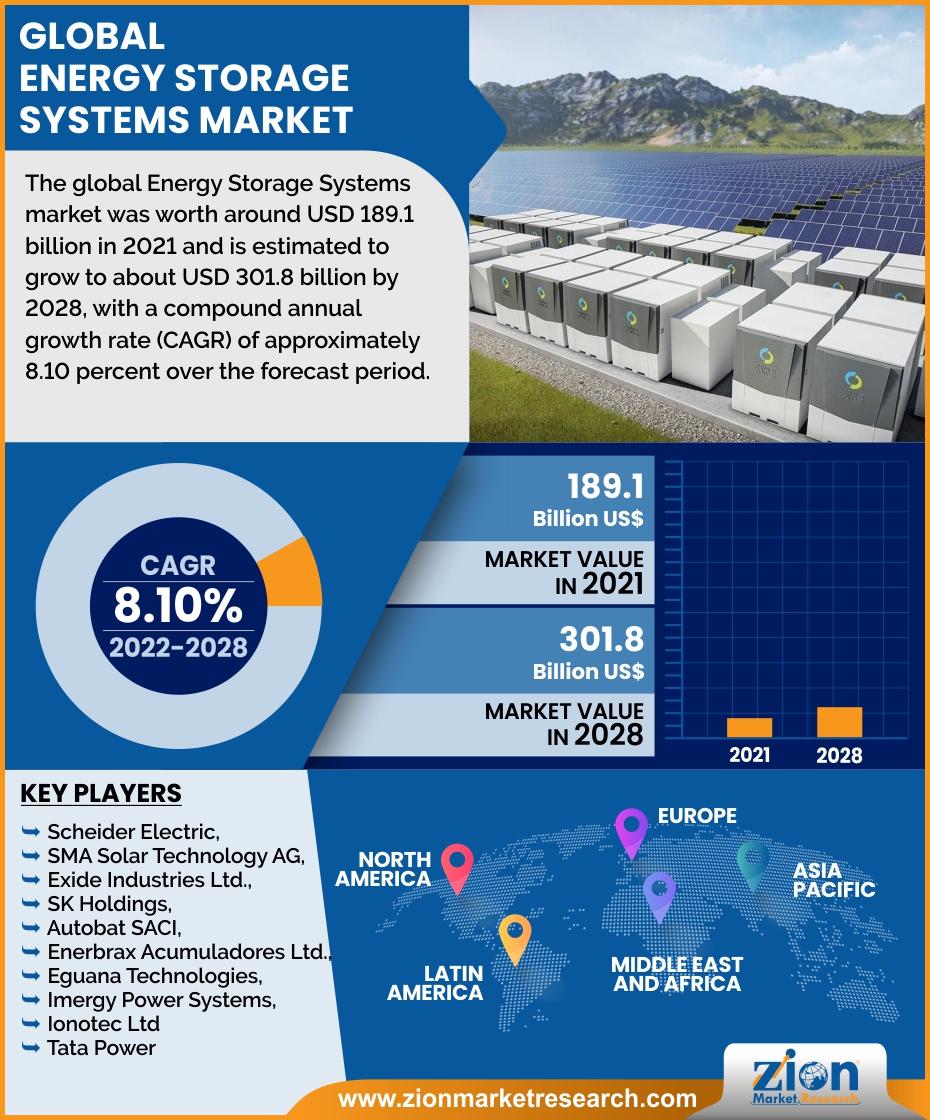 Request Free Sample
COVID-19 Impact:
COVID-19 has had a significant impact on the global economy and all sectors. Governments all over the world have instituted lockdowns to stop the pandemic from spreading. People's livelihoods and quality of life were badly disrupted by the global lockdown in the early stages of the pandemic in many countries. As a result, there have been supply chain disruptions all across the world. A dramatic reduction in product demand has harmed the economies of the world. Production has been impeded across industries as a result of the outbreak, which has resulted in a shortage of raw resources. A drop in exports and supply chain disruptions are two main factors contributing to the output fall. In addition, the shutdown of manufacturing facilities throughout the world in the first and second quarters of 2020 is contributing to the market's fall in growth in 2020. However, as more battery energy storage systems are installed in operational projects and the government places a greater emphasis on upgrading the electricity sector, the adoption of batteries, and therefore battery energy storage systems, is expected to rise.
Energy Storage Systems Market: Growth Drivers
Drivers: Due to continuing grid modernization, there is a growing demand for grid energy storage devices
The most common renewable energy kinds that are stored in grids are solar and wind energy. When the sun is obstructed by clouds or changing wind currents, the energy generation process is disrupted. Such oscillations necessitate the adoption of grid energy storage devices that are adaptable. Battery energy storage technologies are increasingly being used in grid upgrades. When the amount of electricity generated exceeds the amount of electricity required, these strategies assist grid operators in saving electricity.
Restraint: Installation of battery energy storage devices necessitates a significant capital outlay
Due to high energy density and higher performance given by battery energy storage technologies such as lithium-ion batteries, flow batteries, and lead-acid batteries, increased installation investments are required. Lithium-ion batteries are more expensive than other types of batteries because they have a higher energy density, a lower rate of self-discharge, and require less maintenance.
Opportunities: An increase in the number of rural electrification initiatives around the world
The process of bringing electrical power to rural and remote locations is known as rural electrification. Battery energy storage systems helps with rural electrification. Various governments around the world, particularly in developing countries, are attempting to develop distant places like as isolated rural areas and peri-urban areas, as well as small islands cut off from national grids. The installation of battery energy storage systems in rural locations would provide a solution for providing a consistent and safe power supply to businesses and local people.
Report Scope:
Challenges: Installation of battery energy storage devices on islands or in isolated places is difficult
The majority of battery energy storage devices are found on islands or in remote locations. These systems are challenging to deploy in remote locations because they are tough to reach. Islands and off-grid distant places are common examples of remote regions that confront a variety of issues due to unpredictable renewable energy generation and availability. Ambient circumstances like as temperature variations during the day and night, costly maintenance due to commuting problems to remote areas, and a lack of infrastructure for equipment installation are also challenges.
Global Energy Storage Systems Market: Segmentation
The global Energy Storage Systems market is segregated based on Technology, End users and Application.
Based on Technology, the market is segmented into Pumped Hydro Storage, Battery Energy Storage, Compressed Air Energy Storage, and Flywheel Energy Storage. Due to an increase in demand for pumped hydro storage power generation around the world, the pumped hydro storage sector held the biggest energy storage systems market share. Furthermore, government initiatives to promote renewable energy generation are projected to propel the market forward during the forecast period. Furthermore, an increase in global electricity consumption is expected to drive market expansion in the future years.
By end users, the market is segmented into Residential, Non-residential, and Utilities. Due to increased investment in utility size power plants, the utilities segment dominated the global market share. In addition, the utilities industry is growing due to an increase in construction projects such as decentralized renewable power plants, rural electrification projects, and commercial buildings.
Recent Developments
In December 2021, SAMSUNG SDI Co., Ltd. introduced PRiMX, a new battery brand that offers consumers quality, performance, and a proven advantage, which translates to user convenience thanks to the company's exclusive technology. In Korea and Europe, the brand has been trademarked, and it will be registered in the United States soon.
In June 2020, Panasonic and Span.IO, Inc. (US) have formed a new collaboration to create a home energy storage system. This solution is expected to be integrated into Panasonic's EverVolt and linked to the Span smart panel, providing homeowners with a new level of control over their battery backup power while also providing intuitive energy management.
Regional Landscape
North America and Europe, for instance, have already commissioned measures to improve the adaptability of various EVs for personal and commercial use, assisting the global market.
The APAC market is predicted to develop at the fastest rate. In 2021, the region will have the greatest share of the battery energy storage system market. The battery energy storage system market is centered on APAC. Electrification plans for distant areas, which are primarily off-grid in various countries, are projected to emerge in APAC. Increased access to electricity for these isolated and island settlements in the region will be possible thanks to the deployment of domestic energy storage technology.
Competitive Landscape
Some of the main competitors dominating the global Energy Storage Systems market include- Scheider Electric, SMA Solar Technology AG, Exide Industries Ltd., SK Holdings, Autobat SACI, Enerbrax Acumuladores Ltda, Eguana Technologies, Imergy Power Systems, Ionotec Ltd and Tata Power.
The Global Energy Storage Systems market is segmented as follows:
Global Energy Storage Systems Market By Technology
Pumped Hydro Storage
Battery Energy Storage
Compressed Air Energy Storage
Flywheel Energy Storage
By End users
Residential
Non-residential
Utilities
By Application
Stationary
Transportation
By Region
North America
Europe

France
The UK
Spain
Germany
Italy
Rest of Europe

Asia Pacific

China
Japan
India
South Korea
Southeast Asia
Rest of Asia Pacific

Latin America

Brazil
Mexico
Rest of Latin America

Middle East & Africa

GCC
South Africa
Rest of Middle East & Africa