Analysis
Energy storage systems (ESS) are used conveniently and efficiently to store multiple forms of energy that can be utilized as per required, such as lithium-ion batteries. Energy storage is an essential tool to enable effective integration of renewable energy and benefits of local generation and clean, resilient supply of energy. Installation of stationary ESS is increasing extensively across the world as system costs are decreasing rapidly and as energy markets are being reformed. The development of advanced energy storage systems (ESS) is highly concentrated in few selected markets, especially regions with developed economies. Although there has been a rapid decline in the cost, ESS remain expensive and investment required is difficult to obtain without the support of government and low-cost financing. The advanced technology requires knowledge and expertise for operation. Moreover, services provided by ESS are not properly valued or recognized within the regulations of energy. ESS deployment is required to make the electricity grid more efficient, resilient, secure, cost-effective, and sustainable.
As per the estimates of International Energy Agency (IEA), emerging countries need to double their electrical power output by 2020 to meet the increasing demand. Emerging countries are predicted to account for 80% of the total growth in the production and consumption of energy by 2035. Energy storage systems include several means used to recover and store energy for the future use. Electric energy storage systems return and accept the stored energy as electric power, while they may also store the energy in some other form. Electrical energy storage (EES) is an important technology in the sector covered by IEC. EES techniques are using unique capabilities to cope with some critical characteristics of electricity, for instance, fluctuations in price and demand on hour basis. In the future years, EES is expected to become essential in emerging IEC relevant markets for renewable energy, to decrease CO2 and also for smart grids.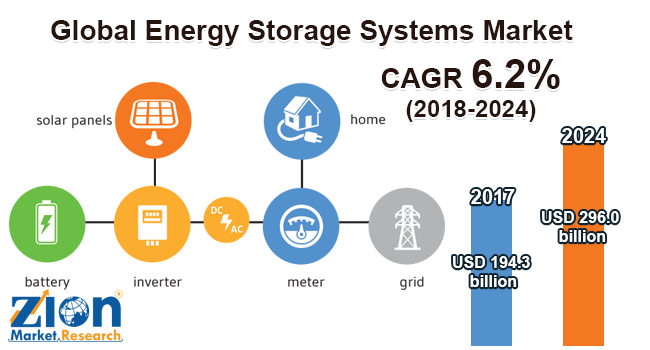 Based on technology, the energy storage systems market is segmented into compressed air, pumped hydro storage, lithium ion, sodium sulfur, nickel cadmium, lead acid, redox-flow, and flywheel. On the basis of application, the market is segmented into transportation and grid storage. Based on end-user, the energy storage systems market is segmented into non-residential, utility, and residential.
The Asia Pacific held a significant revenue share in energy storage systems market and is expected to hold its regional supremacy over the forecast period. The growth is attributed in countries such as China and Japan. China is a major manufacturing hub of batteries for electric vehicles. Currently, major Japanese manufacturers such as Sharp, Panasonic, and Kyocera provide solar-plus-storage systems with lithium-ion batteries. Rising number of employment is the foremost driving factor for energy storage systems market growth in Europe.
Some of the key players operating in energy storage systems market includes Exide Industries Ltd., SMA Solar Technology AG, Autobat SACI, Scheider Electric, SK Holdings, Imergy Power Systems, Enerbrax Acumuladores Ltd., Eguana Technologies, Beacon Power, LLC, Tata Power, Ionotec Ltd., ABB Ltd., LG Chem., Convergent Energy and Power Inc., AES Energy Storage, LLC, BYD Company Limited, Greensmith Energy Management Systems, Eos Energy Storage, S&C Electric Company, and Seeo, Inc. Industry players are focusing on research & development activities and strategic agreement in order to gain revenue share.