According to the report published by Zion Market Research, Global demand for Linerless Labels market was valued at approximately USD 1,634.1 Million in 2019, and is expected to generate revenue of around USD 2,123.6 Million by end of 2026, growing at a CAGR of around 4.1% between 2020 and 2026.
Linerless Labels Market: Overview
Ever-evolving features in packaging not only reflect the brand name but also differentiate product packaging from competitors. These packaging and labels comprise right information about the product. In addition, they also include anti-counterfeiting properties accompanied with tracing & tracking technologies, which helps the vendor to keep a track of incoming ingredients, internal processing and packaging, and outgoing shipments to traders. Linerless labels are hassle less, liner, and free of waste and are available in a variety of adhesives, which fits the exact need of the application.
Linerless Labels Market: Growth Factors
Major factors responsible for the global linerless labels market growth are the preservation of natural resources, prevention of waste, and energy efficiency. Escalating demand for consumer goods coupled with flexible packaging industry may offer numerous growth opportunities to the market to grow in the near future. Additionally, the remarkable growth of food and beverage packaging products along with rising demand for logistics and consumer durables has encouraged vendors to increase the demand of the global linerless labels market. However, growing raw material cost and lack of awareness about types of labeling technologies, and environmental concerns in terms of printing on labels are some factors restraining the growth of the global market.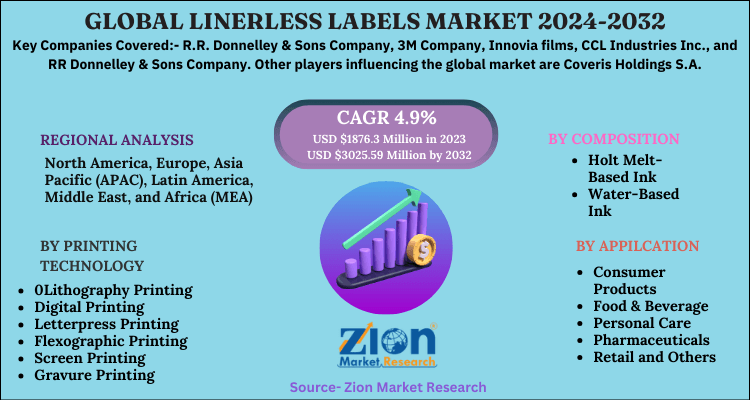 Request Free Sample
Linerless Labels Market: Segmentation
The global linerless labels market is classified based on applications, printing ink, composition, and printing technology. The application segment includes consumer products, food & beverage, personal care, pharmaceuticals, retail, and others. The printing ink segment consists of holt melt-based ink, water-based ink, UV curable ink, and solvent-based ink. Further, the composition segment comprises face stock, adhesives, composition, and others. Moreover, the global linerless labels market is divided based on printing technology as lithography printing, digital printing, letterpress printing, flexographic printing, screen printing, and gravure printing.
Linerless Labels Market: Regional Analysis
The geography segment of the global linerless labels market includes North America, Europe, Asia-Pacific, Latin America, and the Middle East & Africa. Asia Pacific is anticipated to witness high growth mainly due to consistent economic growth and increasing population. This region accompanied by numerous opportunities to expand and gain market footprint. The major companies operating in this region focus on grabbing largest market share. Europe and North America are anticipated to show steady growth in the next few years. Rising market consolidation along with the presence of a huge number of players is trying to tap the linerless labels market in North America and Europe. Latin America and the Middle East are anticipated to witness substantial growth in the coming years.
Linerless Labels Market: Competitive Players
Some main participants of the Linerless Labels market R.R. Donnelley & Sons Company, 3M Company, Innovia films, CCL Industries Inc., and RR Donnelley & Sons Company. Other players influencing the global market are Coveris Holdings S.A., Reflex Labels limited, and Constantia Flexible Group GmbH.
Linerless Labels Market: Regional Segment Analysis
North America
Europe

France
The UK
Spain
Germany
Italy
Rest of Europe

Asia Pacific

China
Japan
India
South Korea
Southeast Asia
Rest of Asia Pacific

Latin America

Brazil
Mexico
Rest of Latin America

Middle East & Africa

GCC
South Africa
Rest of Middle East & Africa