Global Insulin Market Overview
In terms of revenue, the global Insulin Market accounted for USD48,828 Million in 2020 and is expected to reach USD 73,632 Millionby 2028, growing at a CAGR of 5.3% from 2021 to 2028.
Globally, more than 422 million people are suffering from type 1and type 2 diabetes. Wherein, most of the insulin demand is comingfrom type 1 as they are needed to inject insulin on daily basis toregulate the blood sugar level and avoid any further complications.As of 2020, more than 10% of the diabetic population is affected byT1D and the number is expanding rapidly with each passing year. Allage groups around found to be affected by the disease, but theprevalence is relatively higher among elderly people. In fact,people having T2D for more than 20 years are also emerged as theconsumer of insulin on regular basis.
Report Scope:
Over $760 billion was spent on diabetes management in 2019 across the globe and the number is expected to surpass 830 billionby 2030 on account of rapidly growing prevalence of the disease.Wherein, the U.S. emerged as the largest country to spend more than$327 billion of diabetic care. The demand for insulin is likely toremain high in the developed countries of North America and Europeon account of its easy availability, controlled prices in Europe,coverage in insurance policy, and strong healthcare infrastructureamong others. China, India, the U.S. and Brazil are the top fourcountries housing largest diabetic population. For instance, Chinaalone has more than 116 million people suffering from the disease,whereas the U.S. has over 34 million people. In fact, it is thesixth deadliest disease across the globe. Every year, it claimslife of more than 1.8 million people.
The average price per unit across all types of insulin inAmerica was $98.70 (£76.34). Other countries would have paid afraction as much for the same insulins. American prices were foundto be 27.7 times higher than units sold in Turkey and 6.3 timeshigher than those in Canada, 5.9 times higher than those in Japanand 8.9 times higher than those in the U.K.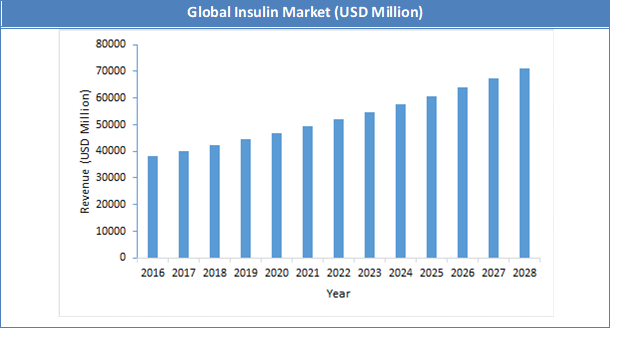 Request Free Sample
COVID-19 Impact Analysis
Covid-19 pandemic has impacted all the sectors across the globe.However, it fails to leave any evident dent on the demand forinsulin. The demand remained steady during the initial period andis likely to continue the same in the years to come. However, thepandemic has disrupted the supply chain of materials required formanufacturing insulin to some extent due to stringent lockdownrestrictions across the globe. The lockdown has hampered thesmoothness of raw material transport to the manufacturing facility,which, in turn, has created pressure on the available resources tomeet the increasing demand for the products. Most of the playersbased in the European and Asia Pacific region faced littledifficulty in accessing the raw materials due to the ban on theimport and export activities to reduce the spread of infection. Asa result, the manufacturers had to purchase the required materialfrom the local providers at inflated prices
Growth Factors
Globally more than 422 million people are living with diabetesacross the globe. Every year, more than 1.6 million people die ofthe disease. Wherein, the prevalence of diagnosis and mortality ishigher in aging population. Mid and low-income countries are theworst affected, especially in Asia, Africa and Latin America. By2040, the diabetic population is likely to double, which wouldfurther drive the demand for insulin. As of 2019, Latin had around2.9 million people using insulin on daily basis, which is likely togrow at an alarming rate in the years to come.
The global market is witnessing a significant growth in theprevalence of diabetes on account of changing lifestyle, increasingobese and overweight population, sedentary lifestyle, increasedconsumption of food containing higher amount of carbohydrates andfat, and growing hereditary prevalence of type diabetes. Over 39%of the global adults are categorized as overweight. In 2016, morethan 1.9 billion adults, 18 years and older, were overweight. Ofthese over 650 million were obese. Apart from this, large number ofpeople are consuming tobacco and smoking. The number issignificantly high in China and India. It further increases therisk of developing diabetes.
Report Scope:
| Report Attribute | Details |
| --- | --- |
| Base Year | 2020 |
| Historic Years | 2016 - 2020 |
| Forecast Years | 2021 - 2028 |
| Segments Covered | By Product Type, By Application, and By End Use |
| Forecast Units | Value (USD Billion), and Volume (Units) |
| Quantitative Units | Revenue in USD million/billion and CAGR from 2021 to 2028 |
| Regions Covered | North America, Europe, Asia Pacific, Latin America, and MiddleEast & Africa, and Rest of World |
| Countries Covered | U.S., Canada, Mexico, U.K., Germany, France, Italy, Spain,China, India, Japan, South Korea, Brazil, Argentina, GCC Countries,and South Africa, among others |
| Number of Companies Covered | 10 companies with scope for including additional 15 companiesupon request |
| Report Coverage | Market growth drivers, restraints, opportunities, Porter's fiveforces analysis, PEST analysis, value chain analysis, regulatorylandscape, market attractiveness analysis by segments and region,company market share analysis, and COVID-19 impact analysis. |
| Customization Scope | Avail customized purchase options to meet your exact researchneeds. |
Type Segment Analysis Preview:
On the basis of types the global market is segmented intoRapid-Acting, Short-Acting, Intermediate-Acting, Long-Acting, andPremixed. Rapid-acting insulin starts working somewhere between 2.5to 20 minutes after injection. Its action is at its greatestbetween one and three hours after injection and can last up to fivehours. This type of insulin acts more quickly after a meal, similarto the body's natural insulin, reducing the risk of a low bloodglucose (blood glucose below 4 mmol/L). Short-acting insulin takeslonger to start working than the rapid-acting insulins. It startsto reduce blood glucose levels within 30 minutes. Therefore, it isrecommended to administrate the dose within 30 minutes beforeeating. This type of insulin can last up to eight hours, but showsmaximum efficiency in the first 2-5 hours.
Indication Segment AnalysisPreview:
On the basis of Indication, the global market is segmented intotype 1 and type 2. It is recommended for the patient having type 1diabetes to inject insulin on daily basis. They are often advisedto take rapid insulin dose along with last lasting insulin forbetter outcome. Type 1 diabetes is always treated with insulin,which is injected with a pen, syringe or pump. The aim is to keepblood glucose levels as close to normal as possible. Over 64,000Americans are diagnosed with T1D every year. As of 2020, over 1.6million people in the U.S. are suffering from the disease.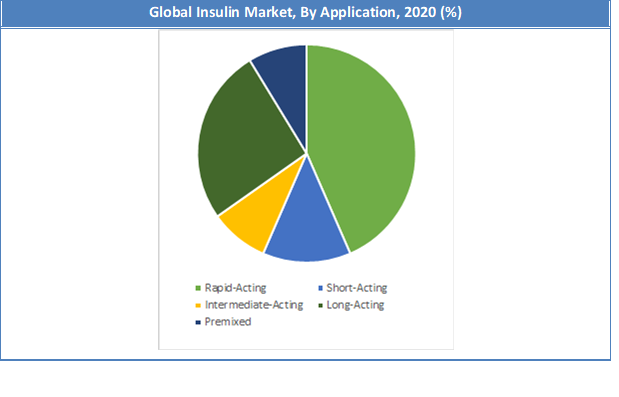 Request Free Sample
Regional Analysis Preview
U.S. is projected to continue dominating the North Americainsulin market during the forecast period. Canada holdingsignificantly low share of the market as compared the U.S. As of2019, the country spent $327 billion on diabetes care. Each year,over 64,000 Americans are diagnosed with T1D and more than 1.64million people are living with the same disease in the country. In2018, over 10.5% of American population or 34.4 million haddiabetes. Wherein, the prevalence is significantly higher inelderly population having age above 60 years. To be precise, over14.3 million people with 65 years and above are suffering from thedisease.
Asia Pacific is housing over 60% of the global population, outof which, more than 35% is residing in China and India. Theprevalence of diabetes is significantly higher in low- andmid-income countries. China is housing the world largest populationsuffering from diabetes. Currently, China and India have over 116million and 77 million people suffering from diabetes,respectively. In addition to this, more than 50% of the globalpopulation having diabetes lives in Asia Pacific region.
Key Market Players & Competitive Landscape
Some of key players in Insulin Market are,
Novo Nordisk
Eli Lilly & Co.
Sanofi
Biocon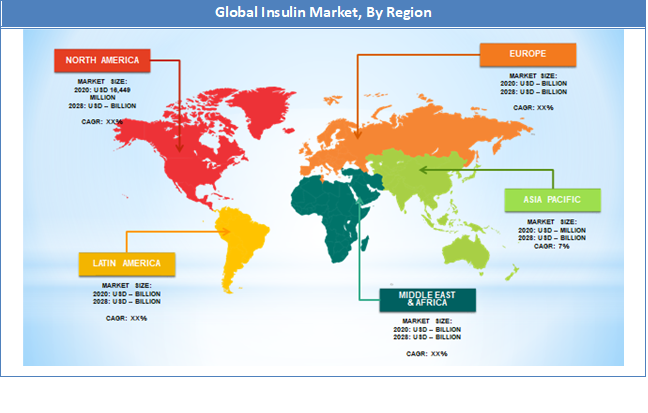 Request Free Sample
The Insulin Market is segmented as follows:
Type Segment Analysis
Rapid-Acting
Short-Acting
Intermediate-Acting
Long-Acting
Premixed
Indication Segment Analysis
Global Mold Inhibitors Market: Regional Segment Analysis
North America
Europe

France
The UK
Spain
Germany
Italy
Rest of Europe

Asia Pacific

China
Japan
India
South Korea
Southeast Asia
Rest of Asia Pacific

Latin America

Brazil
Mexico
Rest of Latin America

Middle East & Africa

GCC
South Africa
Rest of Middle East & Africa