Industry Prospective:
The Inhalation Therapy Nebulizer Market was worth around USD 1,969.4 million in 2021 and is estimated to grow to about USD 3,039.3 million by 2028, with a compound annual growth rate (CAGR) of approximately 7.5 percent over the forecast period. The report analyzes the Inhalation Therapy Nebulizer Market drivers, restraints/challenges, and the effect they have on the demands during the projection period. In addition, the report explores emerging opportunities in the Inhalation Therapy Nebulizer Market.
Inhalation Therapy Nebulizer Market: Overview
A nebulizer is a drug delivery device that allows the medication to be administered into the lungs as a mist. These devices circulate pressured air through the liquid to create a thin mist that is inhaled through a mouthpiece or mask. The rising global incidence of respiratory illnesses, as well as the growing elderly population, are expected to drive market expansion throughout the forecast period. In addition, rising demand for new respiratory medication delivery devices, as well as their rapid adoption among the patient population, are expected to drive their utilization over the forecast period. The growing popularity of pneumatic nebulizers due to their ease of use and effectiveness is likely to have a favorable impact on growth.
Furthermore, patients' need for new technologies with higher quality, smaller size, lighter weight, and convenience of use is driving greater adoption. As a result, increased demand for these devices is driving the industry ahead.
Covid-19 Impact:
Currently, the global COVID-19 pandemic epidemic has increased demand for devices that can effectively prevent the spread of this respiratory infection. As the number of coronavirus cases rises, many countries are facing a major scarcity of ventilators and meter dosage inhalers. For the treatment of their respiratory disorders, many of the patients use a home nebulizer. If a patient with COVID-19 or suspected COVID-19 is using a nebulizer at home, it is critical. COVID-19 inhalation therapy is quite successful in fighting the virus. These factors will drive market expansion during the pandemic period. Many pharmaceutical companies are concentrating on creating effective treatments for Covid- 19 infections, which will primarily be administered by nebulizers. Positive responses from the clinical study are expected to drive market expansion. Furthermore, if medical device makers place a strong emphasis on the development of advanced equipment in this segment that limits the creation of aerosols, there is a greater likelihood of an increase in the growth of this market during the coronavirus pandemic.
Inhalation Therapy Nebulizer Market: Driver
The Increasing Incidence of Respiratory Disorders Will Drive Market Growth
Asthma, Chronic Obstructive Pulmonary Disease (COPD), and other respiratory disorders place a significant financial strain on the healthcare systems of many countries across the world. The prevalence of these illnesses has increased due to a variety of variables such as an increase in the smoking population, poor air quality, and so on. The frequency is constantly increasing in emerging countries, resulting in a high number of patients suffering from respiratory illnesses. Various government initiatives promoting early diagnosis and treatment are resulting in an increase in the number of individuals receiving treatment. This, combined with the rising entry of new goods onto the market, such as nebulization devices, has played a critical role in driving the use of these devices.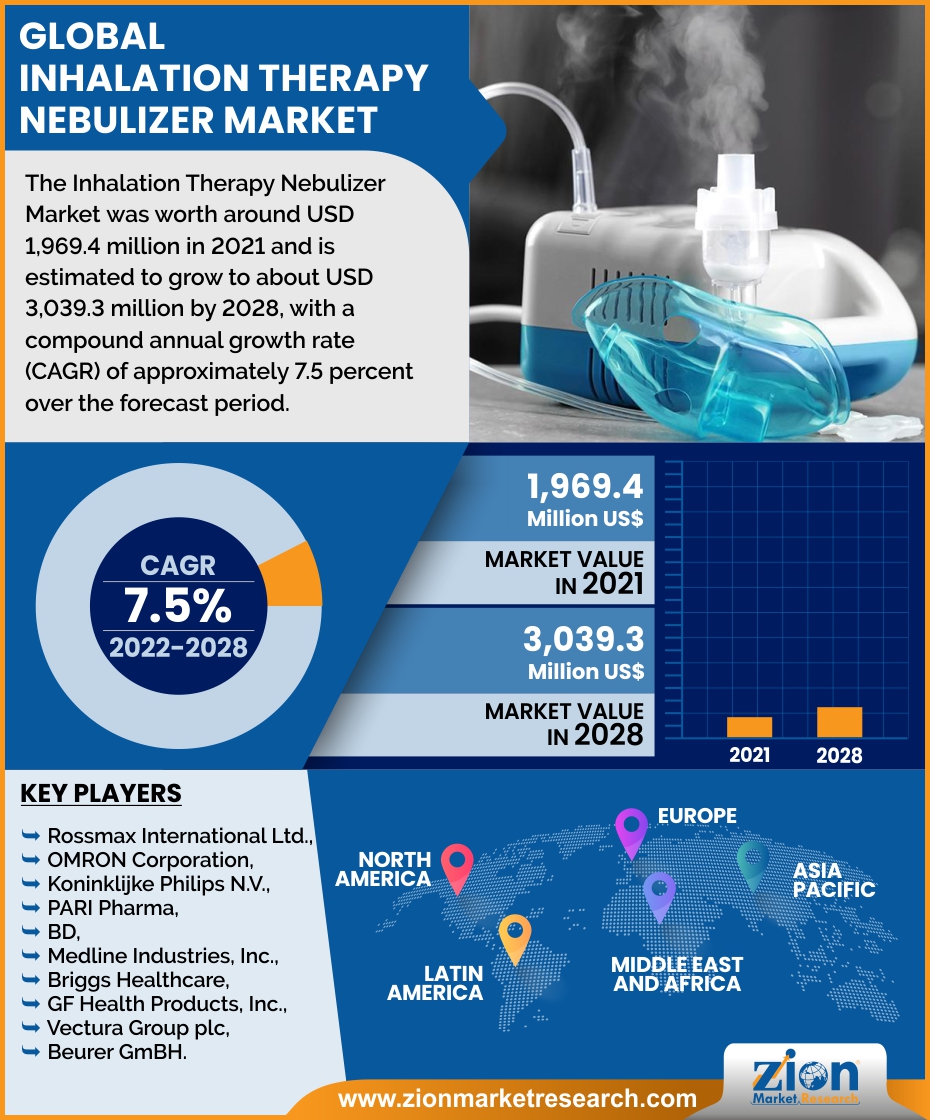 Request Free Sample
Inhalation Therapy Nebulizer Market: Restraint
The Presence of Alternative Treatment Options Limits Market Growth
This is a mature sector that is likely to experience competition as patients increasingly adopt replacement technology for treating respiratory problems. Healthcare practitioners are increasingly favoring inhalers, notably metered-dose inhalers, for asthma therapy. The clinical and operational benefits of MDIs in the treatment of asthma, as well as their reduced cost, have resulted in a rising migration of patients away from nebulization devices and toward inhalers. Furthermore, restrictive reimbursement policies in developing economies, as well as increased mesh costs, are expected to stymie the market during the forecast period.
Inhalation Therapy Nebulizer Market: Segmentation
The Inhalation Therapy Nebulizer Market is segregated based on Type, Application, and Distribution Channel.
By Type, the market is classified into Mesh Nebulizer, Pneumatic nebulizers, Ultrasonic Nebulizers, and Jet nebulizers. During the projected period, the Mesh Nebulizer segment is expected to increase at the quickest rate. Mesh nebulizers have long been the primary choice for producing novel nebulized pharmaceuticals. As a result, mesh nebulizers are expected to become more popular in the near future. This is due to their portability, convenience, and speed of therapy, as a result of their low residual volumes and precise lung administration. Thus, technological developments in mesh nebulizers, together with the creation of a new solution, are expected to fuel market expansion in the future.
By Distribution Channel, the market is classified into Hospital Pharmacy, Pharmacy Stores, and Others. During the projected period, hospital pharmacies are expected to dominate the inhalation treatment nebulizer market. This is mostly due to an increase in the number of patients suffering from illnesses that require treatment in hospitals with modern infrastructure and suitable amenities. Furthermore, the increasing number of hospitals, together with acceptable reimbursement rules, is helping to the expansion of this market.
Report Scope:
Recent Developments
In 2021, Cipla Limited announced a first-of-its-kind program to expand access to nebulization therapy for patients in rural India.
In 2020, Asclepius Meditec Co. Ltd., a medical device business based in China, announced the development of the AMS-H-03, an innovative hydrogen-oxygen nebulizer designed to alleviate the country's ventilator shortage for the treatment of COVID-19 patients.
Regional Landscape
North America dominated the global inhalation therapy nebulizer market in the forecast period. A higher prevalence of asthma and other chronic respiratory illnesses, as well as increased use of advanced portable ones in the region, have contributed to North America having a larger share of the global market. Asthma affects one out of every thirteen individuals in the United States, according to the Centers for Disease Control and Prevention (CDC). This equates to an estimated 25 million asthmatic persons in the United States. Furthermore, proper reimbursement rules in the region for these devices are projected to support market growth in the region.
The rising frequency of chronic respiratory disorders improved healthcare infrastructure, and an increasing number of medical device companies developing inhaled medication delivery devices to treat asthma and COPD are driving the Asia Pacific market. As the region's population leads a fast-paced lifestyle, patients seeking more portable nebulizer devices that may be readily transferred in times of need for patients suffering from asthma and other respiratory illnesses.
Competitive Landscape
Some of the main competitors dominating the Inhalation Therapy Nebulizer Market include - Rossmax International Ltd., OMRON Corporation, Koninklijke Philips N.V., PARI Pharma, BD, Medline Industries, Inc., Briggs Healthcare, GF Health Products, Inc., Vectura Group plc, Beurer GmBH.
Global Inhalation Therapy Nebulizer Market is segmented as follows:
By Type
Mesh Nebulizer
Pneumatic Nebulizer
Ultrasonic Nebulizer
Jet nebulizers
By Application
Asthma
COPD
Cystic fibrosis
Other
By Distribution Channel
Hospital Pharmacy
Pharmacy Stores
Other
By Region
North America
Europe

France
The UK
Spain
Germany
Italy
Rest of Europe

Asia Pacific

China
Japan
India
South Korea
Southeast Asia
Rest of Asia Pacific

Latin America

Brazil
Mexico
Rest of Latin America

Middle East & Africa

GCC
South Africa
Rest of Middle East & Africa