Free Analysis
Inhalation therapy is used for treating various diseases, such as asthma, COPD, etc. Inhalation therapy technique helps to restore or improve normal breathing function in patients with a variety of respiratory diseases and medical conditions. Inhalation therapy uses different inhaling agents to treat different respiratory diseases by administrating drugs via inhalation, targeting peripheral airways, lung tissue, airway secretion, etc. Today, inhalation therapy is the best choice for delivering drugs in the treatment of respiratory disorders, such as chronic obstructive pulmonary disease (COPD), cystic fibrosis, and asthma. Nebulizers are devices used to deliver medications in mist form for easy inhalation. Nebulizers convert drug solutions and suspensions into small aerosol droplets, which are inhaled through the mouthpiece of these devices.
As per the Global Asthma Network, about 339 million people suffer from asthma globally. Asthma reduces one's quality of life and leads to premature death. Nearly 65 million people are affected with moderate to severe COPD, as per the World Health Organization (WHO) estimates. Globally, COPD caused about 5% of global deaths in 2005. The WHO estimates imply that COPD would become the third leading cause of death by 2030 unless immediate action is taken to control it.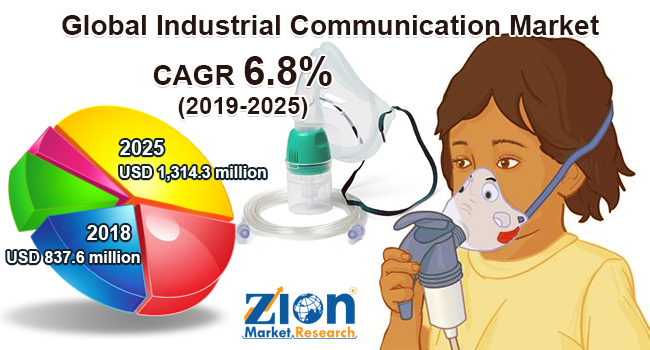 Increasing prevalence of asthma, COPD, and other chronic respiratory diseases is driving this market's growth. Other factors contributing to this market's growth are rising environmental pollution, increasing geriatric population base susceptible to respiratory diseases, huge investments made in research and development for miniaturization of products for home use, and technological advancements in device manufacturing. Large amounts of drugs are required for nebulizer as there is drug loss during mist formation in the nebulizer device. Wastage of drug to be administered remains the main concern for nebulizer devices and might hamper the growth of this market. Use of inhalation therapy nebulizer for treating diabetes, migraine, and cancer might act as an opportunity for the players of inhalation therapy nebulizer market.
The inhalation therapy nebulizer market can be segmented based on product type, applications, end-user, and region. On the basis of product type, this market is categorized into the pneumatic nebulizer, ultrasonic nebulizer, and mesh nebulizer, which are based on the mechanism of mist formation. Inhalation therapy nebulizers have applications in various respiratory conditions and based on applications, this market is segmented into asthma, COPD, cystic fibrosis, and other applications. Asthma segment holds the maximum share in this market, whereas COPD is expected to grow at the highest CAGR during the forecast period. End-users for inhalation therapy nebulizer market are hospitals and clinics, home healthcare, and others.
The North American region will lead the market during the forecast period. Advanced technology and healthcare infrastructure, government initiatives to control asthma and COPD, and continuous research and development will fuel the growth of this market in North America. In the forecast period, Europe will be the second largest market, whereas Asia Pacific region will grow at the fastest rate. Healthcare investments and government initiatives to curb non-communicable diseases, like asthma and COPD, are some of the factors propelling the growth of the inhalation therapy nebulizer market in these regions. The Latin American market is anticipated to grow moderately during the forecast period. Substantial growth is expected in the Middle East and African region in the upcoming years.
Some key players of the inhalation therapy nebulizer market include Koninklijke Philips N.V., Omron Corporation, DeVilbiss Healthcare, PARI, Air Liquide Medical Systems, A&D Company, Limited, GF Health Products, Inc., Vyaire Medical Inc., 3M, 3A HEALTH CARE S.R.L., Trudell Medical International, and Allied Healthcare Products, Inc., among others.