Industry Prospective:
The global hearable market size was worth around USD 28 billion in 2022 and is predicted to grow to around USD 96.53 billion by 2030 with a compound annual growth rate (CAGR) of roughly 16.74% between 2023 and 2030.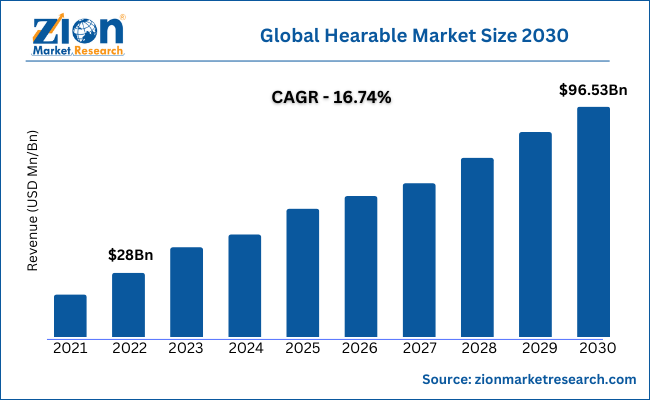 Request Free Sample
The report analyzes the global hearable market drivers, restraints/challenges, and the effect they have on the demands during the projection period. In addition, the report explores emerging opportunities in the hearable industry.
Hearable Market: Overview
The hearable industry refers to the economic aspects of wearable devices that are supposed to be worn around or in the ears. This equipment provides audio-based functionalities. Hearables are a mixture of traditional headphones or earphones that are equipped with advanced technologies such as wireless connectivity, biometric sensors, and voice assistants. They provide access to features that are beyond audio playback as users can enjoy tracking fitness, noise cancellation, and real-time language translation with the aid of such devices. Furthermore, hearables are excellent tools for experiencing augmented reality (AR) experiences. The market deals with the distribution and revenue generated from various types of devices, including true wireless earbuds, smart earbuds, hearing aids with additional features, and other ear-worn devices.
Key Insights:
As per the analysis shared by our research analyst, the global hearable market is estimated to grow annually at a CAGR of around 16.741% over the forecast period (2023-2030)
In terms of revenue, the global hearable market size was valued at around USD 28 billion in 2022 and is projected to reach USD 96.53 billion, by 2030.
The hearable market is projected to grow at a significant rate due to the growing demand for advanced wireless audio systems
Based on type segmentation, in-ear was predicted to show maximum market share in the year 2022
Based on end-user segmentation, the consumer was the leading user in 2022
On the basis of region, North America was the leading revenue generator in 2022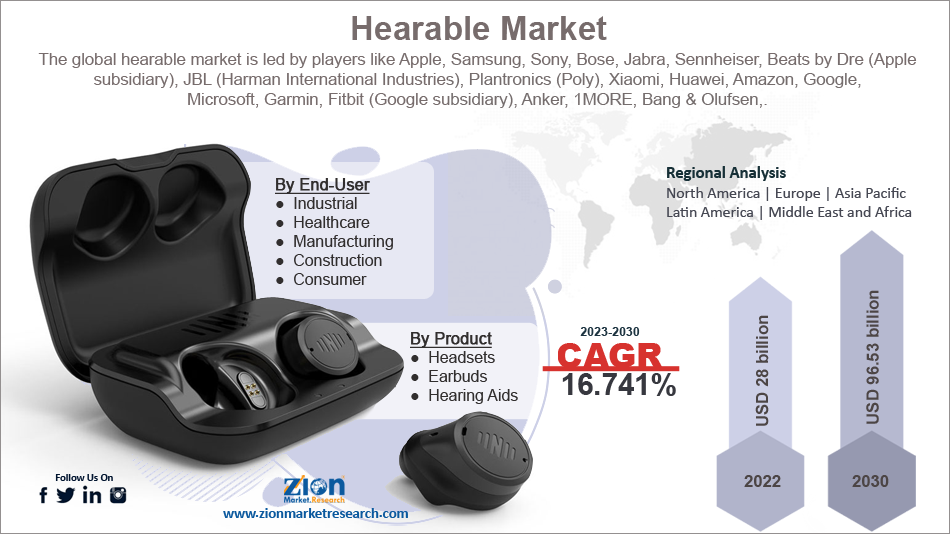 Request Free Sample
Hearable Market: Growth Drivers
Growing demand for advanced wireless hearables to propel market growth
The global hearable market is projected to grow owing to the rising demand for advanced wireless hearables as consumers have become more adept at learning and using technologies that allow them convenience in terms of use and other features. With the surging awareness rate, consumers are actively seeking hassle-free, tangle-free audio experiences, and hearables that allow them to discard the need and use of wired connections that can sometimes be difficult to manage. A major reason for the growth in demand is the popularity of smartphones that have removed headphone jacks from many devices such as Apple phones. Most of the advanced versions of such hearables come along with additional features such as health and fitness tracking which is a lucrative point of sale amongst the health-conscious consumer group.
Hearable Market: Restraints
High cost to restrict market expansion
Although the industry consumers can expect a lowering of prices in the coming years, currently, most items available in the commercial market fall in the premium range or are more expensive when compared to traditional wired counterparts. This could greatly restrict global hearable industry growth, especially in developing or underdeveloped nations as they may prefer to opt for less expensive alternatives. Moreover, regulatory and compliance requirements for such advanced systems are more stringent which restricts the entry of players in new markets.
Hearable Market: Opportunities
Integration with Internet of Things (IoT) and smart home to provide growth opportunities
The global hearable industry may come across higher growth opportunities if the business can completely tap into the potential held by integrating hearables technology with other advanced tools such as IoT and smart homes. Hearables, in such applications, can serve as ideal systems for controlling and interacting with IoT ecosystems. With the integration of voice assistants and connectivity features, users can manage lights, thermostats, security systems, and more with the help of hearables.
Hearable Market: Challenges
Data privacy concerns to challenge the market expansion
Hearables function by collecting personal information and this can raise concerns over data privacy. Users may be cautious when sharing sensitive information such as personal preferences and biometric data. Hence manufacturers must prioritize building a robust data security system along with providing transparent privacy policies to instill confidence in the consumer group.
Hearable Market: Segmentation
The global hearable market is segmented based on type, product, end-user, communication technology, and region.
Based on type, the global market segments are in-ear, over-ear, and on-ear. The industry generated the highest revenue from the in-ear segment due to the growing popularity of truly wireless earbuds driven by factors such as their compact size, portability, and convenience. In-ear hearables fit directly into the ear canal and hence provide a more secure or snug fit as opposed to on-ear tools. They are ideal for activities such as sports, commuting, and everyday use.
On-ear hearables rest on the outer ear and are less purchased in the commercial market. They are less discreet and more bulkier and hence less preferred. Over-ear hearables are circumaural headphones and they cover the entire surface area of the ears. They tend to provide higher noise isolation. In 2018, Apple sold more than 35 million AirPods.
Based on product, the global hearable market segments are headsets, earbuds, and hearing aids.
Based on end-user, the global market divisions are industrial, healthcare, manufacturing, construction, and consumer. The segmental growth was dominated by the consumer group in 2022 due to large-scale purchases by the general population for everyday applications such as music listening, phone calls, fitness tracking, entertainment, and other activities. They use it for leisure or other purposes.
Other segments such as healthcare, manufacturing, and construction have specific applications, and hence the segments remain restricted in terms of product and revenue.
For instance, in industrial settings, hearables may be used for communication and safety purposes while healthcare professionals may use it for patient monitoring or telemedicine application. In 2014, Bose sued Beats for infringing upon the former's 50 years of research and development to innovate noise cancellation.
Based on communication technology, the global hearable market segments are Bluetooth, wireless, Wi-Fi, wired, and others.
Recent Developments:
In January 2021, boAt, an Indian manufacturer of headphones, earphones, and other audio devices, announced that it had received funding of USD 100 million for developing the company's research and development wind. boAt has been granted the much-required funds from Warburg Pincus by providing a considerable minority stake. During the time of the transaction, boAt was valued at INR 1600 to INR 1800 crore
In May 2022, Qualcomm Ventures invested in boAt which will allow the latter to invest in its vision to promote the 'Make in India' concept. Qualcomm is a global leader in terms of wireless technologies and this move showcases international trust in India's growth trajectory
In August 2022, Fastrack announced the launch of 3 products in its Reflex portfolio. The items launched are the Fastrack Reflex 2C Pay, Fastrack Reflex 3.0, and Fastrack Reflex Tunes. The last item has marked the company's entry in the hearables segment
Hearable Market: Report Scope
Report Attributes
Report Details
Report Name
Hearable Market Research Report
Market Size in 2022
USD 28 Billion
Market Forecast in 2030
USD 96.53 Billion
Growth Rate
CAGR of 16.74%
Number of Pages
222
Key Companies Covered
Apple, Samsung, Sony, Bose, Jabra, Sennheiser, Beats by Dre (Apple subsidiary), JBL (Harman International Industries), Plantronics (Poly), Xiaomi, Huawei, Amazon, Google, Microsoft, Garmin, Fitbit (Google subsidiary), Anker, 1MORE, Bang & Olufsen, Jaybird (Logitech), Skullcandy, Nuheara, Bragi, Master & Dynamic, and Razer.
Segments Covered
By Type, By Product, By End-User, By Communication Technology, and By Region
Regions Covered
North America, Europe, Asia Pacific (APAC), Latin America, Middle East, and Africa (MEA)
Base Year
2022
Historical Year
2017 to 2021
Forecast Year
2023 - 2030
Customization Scope
Avail customized purchase options to meet your exact research needs. Request For Customization
Hearable Market: Regional Analysis
North America to drive market growth
The global hearable market is projected to witness the highest growth in North America mainly due to the presence of key hearables manufacturers in the US region which is also the most dominant region in North America.
The US is home to some of the revolutionary companies that have managed to set the tone of modern-age advanced systems such as technology-driven hearables that promote research and innovation. Furthermore, Canada and the US have a larger consumer database due to the tech-savvy population.
Early product adoption has allowed consumers to become comfortable with adopting and using advanced tools with absolute ease and always demanding improved versions thus fueling further development.
Apple Inc., one of the largest tech giants headquartered in the US currently has an intrinsic value of USD 175.44. Middle-Eastern countries such as the United Arab Emirates and Saudi Arabia are showing significant growth with increasing adoption of hearable devices.
Hearable Market: Competitive Analysis
The global hearable market is led by players like,
Apple
Samsung
Sony
Bose
Jabra
Sennheiser
Beats by Dre (Apple subsidiary)
JBL (Harman International Industries)
Plantronics (Poly)
Xiaomi
Huawei
Amazon
Google
Microsoft
Garmin
Fitbit (Google subsidiary)
Anker
1MORE
Bang & Olufsen
Jaybird (Logitech)
Skullcandy
Nuheara
Bragi
Master & Dynamic
and Razer.
The global hearable market is segmented as follows:
By Type
By Product
Headsets
Earbuds
Hearing Aids
By End-User
Industrial
Healthcare
Manufacturing
Construction
Consumer
By Communication Technology
Bluetooth
Wireless
Wi-Fi
Wired
Others
By Region
North America
Europe

France
The UK
Spain
Germany
Italy
Rest of Europe

Asia Pacific

China
Japan
India
South Korea
Southeast Asia
Rest of Asia Pacific

Latin America

Brazil
Mexico
Rest of Latin America

Middle East & Africa

GCC
South Africa
Rest of Middle East & Africa