The healthcare simulators market is set for a rapid growth over the forecast period. In terms of revenue, the global healthcare simulators market accounted for USD 1,870.5 Million in 2019 and is expected to reach USD 4,888.2 Million by 2026, growing at a CAGR of 14.71%
Global Healthcare Simulators Market: Overview
Medical/healthcare simulators, also known as patient simulators, are equipments used in the evolving context of healthcare simulation to train and educate medical practitioners on basic clinical skills. Apart from full-body patient simulators, healthcare simulators also include low-fidelity task trainers to train particular skills, obstetrics and gynecology simulators, high-fidelity surgical simulators, and more. Medical simulators can be defined as devices used by healthcare professionals to practice during simulated scenarios.
Medical simulators are highly useful tools in the area of medical simulation and education. The products typically depict parts or full-bodied life-like dolls that respond to learner's actions with real-time physiological reactions, just like they are alive. The simulators are used to educate physicians, train medical professionals, doctors, nurses, midwives, surgeons, anesthetists, military personnel, emergency teams, and others to exercise their clinical skills.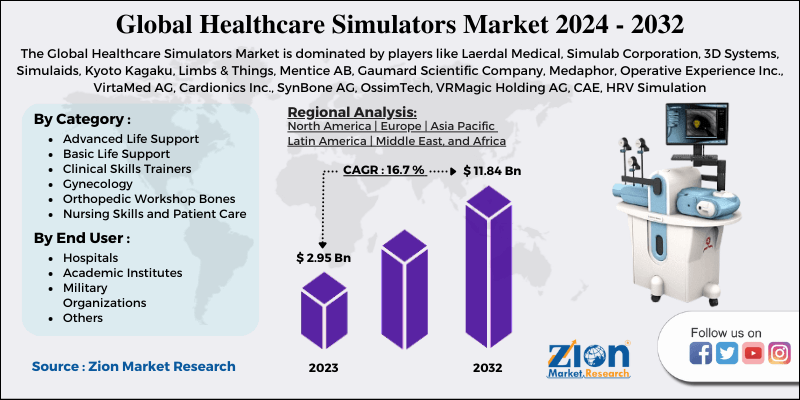 Request Free Sample
Global Healthcare Simulators Market: Growth Factors
As simulators are used by healthcare institutes or organizations to train health professionals and specialists in general practice, treatment, and surgery to minimize the likelihood of adverse injuries, a primary factor that is estimated to boost the demand for healthcare simulators worldwide is a growing number of medical institutions and healthcare training centers. As per the study of the World Directory of Medical Schools of 2016, nearly one-third of the world's medical schools are located in one of the five countries, which are the U.S., China, India, Pakistan, and Brazil, moreover, 10 countries account for almost 50% of medical schools. In addition, China ranks third in the list of most regarded medical schools globally, following India and Brazil.
In addition, China is reforming its education system by merging new medical schools, widening medical enrolment, and growing class sizes, according to the Journal of Medical Education and Training, 2018, which will promote tourism associated with medical education. A significant number of foreign students are enrolled in China for higher education in the fields of science and arts. As a result, China's medical industry is rising at a trajectory pace indicating increasing demand for medical simulators to train medical students.
Global Healthcare Simulators Market: Segmentation
Advanced Life Support (ALS) group of medical simulators aims to teach skills to expand basic life support to stabilize patients. Intravenous cannulation, manual defibrillation, tracheal intubation, insertion of laryngeal masks, and more are the skills required to do so. ALS simulators and manikins are developed to provide resuscitation training facilities and course providers with high-quality ALS training equipment for various age groups.
Basic Life Support (BLS) medical simulators are equipped with life-like features to assist in effective life support training and to allow hands-on practice for all learners. In addition, BLS manikins provide learners with various types of feedback on their progress.
Clinical Skills Trainers products are used to equip advanced laboratories and skills laboratories in universities and teaching hospitals. They are particularly useful for learners to demonstrate, perform and evaluate skills such as auscultation, chest drainage, laparoscopy, ultrasound, suturing, and more.
Global Healthcare Simulators Market: Regional Analysis
By Geography, the healthcare simulators market is segmented into North America, Europe, Latin America, Asia Pacific, and Middle East and Africa.
North America is dominated by the industry followed by Europe. The presence and continued expansion of prominent players in the region by acquisition has contributed to the easy availability of medical simulation products and services on both continents. This has greatly strengthened their markets. The European market is expected to see strong growth during the forecast period, due to the researchers conducted by the region to develop innovative simulator products.
Asia Pacific is expected to grow a substantial rate, owing to the strong focus on the development of the healthcare sector in the region through beneficial laws for new technology and commercialisation. The developing countries such as India and China will largely drive the market in the region due to an increased focus on medical research and studies. The market in the region will also gain traction due to the growing number of academic institutions, hospitals, and medical devices.
Global Healthcare Simulators Market: Competitive Players
The major players in the global healthcare simulators market include Laerdal Medical, Simulab Corporation, 3D Systems, Simulaids, Kyoto Kagaku, Limbs & Things, Mentice AB, Gaumard Scientific Company, Medaphor, Operative Experience, Inc., VirtaMed AG, Cardionics Inc., SynBone AG, OssimTech, VRMagic Holding AG, CAE, and HRV Simulation among others.
The report segment of global healthcare simulators market are as follows:
Global Healthcare Simulators Market: Category Segment Analysis
Advanced Life Support (ALS)

Adult ALS
Pediatric ALS
Neonatal ALS
Advanced Trauma Life Support (ATLS)

Basic Life Support (BLS)
Clinical Skills Trainers
Gynecology
Orthopedic Workshop Bones:
Nursing Skills and Patient Care

Ostomy care
Blood Pressure
Bandaging
Intubation
Injections

Others
Global Healthcare Simulators Market: End User Segment Analysis
Hospitals
Academic Institutes
Military Organizations
Others
Global Healthcare Simulators Market: Regional Segment Analysis
North America
Europe

France
The UK
Spain
Germany
Italy
Rest of Europe

Asia Pacific

China
Japan
India
South Korea
Southeast Asia
Rest of Asia Pacific

Latin America

Brazil
Mexico
Rest of Latin America

Middle East & Africa

GCC
South Africa
Rest of Middle East & Africa