Industry Prospective:
The global hair spray market size was worth around USD 10.1 Billion in 2022 and is predicted to grow to around USD 20.5 Billion by 2030 with a compound annual growth rate (CAGR) of roughly 7.89% between 2023 and 2030. The report analyzes the global hair spray market drivers, restraints/challenges, and the effect they have on the demands during the projection period. In addition, the report explores emerging opportunities in the hair spray market.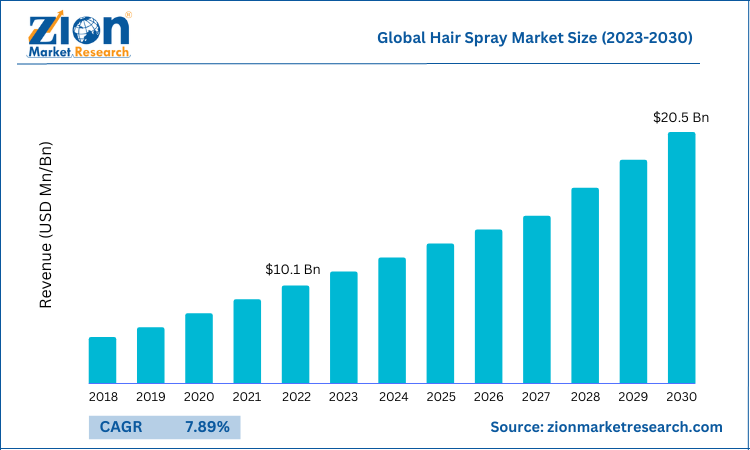 Request Free Sample
Hair Spray Market: Overview
Hair spray is a beauty aesthetic-enhancing product that is typically used to hold the hair in a desired manner or appearance. It is used to provide the necessary shine, texture, or volume to the hair. The global industry refers to the production, buying, and selling of products. It can be considered a sub-segment of the hair care industry which consists of a variety of products related to hair care including conditioners, masks, shampoos, serums, and hair coloring products. Generally, hair sprays are sold in pump bottles or aerosol cans and are available in the commercial market with different levels of finishes, strengths, and formulations that suit different preferences of the consumers depending on styling needs and hair types. It is an extremely competitive market with the presence of multiple small and large-scale players that offer a large range of products encouraged by constant product innovation due to the volatile nature of consumer choices. Several factors are driving the demand in the global market and it is projected to reach new heights in the coming years.
Key Insights
As per the analysis shared by our research analyst, the global hair spray market is estimated to grow annually at a CAGR of around 7.89% over the forecast period (2022-2030)
In terms of revenue, the global hair spray market size was valued at around USD 10.1 billion in 2022 and is projected to reach USD 20.5 billion, by 2030.
The hair spray industry is projected to grow at a significant rate due to the growing demand in the fashion industry
Based on nature segmentation, synthetic was predicted to show maximum market share in the year 2022
Based on distribution channel segmentation, supermarkets & hypermarkets was the leading channel in 2022
On the basis of region, North America was the leading revenue generator in 2022
To know more about this report, Request a sample copy
Hair Spray Market: Growth Drivers
Growing demand in the fashion industry to propel market demand
The global hair spray market is projected to benefit from the growing demand for the product in the fashion industry which is one of the largest consumers of the product. The fashion industry is dependent on the ever-changing trends and consumer adoption of these trends. Hair styling plays an important role in determining the overall look of the person and hence it is given high priority in terms of styling.
The growing influence of social media has assisted in generating mass awareness amongst the population about the different types of products available in the market. Businesses are currently investing in resources to make maximum use of the potential that social media marketing holds. In 2021, L'Oreal, a cosmetics giant, spent more than 10.6 billion on marketing and advertising. Furthermore, the growing population with dual income families has helped in increasing the disposable income of consumers allowing them to spend on leisure items. The global market benefits from the rising consumer pattern involving changing or experimenting with the cosmetics products available for use.
Hair Spray Market: Restraints
Health concerns to restrict the market growth
The global sales volume may take a dip due to the increasing awareness amongst consumers about the health concerns associated with the regular use of hair spray. Since these products are made of harsh chemicals, excess use of the products over some time is known to severely impact hair quality by destroying the natural texture of hair. In some cases, certain products are known to cause respiratory issues when inhaled. It can also cause skin irritation amongst some people who have highly sensitive skin. This could cause decreased demand for the product in the coming years as people may avoid using the product.
Hair Spray Market: Opportunities
Growing demand for organic products provides excellent growth opportunities
One of the key opportunities that the global hair spray industry players can grab is the growing segment of people who prefer to use organic or natural products as opposed to chemical products which are known to cause health concerns. Furthermore, consumers are becoming environmentally conscious and are proactively undertaking consumerism-related decisions that have little to no impact on the environment. Companies that offer eco-friendly products that are also beneficial to the health of the consumer are gaining more momentum.
Hair Spray Market: Challenges
The intense competition to challenge market growth
Since hair spray can be manufactured easily and requires only a few resources, there are a lot of brands pushing out products at a rapid rate. The global hair spray market is full of small to large-scale players that are continuously investing in product development. With the use of the internet and e-commerce platforms like Amazon and Alibaba, it has become less stressful to operate a business which is leading to increased competition in the market. The smaller companies tend to suffer the most under such intense competition.
Hair Spray Market: Segmentation
The global hair spray market is segmented based on nature, packaging type, distribution channel, end-user, and region
Based on nature, the global market is segmented into natural and synthetic.
2022 marked the highest growth in the synthetic segment since the majority of the brands available for use have chemical components
The segment may continue dominating the mass market segment
However, there is a rapidly growing segment of consumers that prefers natural hair sprays over their counterparts since not only do they have no negative impact on human health but they are also eco-friendly
Natural hair sprays are made of natural resins, plant extracts, essential oils, and other natural ingredients
As per official data, more than 98 million US citizens used hair spray regularly in 2020
Based on packaging type, the global market divisions are metal and plastic.
Based on distribution channel, the global market is divided into online retailers, wholesale distributors, beauty stores, supermarkets & hypermarkets, and others.
The supermarkets & hypermarkets segment dominated the global market in 2020 since most of the mass-market suppliers tend to purchase the products from such large-scale selling units
In most cases, higher-end hair sprays are sold by beauty stores which is a segment comprising hair care professionals who have the necessary expertise in deciding the most suited product depending on consumer needs
Another popular channel for sale is online retailers however, the consumer dissatisfaction rate in this segment is high
For instance, a recent survey concluded that almost 60.9% of survey respondents were not happy with online purchase
Based on end-user, the global market is divided into women, men, and unisex.
Recent Developments:
In December 2022, Fix My Curls, an Indian eco-friendly and dermatologist-test hair care company, announced the expansion of its product portfolio by adding a new range of products called the Spray, Spritz, and Go which can help users bring back life to day 2 hair
In June 2022, Arata, a personal care brand, expanded its product offering with the launch of the new 'Style Pro Range'. Arata is a clean beauty brand and already has multiple high-selling products in its inventory. The Australian government has already certified it toxic-free and 100% naturally-derived product
In November 2022, Nick Stenson Beauty announced its launch exclusively on Ulta Beauty in the same month. The company products which are moisture-rich and made of quality ingredients became available on the website of Ulta Beatty on 27th November 2022
Hair Spray Market Report Scope:
Report Attributes
Report Details
Report Name
Hair Spray Market Research Report
Market Size in 2022
USD 10.1 Billion
Market Forecast in 2030
USD 20.5 Billion
Compound Annual Growth Rate
CAGR of 7.89%
Number of Pages
190
Key Companies Covered

Revlon, LOreal, Beardo, Estee Lauder, Procter & Gamble, Godrej, Henkel AG & Co., Coty Inc, Unilever, John Paul Mitchell Systems, Sally Beauty Supply LLC.,COLORSMASH, Kao Corporation, Graftobian Make-Up Company, and Bumble and Bumble Products LLC.

Segments Covered
By Nature, By Packaging Type, By Distribution Channel, By End-User, And By Region
Regions Covered
North America, Europe, Asia Pacific (APAC), Latin America, Middle East and Africa (MEA)
Base Year
2022
Historical Year
2017 to 2021
Forecast Year
2023 - 2030
Customization Scope
Avail customized purchase options to meet your exact research needs. Request For Customization
Hair Spray Market: Regional Analysis
North America to register highest CAGR during the projection period
The global hair spray market is projected to register the highest growth in North America with the US leading the regional market growth. Several factors influence the high product adoption rate and some of them are high disposable income, greater product awareness rate, and availability in the country. The US has, for a long time, been the center of cultural influence, especially in the fashion or entertainment industry. American personalities are known to be highly influential in changing fashion trends. For instance, Rachel, the leading character from 'FRIENDs' a popular American sitcom, donned a hair look in the initial seasons. The hairstyle came to be known as 'The Rachel Cut' and since its first appearance on TV, it has become the most requested haircut style of all time. Furthermore, the presence of the most dominating brands available worldwide with head offices in the US is a major reason for regional expansion.
Hair Spray Market: Competitive Analysis
The global hair spray market is led by players like:
Revlon
LOreal
Beardo
Estee Lauder
Procter & Gamble
Godrej
Henkel AG & Co.
Coty Inc
Unilever
John Paul Mitchell Systems
Sally Beauty Supply LLC.
COLORSMASH
Kao Corporation
Graftobian Make-Up Company
Bumble and Bumble Products LLC.
The global hair spray market is segmented as follows:
By Nature
By Packaging Type
By Distribution Channel
Online Retailers
Wholesale Distributors
Beauty Stores
Supermarkets & Hypermarkets
Others
By End-User
By Region
North America
Europe

France
The UK
Spain
Germany
Italy
Rest of Europe

Asia Pacific

China
Japan
India
South Korea
Southeast Asia
Rest of Asia Pacific

Latin America

Brazil
Mexico
Rest of Latin America

Middle East & Africa

GCC
South Africa
Rest of Middle East & Africa