Industry Perspective:
The global gamifi market size was valued at USD 10.2 Billion in 2022 and is estimated to grow to about USD 95.3 Billion by 2030, with a compound annual growth rate (CAGR) of approximately 25.40% over the forecast period. The report analyzes the gamifi market's drivers, restraints/challenges, and the effect they have on the demands during the projection period. In addition, the report explores emerging opportunities in the private hospital market.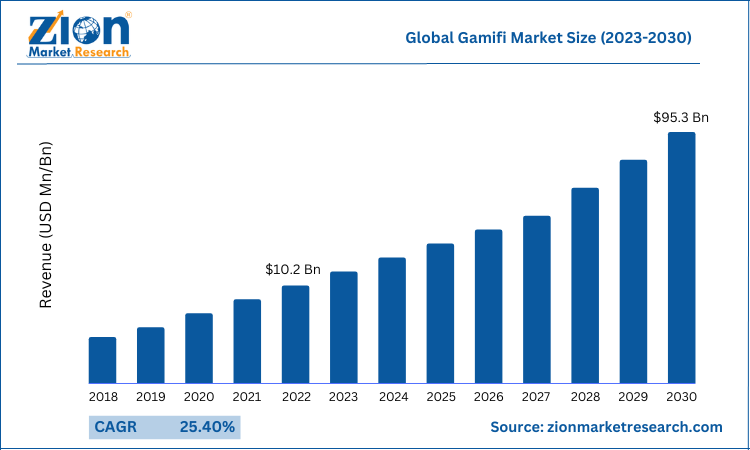 Request Free Sample
Gamifi Market: Overview
Gamification is considered to be an application of game design features and principles in non-game situations. It can also be defined as a set of actions and procedures that use or utilize the features of game elements to solve problems. For thousands of years, games and game-like features have been utilized to educate, entertain, and engage people. Points, badges, and leaderboards are all classic game components. The exponential rise in the number of smartphones and mobile devices has immediately resulted in the growth of the market for gamification. Gamification systems are increasingly being recognized as a means of architecting human behavior in order to induce innovation, productivity, or engagement, which further supporting the growth of the market. Gamification systems have also gone beyond their usual marketing applications. They are currently widely employed in advanced applications such as crowdsourcing.
Key Insights
As per the analysis shared by our research analyst, the global gamification market is expected to grow annually at a promising CAGR of around 25.40% during the forecast period 2022-2030.
In terms of revenue, the global gamification market size was valued at around USD 10.2 billion in 2022 and is estimated to grow to about USD 95.3 billion by 2030.
Gamification is the process of applying and effectively using game mechanics and design principles in various non-game contexts to captivate and motivate users. It involves using various techniques such as points, badges, levels, and leaderboards to encourage user participation and reward desired behaviors.
Based on deployment mode, the cloud segment held the largest market share in 2022.
Based on end-use industry, the telecom segment is expected to cite the fastest CAGR during the forecast period.
Based on region, the North American region held the largest market share in 2022.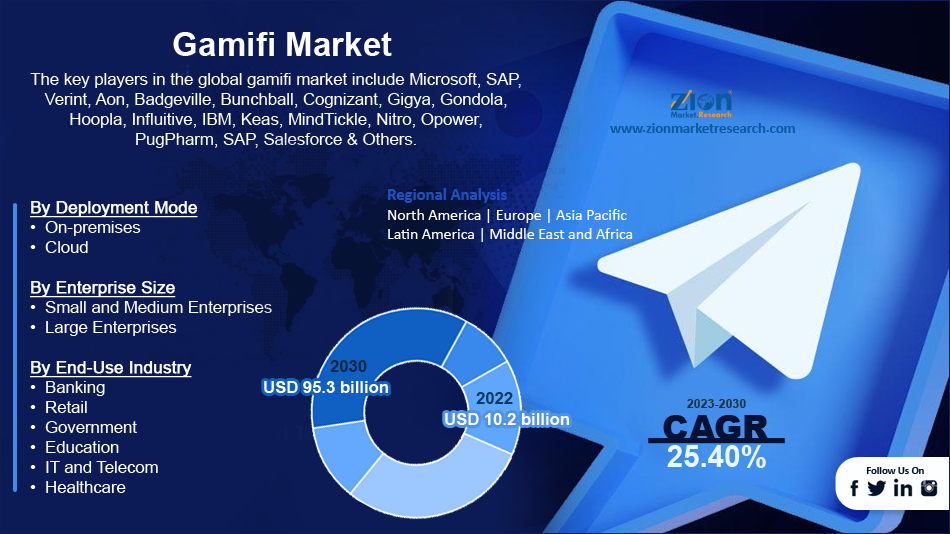 Request Free Sample
To know more about this report, Request a sample copy
COVID-19 Impact:
The Covid-19 pandemic has disrupted every industry and supply chain across the globe. The pandemic has compelled large corporations to make substantial and urgent strategic decisions. In almost all industries, employees have chosen to work from home. Maintaining continual connection with the remote site is a major problem for management and personnel. Furthermore, the spread of virus is causing widespread fear among the public, and the financial crisis is putting pressure on employees. Organizations are currently focusing on raising employee morale and inspiring people to perform allocated tasks. During these times of crisis, gamification software can help firms motivate their personnel. The program aids in the creation of a coherent environment for team members, allowing them to fulfill their goals more quickly.
Similarly, businesses can use this opportunity to provide employees with training and E-learning courses. Gamification provides easy-to-understand modules that can assist employees in learning more about the organization and its processes. This can assist firms in guiding new hires and providing advanced skills to existing personnel. As a result, significant Gamification Market growth is expected during and after the pandemic. Furthermore, the market is predicted to develop at a substantial CAGR during the forecast period, owing to increased investment in company initiatives such as business expansion, mergers, acquisitions, product launches, and others.
Gamifi Market: Drivers
Increasing Use of Smartphones
The increasing use of smartphones has greatly increased the possibilities for gamification. On average, Americans are known to check their phones 80 times per day. As per the 2022 GSMA Mobile Economy Report, the number of mobile internet subscribers reached 4.2 billion people globally and by the end of 2021, 5.3 billion people subscribed to mobile services, representing 67% of the global population. Further, the shift of customers and staff from desktop computers to mobile phones and internet devices provides a valuable platform for banks to attract consumer interest and increase conversion/usage. Additionally, the platform's interaction with social networking sites has allowed users to share their experiences with friends, acquaintances, and coworkers, expanding its reach and efficacy. Another benefit is that mobile applications allow marketers to conduct surveys, even if they are only one question long, allowing them to collect firsthand data from their target demographic and tailor their efforts accordingly.
Gamifi Market: Restraints
Rising Issues with Design Considerations and Output
Designing in gamification is a critical aspect of ensuring that the desired goal is achieved. Designers, on the other hand, have been noted to fail to come up with distinctive and sophisticated designs that match the needs of each firm. This could hinder the market's adoption of remedies. Even though a solution is designed for a certain business, it will not produce the desired results for other audiences, making it a difficult development process. As a result, a correctly designed design with proper implementation is required to obtain the desired effect; otherwise, the result will be jeopardized, and the market will grow slowly.
Gamifi Market: Opportunities
Increasing Integration of Technologies like AV, VR, and Mixed Reality
The increasing integration of technologies such as AV, VR, and Mixed Reality is expected to create immense opportunities for the growth of the gamifi industry in the years to come. These immersive technologies are being used to create gamification solutions. Amazon.com, Inc. and Walmart, for example, are using augmented reality, virtual reality, and mixed reality technology to transform the shopping experience. These businesses use virtual reality showrooms to display their products utilizing immersive technologies.
Walmart is also putting money into augmented reality gamification to promote products. It enables merchants to employ this technology to engage customers both inside and outside of their stores. Immersive technology combined with gamification will aid in more engaging product promotion and a better shopping experience for customers. Immersive technologies (AR, VR, etc.) are being used in a variety of industries to provide safety training, e-learning, employee engagement, and performance management. Exxon Mobil Corporation, for example, uses gamified virtual reality technology to give employees with safety training by having them accomplish tasks in virtual hazardous conditions. With new advances in the pipeline, the market acceptance of VR and AR technologies is still at the novelty stage.
Gamifi Market: Challenges
Complexities in Developing Gamification Applications
The increasing complexities in developing gamification are expected to limit the growth of the market. Games are complicated artifacts, and game engineering is a difficult process that involves expertise in design, psychology, and programming, to mention a few. Gamification, like games, strives to create engaging experiences for users. Designing gamified features, on the other hand, is even more challenging than designing games, according to a 2018 study, because the gamification context is distinguished by operational limitations that limit the unrestricted creative space of games.
Global Gamifi Market: Segmentation
The global gamifi market is bifurcated on the basis of deployment mode, enterprise size, end-use industry, and region.
On the basis of deployment mode, the market is segmented into on-premises and cloud. The cloud segment is expected to generate maximum revenue during the forecast period. This is attributable to the increasing need for safe and reliable solutions among SMEs. Additionally, most companies are expected to adopt cloud-based gamification technology to create collaborative experiences for users.
On the basis of enterprise size, the market is divided into large enterprises and SMEs. The large enterprises segment held the maximum shares in 2021. This is attributable to the increasing adoption of the solutions and software by these enterprises. Furthermore, most companies are expected to adopt cloud-based gamification technology to create collaborative experiences for users.
On the basis of end-use industry, the market is divided into banking, retail, government, education, it and telecom, healthcare, and others. The telecom segment is expected to grow at the fastest CAGR during the forecast period. This is attributable to the increasing number of subscribers with consistent experiences. Companies must include gamification in their business models since customers have gotten more aware and are more inclined to use numerous services.
Recent Developments
May 2022 - Truist Financial Corporation announced that it has acquired Long Game, the award-winning gamified finance mobile app that is changing the way people save, learn and engage with their finances.
March 2020 - Genesys announced its acquisition of nGUVU to add artificial intelligence (AI)-powered gamification to its workforce engagement management (WEM) suite.
In 2021, Domino's Pizza, a dominant US-based company announced the launch of its gamified loyalty program, called "Piece of the Pie Rewards". This allows customers to earn points for every pizza they order. Customers can then redeem their points for free pizzas, sides, and drinks. The program also includes a leaderboard where customers can compete against each other for rewards.
In 2020, Microsoft, one of the leading American multinational technology companies, announced the launch of "Xbox Game Pass Quests", a gamification feature for its Xbox Game Pass subscription service. Users can earn points and rewards for completing various quests and challenges, such as playing specific games or achieving certain in-game accomplishments.
Gamifi Market Report Scope:
Report Attributes
Report Details
Report Name
Gamifi Market Research Report
Market Size in 2022
USD 10.2 Billion
Market Forecast in 2030
USD 95.3 Billion
Compound Annual Growth Rate
CAGR of 25.40%
Number of Pages
210
Forecast Units
Value (USD Billion), and Volume (Units)
Key Companies Covered
Microsoft, SAP, Verint, Aon, Badgeville, Bunchball, Cognizant, Gigya, Gondola, Hoopla, Influitive, IBM, Keas, MindTickle, Nitro, Opower, PugPharm, SAP, Salesforce, Scavify, Tango Card, The Game Agency, The Level Up, The Octalysis Group, Thrive Global, Zamzee Centrical, MPS Interactive Systems, LevelEleven, Axonify Inc., Gamifier, IActionable, Xoxoday, Tango Card, and Callidus Software Inc.
Segments Covered
By Deployment Mode, By Enterprise Size, By End-Use Industry, And By Region
Regions Covered
North America, Europe, Asia Pacific (APAC), Latin America, Middle East and Africa (MEA)
Countries Covered
North America: U.S and Canada
Europe: Germany, Italy, Russia, U.K, Spain, France, Rest of Europe
APAC: China, Australia, Japan, India, South Korea, South East Asia, Rest of Asia Pacific
Latin America: Brazil, Argentina, Chile
The Middle East And Africa: South Africa, GCC, Rest of MEA
Base Year
2022
Historical Year
2016 to 2020
Forecast Year
2023 - 2030
Customization Scope
Avail customized purchase options to meet your exact research needs. Request For Customization
Gamifi Market: Regional Landscape
North America to hold the highest market share during forecast period
North America held the largest share in the global gamifi market in 2021 and is likely to continue the same trend during the forecast period. This is attributable to the high adoption of customer-based solutions and enterprise-based solutions in the region. Further, countries like the United States and Canada are implementing gamification solutions to improve their marketing efforts by improving advertising, consumer contact, branding, and selling. Furthermore, the growing popularity of cloud-based gamified solutions among businesses, owing to their inexpensive deployment costs, has aided the gamification market's rapid growth. In comparison to other regions, the gamification market in North America currently contributes a considerable amount of revenue.
Gamifi Market: Competitive Landscape
Some of the key players in the global gamifi market include:
Microsoft
SAP
Verint
Aon
Badgeville
Bunchball
Cognizant
Gigya
Gondola
Hoopla
Influitive
IBM
Keas
MindTickle
Nitro
Opower
PugPharm
SAP
Salesforce
Scavify
Tango Card
The Game Agency
The Level Up
The Octalysis Group
Thrive Global
Zamzee Centrical
MPS Interactive Systems
LevelEleven
Axonify Inc.
Gamifier
IActionable
Xoxoday
Tango Card
Callidus Software Inc.
Global gamifi market is segmented as follows:
By Deployment Mode
By Enterprise Size
Small and Medium Enterprises
Large Enterprises
By End-Use Industry
Banking
Retail
Government
Education
IT and Telecom
Healthcare
Others
By Region
North America
Europe

France
The UK
Spain
Germany
Italy
Rest of Europe

Asia Pacific

China
Japan
India
South Korea
Southeast Asia
Rest of Asia Pacific

Latin America

Brazil
Mexico
Rest of Latin America

Middle East & Africa

GCC
South Africa
Rest of Middle East & Africa