Virtual Reality Market Size Overview
The global virtual reality market size was USD 10.85 Billion in 2020 and it is expected to reach USD 52.03 Billion by 2028, growing at a CAGR of 21.9% from 2021 to 2028.
Virtual reality means a computer-generated simulation through which the user can interact within an artificial 3D environment with the help of devices such as gloves with sensors or goggles with a screen. An increase in the application of VR in various industries is driving the market growth. The implementation of VR helps reduce hefty costs.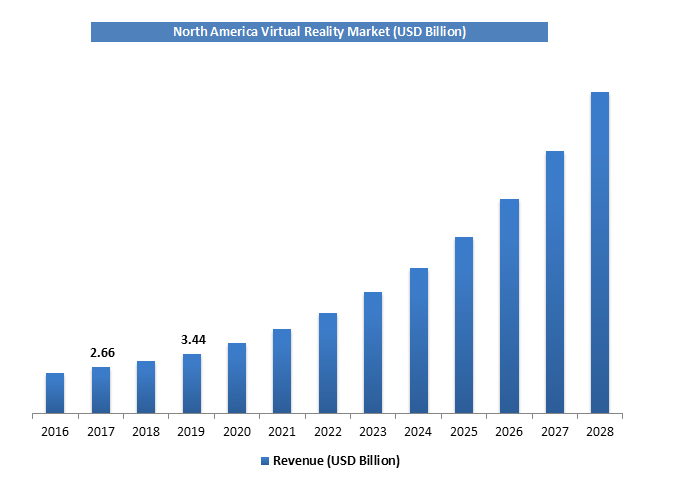 Request Free Sample
COVID-19 Impact Analysis
The outbreak of COVID-19 positively impacted the global virtual reality market. Lockdown significantly increased the demand for VR technology. Nowadays, conferences, gatherings, exhibitions, and virtual meets are driving the growth of the VR market. Furthermore, the pandemic is expected to grow the demand for VR devices and likely to stream the growth of the VR market.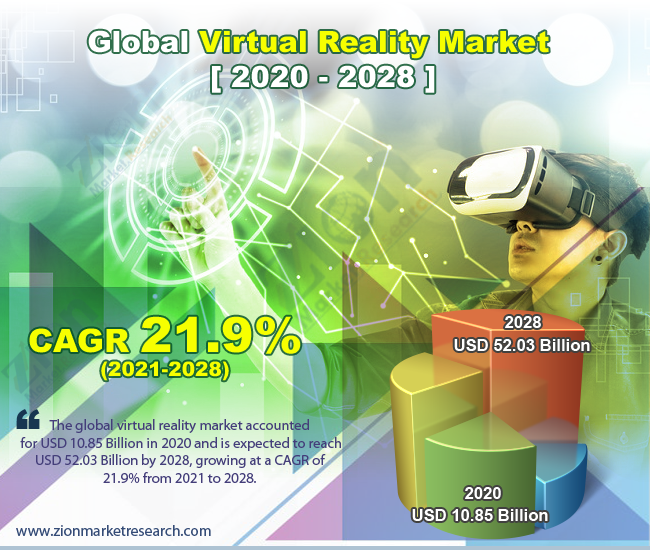 Request Free Sample
Growth Factors
5G Network and its implementation all over the world is driving virtual technology. This is majorly complementing the adoption of VR technology. Sectors such as education, healthcare, automotive, and many more are investing in virtual training and solutions. For instance, the educational sector is completely dependent upon virtual sessions. Convocations and celebrations are happening virtually.
The gaming industry has evolved completely after the introduction of 3D technology and VR. The use of Head Mounted displays (HMDs) helped bring an enhanced and unique experience to the users. Video gamers generally prefer HMDs for a better gaming experience.
Report Scope
Component Segment Analysis
The hardware segment held a share of over 60% in 2020. Increasing use of hardware devices such as mobile phones, speakers, semiconductors, sensors, displays, and many more are boosting the numbers. Increasing applications like entertainment, gaming, live events and more are enhancing the software demand.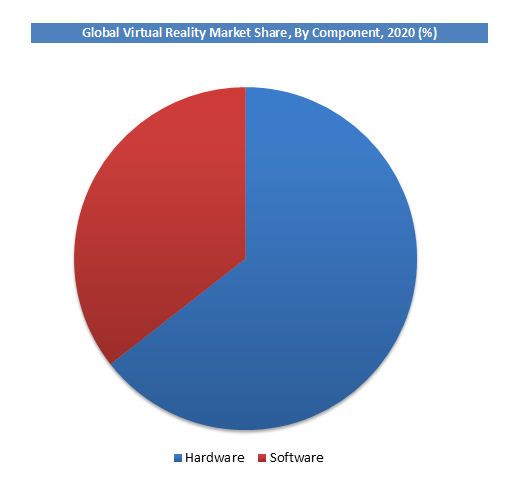 Request Free Sample
Device Type Segment Analysis
The VR Glasses segment is projected to grow at a CAGR of around 24% from 2021 to 2028. VR headsets or glasses block the light and distraction to enhance the user experience. It makes users feel like they are actually present in a theatre. The gaming and entertainment industries are the most lucrative ones. HMDs, VR simulators, treadmills, and others form the device type segment.
Industry Segment Analysis
The use of VR in defense and aerospace is growing unexpectedly. It helps the military to visualize and practice combat tactics in a safe manner. Armed forces across the world are investing in VR Technologies as VR can be used in virtual medical treatment, platform design, recruitment, and many other applications. It helps reduce costs and more importantly the risk of life. Gaming, entertainment, automotive, retail, healthcare, education, manufacturing, and others form the industry type segment.
Regional Analysis
North America accounted for a share of 34% in 2020. The rising growth of the healthcare and educational sectors are the key drivers. The consumer application sector is also estimated to grow fast in the region. The government in the region is also heavily investing in VR technology to boost the market.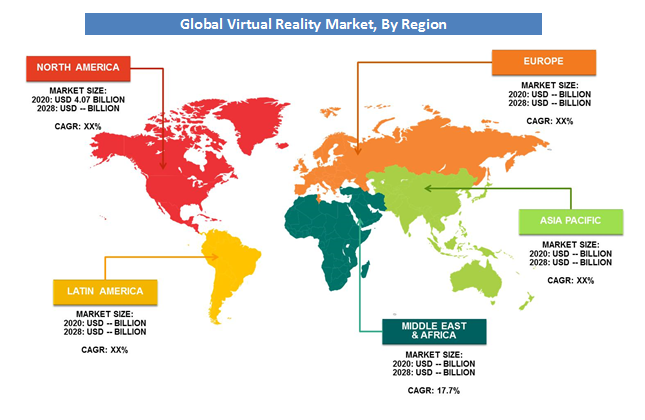 Request Free Sample
Asia Pacific is projected to grow at a CAGR of over 22% during the forecast period. China is one of the major distributors of HMDs. China and India are likely to witness significant growth due to government funding. Campaigns like Make in India, and others are encouraging small and medium enterprises to invest and develop their business in India.
Key Market Players & Competitive Landscape
Some of the key players in the virtual reality market are HTC Corporation, Microsoft, Barco, CyberGlove Systems, Inc., Facebook Technologies, LLC, Samsung Electronics Co., Ltd., Sixense Enterprises, Inc., Sensics, Inc., Sony, Eon Reality, Leap Motion, and Oculus, among others.
Companies are focusing on developing new products and developing strategic partnerships to enhance their market share. For instance, in 2019 December, Oculus introduced a hand tracking feature. In 2020, in March Microsoft came into partnership with Valve and HP to launch a more comfortable and immersive experience in VR.
The global virtual reality market is segmented as follows:
By Component
By Device Type
HMDs
VR Simulators
VR Glasses
Haptic Gloves
Treadmills
Others
By Industry Type
Gaming
Entertainment
Automotive
Education
Manufacturing
Retail
Healthcare
Aerospace & Defense
Others
By Region
North America
Europe

France
The UK
Spain
Germany
Italy
Rest of Europe

Asia Pacific

China
Japan
India
South Korea
Southeast Asia
Rest of Asia Pacific

Latin America

Brazil
Mexico
Rest of Latin America

Middle East & Africa

GCC
South Africa
Rest of Middle East & Africa