Global Fish Oil Market Industry Prospective:
The global fish oil market was valued at nearly USD 11.95 billion in 2021 and is projected to grow to about USD 17.64 billion by 2028, with a compound annual growth rate (CAGR) of approximately 6.7 percent over the forecast period. The report analyzes the fish oil market's drivers, restraints/challenges, and the effect they have on the demands during the projection period. In addition, the report explores emerging opportunities in the fish oil market.
Fish Oil Market: Overview
Fish oil is derived from a variety of sources. Docosahexaenoic acid (DHA) and Eicosapentaenoic acid (EPA) are two key omega-3 fatty acids found in them. The omega-3 fatty acid concentration of fish oil appears to be the source of its advantages. Salmon, tuna, herring, and mackerel are among the fish that are particularly high in these oils. The body does not create many omega-3 fatty acids on its own. Medicines, supplements & functional food, animal nutrition & pet feed, aquaculture, and other industries use omega-3 fatty acids extensively.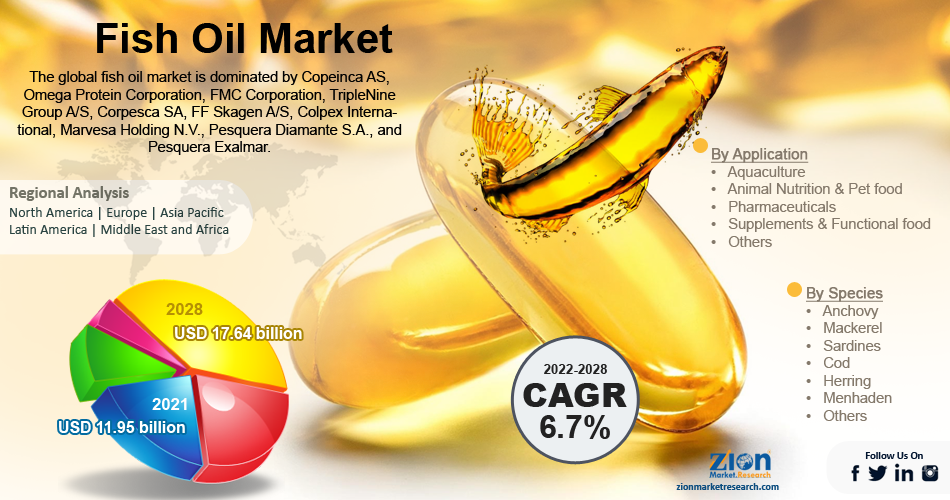 Request Free Sample
COVID-19 Impact:
Like many other industries, the fish oil market was hit hard by the COVID-19 pandemic. People were taking a variety of supplements to strengthen their immunity, and fish oil omega-3 is recognized to have immunity-boosting properties, so the market did not suffer. It was thought to be helpful in the prevention of COVID-19 as well as for the individual's overall health. Thus, during the Covid-19 pandemic as well as the post-Covid-19 era, the market for fish oil witnessed a healthy growth rate.
Fish Oil Market: Growth Drivers
Rapidly expanding aquaculture sector to foster the market growth
The expansion of the global fish oil market is directly linked to the growth of the aquaculture sector. Fish are farmed for a variety of commercial reasons through aquaculture. By employing fishmeal derived from food waste and algae, aquaculture has been developing and growing into a resource- and carbon-efficient sector. Organic aquaculture is becoming more popular in several places. Fishing and aquaculture are also important parts of many countries' economies. The increased demand for fish oil and, more significantly, fish oil omega-3 has prompted the aquaculture industry to get more financial and technological support. In addition to this, the market for fish oil is growing due to ongoing improvements in the aquaculture sector, as well as strong demand for the product.
Fish Oil Market: Restraints
High cost of fish oil may restrain the market growth
Fish oil prices vary a lot from one producer to the next, and it can be the lowest or most costly commodity on the market. Packaging for supplements has a dual purpose: it attracts buyers and protects the substance. The omega-3 fatty acids in the fish oil capsules are damaged by light (especially UV light). The goal of these supplements is to give omega-3 fatty acids to the body. If they are damaged, they are of little use to the body and might even be harmful. In addition to this, the product also needs random and independent testing for quality, toxins, and contents. All these factors add up to the cost of fish oil products. Moreover, production through a natural fermentation process does not affect vitamins or fatty acids, implying that all nutrients remain natural and unaltered. Their bioavailability and advantages were improved as a result. Hence the process of packaging, testing, and extraction altogether increases the cost which, in turn, may hinder the market growth.
Fish Oil Market: Opportunities
A surge in demand for Omega 3 Fatty Acids and the growing adoption of anchovy-based fish oils is likely to offer better growth opportunities for the market expansion.
Fish oil contains omega 3 fatty acids, which are critical for lowering the risk of chronic illnesses, heart disease, cognitive decline, and joint degradation in the elderly. The demand for different fish oils has risen as customer knowledge of the advantages of omega 3 fatty acids has increased. Furthermore, clients all over the world are turning to anchovy-based fish oils for their health advantages, which include lowering triglyceride levels, delaying plaque accumulation in arteries, and lowering blood pressure. Key manufacturers throughout the world are also concentrating on creating anchovy-based high-quality fish oils, which is expected to contribute to the global fish oil market's expansion.
Fish Oil Market: Challenges
Adverse climatic conditions pose a major challenge to market growth
The expansion of the fish oil market is generally constrained by bad environmental circumstances. El Nino is a climatic phenomenon marked by warming ocean water and high air pressures that occurs in the Pacific's central and east-central regions. El Nino produces a significant shift in global temperatures, as well as heavy rainfall and temperature changes, which have a significant impact on agricultural and fisheries in impoverished nations' coastal areas. El Nino also impedes transportation activity in certain coastal locations, resulting in higher transportation costs. As a result, changes in climatic circumstances are expected to stifle the expansion of the fish oil industry.
Fish Oil Market: Segmentation
The global fish oil market is divided based on species, application, and region. Based on the species, the global market is segregated into sardine, salmon, tuna, menhaden, anchovy, cod liver, and other species. The application segment of the market is bifurcated into animal nutrition & pet food, aquaculture, pharmaceuticals, functional food & supplements, and others.
Report Scope:
Recent Developments
June 2021, with the debut of the new Omega-3 Index Test for dogs, OmegaQuant expanded its offering. Pet owners can use this sample collection kit to have their doctor assess their pet's omega-3 level.
April 2020, Omega 3 concentration natural fish oils from AlaskOmega are designed to provide high doses of omega-3 to a variety of goods, including nutritional supplement powders, energy bars, multivitamin blends, milk products, and other functional foods and drinks.
March 2020, Wiley Companies introduced omega 3 concentrate fish oil, which contains at least 200mg of docosahexaenoic and eicosapentaenoic acids (EPA). The ingredient was created to be used in foods, drinks, and dietary supplements.
Fish Oil Market: Regional Landscape
North America to lead the global market over the forecast period.
In 2021, North America had the biggest global fish oil market share, accounting for 28 percent of the total market. The rise in the usage of anchovy-based fish oil in developed countries, as well as an increase in product releases by key players, are driving this segment's expansion. The fish oil market is expanding due to rising demand for menhaden-based fish oils in animal nutrition. Over the future period, Asia Pacific segment is expected to increase at the quickest rate. The rise in knowledge about the health advantages of docosahexaenoic acids (DHA) and the rising investment by major companies in developing high-quality fish oil are driving this segment's growth.
Fish Oil Market: Competitive Landscape
The global fish oil market is dominated by Copeinca AS, Omega Protein Corporation, FMC Corporation, TripleNine Group A/S, Corpesca SA, FF Skagen A/S, Colpex International, Marvesa Holding N.V., Pesquera Diamante S.A., and Pesquera Exalmar.
Global fish oil market is segmented as follows:
By Species
Anchovy
Mackerel
Sardines
Cod
Herring
Menhaden
Others
By Application
Aquaculture
Animal Nutrition & Pet food
Pharmaceuticals
Supplements & Functional food
Others
By Region
North America
Europe

France
The UK
Spain
Germany
Italy
Rest of Europe

Asia Pacific

China
Japan
India
South Korea
Southeast Asia
Rest of Asia Pacific

Latin America

Brazil
Mexico
Rest of Latin America

Middle East & Africa

GCC
South Africa
Rest of Middle East & Africa