According to the report published by Zion Market Research, global demand for the Oil and Fats market was valued at approximately USD 227.33 Billion in 2019 and is expected to generate revenue of around USD 307.3 Billion by end of 2026, growing at a CAGR of around 4.4% between 2020 and 2026.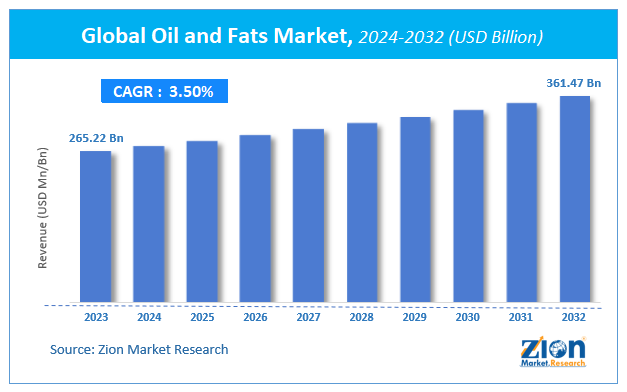 Request Free Sample
Global Oil and Fats Market: Overview
A myth has been staying with a human for generations that fats are bad and should be avoided. People with high cholesterol and heart conditions are suggested to opt for a low-fat diet, avoiding all forms of fat to the great extent possible. To lose weight, a typical individual should begin with a low-fat or no-fat diet.
Scientifically, both good and bad fats exist. Different kinds of oils and fats are available that include monounsaturated fats and polyunsaturated fats. These fats are mainly present in plant sources such as nuts, avocados and olives, peanuts, and canola oils. These fats are liquid at room temperature. Polyunsaturated fats include healthy omega-3 fatty acids. These types of fats are necessary for the creation of cell walls and hormones in the body. Other fats such as saturated fats—found mostly in animal products—and trans fats—found in cookies, deep-fried foods, and foods with chocolate coatings. Trans fats are formed when unsaturated vegetable oils are hydrogenated and become more solid and more stable. This type of fat is unhealthy for the human body.
Global Oil and Fats Market: Growth Factors
All the eatables having these elements are consumed by humans and are fed to animals daily all over the world, thus increasing the demand for oils and fats in the market globally. Many companies are taking measures to reduce unnecessary or unhealthy fats by producing items with more needed fats. In addition, the information of nutrients provided on every product affects the buying habit of people, especially health-conscious population. The growing population of nonveg eaters has also helped in driving the market demand as these oil and fats are used as feed products for the poultry and cattle, ensuring the nutritional balance and saving cost. The growing use of oil and fats in other industrial applications such as paints and lubricants also fosters market growth.
Global Oil and Fats Market: Segmentation
The global Oil and Fats market is segmented based on oil type, fat type, source, form, and application. Based on oil type, the market is divided into palm, soybean, rapeseed, sunflower, and olive where palm oil shows market dominance. Fat type is further bifurcated into butter, tallow, lard where the demand for butter is largest. The source type is divided into vegetable and animal. Based on the form type, they are available in solid and liquid form, where the liquid form is in huge demand owing to its multiple applications for cooking or biodiesel. The application type is further divided into food, industrial, personal care, animal feed, pharmaceutical.
Region-wise, the global market is segregated into North America, Europe, Asia Pacific, Latin America, and Middle East & Africa.
Global Oil and Fats Market: Regional Analysis
The Asia Pacific region is anticipated to maintain its influence on the global Oil and Fats market owing to the increasing population along with the growing consumption of oil and fats. Major growing economies, such as China, India, and Vietnam are seeing tremendous growth due to increasing resources, rising demand, and growing industrialization. North America and Europe region are predicted to show growth in the market owing to the high standard of living along with the high consumption of animal products.
Global Oil and Fats Market: Competitive Players
Some main participants of the Oil and Fats market are Unilever PLC, Ajinomoto Co. Inc., Wilmar International Ltd., Associated British Foods PLC, CHS Inc., Cargill, Incorporated, Archer Daniels Midland Company, United Plantations Berhad, International Foodstuff Company Holdings Ltd., Bunge Limited, Olam International, Fuji Oil Holding Inc., and ConAgra Foods, Inc. among others.
Report Scope:
Oil and Fats Market: Regional Segment Analysis
North America
Europe

France
The UK
Spain
Germany
Italy
Rest of Europe

Asia Pacific

China
Japan
India
South Korea
Southeast Asia
Rest of Asia Pacific

Latin America

Brazil
Mexico
Rest of Latin America

Middle East & Africa

GCC
South Africa
Rest of Middle East & Africa