Fats & Oils Market Size:
The global fats & oils market size was worth around USD 237 billion in 2021 and is predicted to grow to around USD 358 billion by 2030 with a compound annual growth rate (CAGR) of roughly 4.34% between 2022 and 2030. The report analyzes the global fats & oils market drivers, restraints/challenges, and the effect they have on the demands during the projection period. In addition, the report explores emerging opportunities in the fats & oils market.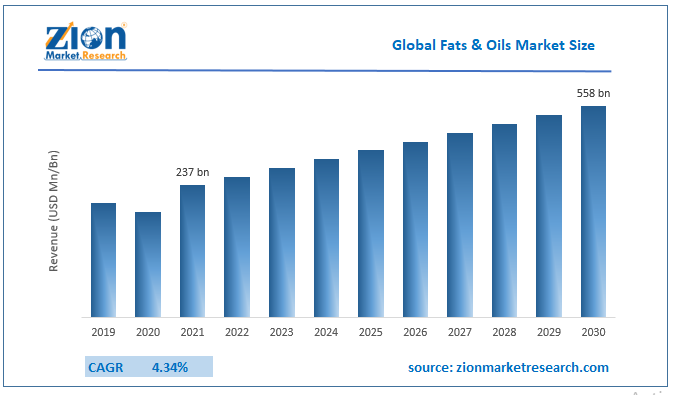 Request Free Sample
Fats & Oils Market: Overview
Contrary to popular belief, oil and fats are important components of a healthy diet and in turn, are required in sufficient quantities for the propel growth of the human body. Structurally, both are a part of the glycerol family and are ester forms of the chemical. They are made of three fatty acids called triglycerides or triacylglycerols.
These acids provide the necessary functionality to fats that can be broadly divided into four types, namely; trans fatty acids, cis-monosaturated, saturated, and cis-polyunsaturated. At room temperature, trans fatty acids and saturated fatty acids are solid while cis-monosaturated is liquid when kept at normal temperatures. In technical terms, none of the types of fats can either be 100% unsaturated or saturated but are called so depending on the dominant type of fatty acid. Since oils and fats do not occur naturally, they are manufactured through various ways of processing systems from a variety of base products.
Key Insights
As per the analysis shared by our research analyst, the global fats & oils is estimated to grow annually at a CAGR of around 4.34% over the forecast period (2022-2030)
In terms of revenue, the global fats & oils market size was valued at around USD 237 billion in 2021 and is projected to reach USD 358 billion, by 2030.
The global fats & oils market is projected to grow due to increasing investments in product innovation.
Based on form segmentation, the liquid was predicted to show maximum market share in the year 2021
Based on application segmentation, food was the leading application in 2021
On the basis of region, North America was the leading revenue generator in 2021
Fats & Oils Market: Growth Drivers
Increasing product innovation to drive the market growth
The global fats & oils market is projected to grow due to increasing investments in product innovation. Different types of oil & fats have been an integral part of food preparation. They are used for various purposes including frying, cooking, margarine, bakers' shortenings, or in salad dressing. For a long time, fats and oils were considered to be unhealthy which in part is true. But they are required for the proper functioning of human organs.
Polyunsaturated and monounsaturated fats or unsaturated fats are classified as food fats. As the awareness amongst consumers grew considerably, the global market players started investing in developing healthier forms of oil & fats as the market for such products expanded at a high rate. Businesses have been quick in adapting to what the consumers are expecting and such an approach has allowed them to stay relevant or avoid redundancy over time. In current times, especially in the food & beverages (F & B) sector, constantly bringing new products, or services to the market is the only sustainable way for the companies to grow.
Fats & Oils Market: Restraints
Impact of overconsumption to restrict market expansion
Hydrogenation is the most common method of covering fats with oil. It refers to the chemical reactions that take place between carbon-carbon double bonds and hydrogen in an unsaturated fatty acid. However, this process gives rise to exceptionally high levels of trans fatty acids that are related to a high risk of stroke, heart attacks, and type 2 diabetes, if consumed regularly and in high quantities. Trans fats are known to increase bad cholesterol and lower levels of good cholesterol. This could act as a major restraint for the global market players during the growth phase, as the end-consumers may choose to skin the use of oil in favor of other substitutes.
Fats & Oils Market: Opportunities
Unexplored markets to provide growth opportunities
The global fats & oils market players could increase consumer databases by tapping into the unexplored markets which are generally in developing or under-developed economies. In remote areas, there is a lack of sufficient options as such markets are generally ruled by local providers of fats or oil. Businesses have realized the expanse of untapped potential and have increased spending on accessing such markets through aggressive marketing initiatives. In 2018, Marico, an Indian multinational consumer goods provider, spent INR 118 crore on sales promotion and advertisement.
Fats & Oils Market: Challenges
Unclear labeling to pose a major challenge during the growth trajectory
Food content is highly regulated with every nation having its own set of rules that govern the products that can be used in edibles and the exact quantity they should be present in. However, with products like oil and fats, there is a presence of a large degree of anonymity regarding the exact content which is a marketing or advertising technique used by market players to navigate through regional legislation. However, this may impact the global market growth in the long term as companies become exposed to malpractice and provide incorrect information to their consumers.
Fats & Oils Market: Segmentation
The global fats and oils market is segmented based on form, source, application, and region
Based on form, the global market segments are solid and liquid. In 2021, the global market was dominated by the liquid segment owing to higher product adoption. However, the physical traits of these compounds can vary depending on the chemical properties, but liquid oils have wider applications and they are comparatively easier to use and store. However, the demand for solid fats and oil may also witness a high growth rate due to the growing demand for butter and cheese. As per research studies, around 40 grams of cheese per day can help reduce the risk of heart disease.
Based on application, the global market divisions are industrial biodiesel, food, animal feed, and others. Food was the most dominating segment in 2021 with the majority of the global market share. Different forms of fats and oil, in various quantities, are an important part of the entire food preparation process. Butter, a key ingredient in the bakery industry, is around 80% fat.
Recent Developments:
In March 2022, as per the new guidelines launched by the Food Safety and Standards Authority of India (FSSAI), oil manufacturers can use trans fat-free logo on oil that contains less than 0.2 grams of trans-fat per 100 grams of the food
In July 2022, Fortune, edible oil sold by Adani Wilmar, announced a price cut of INR 30 per liter as global prices continue to fall
Fats & Oils Market Report Scope:
Report Attributes
Report Details
Report Name
Fats & Oils Market Research Report
Market Size in 2021
USD 237 Billion
Market Forecast in 2030
USD 358 Billion
Compound Annual Growth Rate
CAGR of 4.34%
Number of Pages
295
Forecast Units
Value (USD Billion), and Volume (Units)
Key Companies Covered
Fuji Oil Holding Inc., Cargill Incorporated, AAK AB, Richardson International Limited, United Plantations Berhad, Bunge Limited, and Wilmar International Limited.
Segments Covered
By Form, By Source, By Application and By Region
Regions Covered
North America, Europe, Asia Pacific (APAC), Latin America, Middle East and Africa (MEA)
Countries Covered
North America: U.S and Canada
Europe: Germany, Italy, Russia, U.K, Spain, France, Rest of Europe
APAC: China, Australia, Japan, India, South Korea, South East Asia, Rest of Asia Pacific
Latin America: Brazil, Argentina, Chile
The Middle East And Africa: South Africa, GCC, Rest of MEA
Base Year
2021
Historical Year
2016 to 2020
Forecast Year
2022 - 2030
Customization Scope
Avail customized purchase options to meet your exact research needs. Request For Customization
Fats & Oils Market: Regional Analysis
North America to continue dominating the market growth
The global fats & oils market is projected to be dominated by North America as it did in 2021 owing to the high demand for cooking oil and fats across the regions of Canada, Mexico, and the US. The region is witnessing a surge in the consumption of healthy fats that are derived from plants instead of the ones sourced from animals.
The growing efforts undertaken by the regional players to enter new and unexplored markets may also generate high revenue. Growth in Europe may be driven by the dominance that Spain holds on the export of olive oil, one of the highest-selling forms of cooking oil. Every year, the country is known to produce more than 43% of the world's entire supply of olive oil. In 2021, the country produced more than 1.29 million tons of olive oil. Spain is followed by Greece in terms of the largest producers of olive oil. Out of the total production in Greece, 74.9% is extra virgin oil, which is in high demand in the international market.
Fats & Oils Market: Competitive Analysis
The global fats & oils market is led by players like
Fuji Oil Holding Inc.
Cargill Incorporated
AAK AB
Richardson International Limited
United Plantations Berhad
Bunge Limited
Wilmar International Limited.
The global fats and oils market is segmented as follows:
By Form
By Source
By Application
Industrial
Biodiesel
Food
Animal Feed
Others
By Region
North America
Europe

France
The UK
Spain
Germany
Italy
Rest of Europe

Asia Pacific

China
Japan
India
South Korea
Southeast Asia
Rest of Asia Pacific

Latin America

Brazil
Mexico
Rest of Latin America

Middle East & Africa

GCC
South Africa
Rest of Middle East & Africa