Global Biodiesel Market Size
The global Biodiesel market is predicted to accrue revenue worth 46.11 (USD Billion) by 2026 and will record a CAGR of nearly 4.9% during 2020-2026. The report offers assessment and analysis of the Biodiesel market on a global and regional level. The study offers a comprehensive assessment of the market competition, constraints, sales estimates, opportunities, evolving trends, and industry-validated data. The report offers historical data from 2017 to 2019 along with a forecast from 2020 to 2026 based on revenue (USD Billion).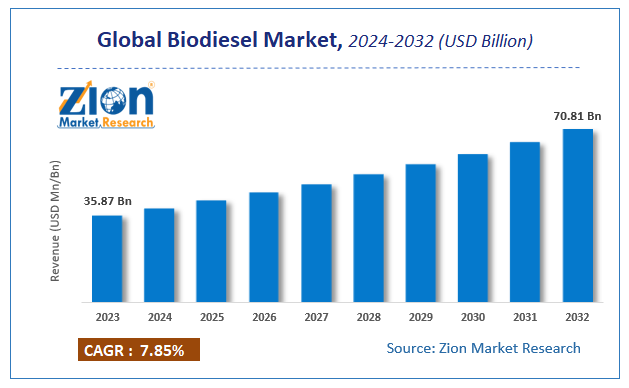 Request Free Sample
Introduction
Biodiesel is one of the major source of renewable energy and is used extensively in the transport sector. It emits lesser carbon monoxide and hydrocarbons. The product also referred as green diesel is a pure and renewable fuel extracted from biomass. Apparently, it is a kind of diesel fuel that is derived from animal fats or plants and comprise of an elongated chain of fatty acid esters. Moreover, it is utilized as a substitute fuel or is combined with petroleum diesel to reduce air pollution.
Global Biodiesel Market Growth Dynamics
In Global Biodiesel Market Report, Growing use of biodiesel in automotive, marine power, farming, and various manufacturing sectors will boost the market trends. Apart from this, huge concerns pertaining to environmental degradation and need for fulfilling the energy needs of rapidly growing population as well as industries will prop up the market expansion. Furthermore, biodegradable feature of the product and its ability to produce renewable fuel for purpose of transport will embellish the market growth over the years to come. In addition to this, biodiesel helps in reducing the dependence on lubricity and this will culminate in high product penetration across myriad industries and this will steer the business growth.
Moreover, government policies favoring the use of biodiesel and tax benefits provided by the government will proliferate the expansion of biodiesel market in the foreseeable future. However, the market is highly fragmented & competitive and hence market players will try to increase their market share, thereby resulting in new product innovations at reduced cost and this will drive the business trends. Apart from this, easy availability of Blends will unlock new growth avenues for the market. Nonetheless, oscillating Blend costs will influence the product pricing, thereby inhibiting the market progression. Moreover, large-scale depletion of fossil fuels has resulted in massive demand for renewable fuel, thereby unravelling new growth avenues for the market as well as obliterating the negative impact of hindrances on the market expansion.
Asia Pacific Market Revenue To Hit Scalable Heights Over Forecast Timeframe
The growth of the market in Asia Pacific over forecast timespan is due to rise in the number of biodiesel manufacturers shifting their headquarters to the region. In addition to this, easy access of Blends in the sub-continent will boost the production of biodiesel in the Asia Pacific. Countries like China and India are likely to majorly contribute to the regional market size in the years ahead.
Key players influencing the market growth are Deerfield Energy, Delta American Fuel, Green Earth Fuels of Houston, Western Dubuque Biodiesel, ACCIONA Energy, LLC, DuPont, China Biodiesel International Holding, Imperium Renewables, XL Renewables, Crimson Renewable Energy, Diversified Energy Corporation, Blue Marble Energy Corp., and American Energy Producer.
The global biodiesel market is segmented as follows:
Global Biodiesel Market By Blend
By Production Technology
Pyrolysis
Trans-esterification
Others (Dilution, Micro-Emulsification)
By Feedstock Type
Vegetable Oils

Edible Oils (Rapeseed/Canola, Soybean, Palm)
Others

Animal Fats
Lard & White Grease
By Application
Fuel

Automotive (On road vehicles, Off road vehicles)
Marine
Agriculture
Others

Others(Solvents, Diluent, Coatings, Printing Inks, Others)
By Region
North America
Europe

France
The UK
Spain
Germany
Italy
Rest of Europe

Asia Pacific

China
Japan
India
South Korea
Southeast Asia
Rest of Asia Pacific

Latin America

Brazil
Mexico
Rest of Latin America

Middle East & Africa

GCC
South Africa
Rest of Middle East & Africa