Abstract
The report encloses a forecast and current estimate for the eye tracking market on a global and regional basis. The study provides historical data for 2017 and a forecast from 2018 to 2024 based on revenue (USD Million). The study also provides the impact and the descriptive analysis of major drivers, restraints, and opportunities of the global eye tracking market.
The study also offers the market attractiveness and the Porter's Five Forces model analysis to gauge the competitive landscape of major vendors of the global eye tracking market. This comprehensive study also provides a detailed analysis and overview of each segment included in the study.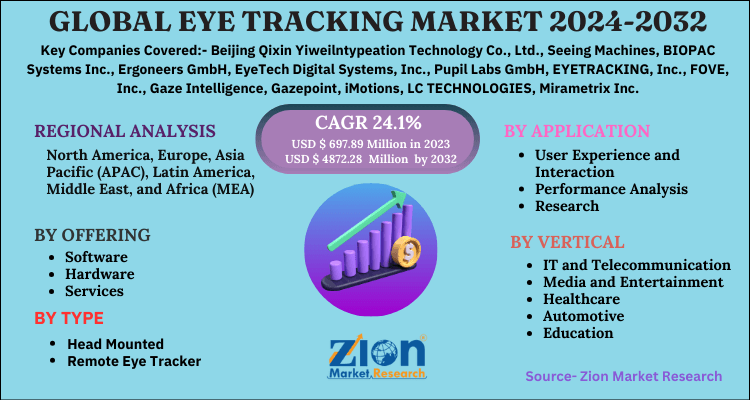 This report segments the global eye tracking market into the offering, type, application, vertical, and region. All the segments have been analyzed based on present and future trends and the market is estimated from 2018 to 2024. The regional segmentation includes the historical and forecast demand for North America, Europe, Asia Pacific, Latin America, and the Middle East and Africa.
Some key players of the global eye tracking market include Beijing Qixin Yiweilntypeation Technology Co., Ltd., Seeing Machines, BIOPAC Systems Inc., Ergoneers GmbH, EyeTech Digital Systems, Inc., Pupil Labs GmbH, EYETRACKING, Inc., FOVE, Inc., Gaze Intelligence, Gazepoint, iMotions, LC TECHNOLOGIES, Mirametrix Inc., Noldus Intypeation Technology, Smart Eye AB, SMI, SR Research Ltd., and Tobii AB, among others.
This report segments the global eye tracking market into:
Global Eye Tracking Market: Offering Analysis
Software
Hardware
Services
Global Eye Tracking Market: Type Analysis
Head Mounted
Remote Eye Tracker
Global Eye Tracking Market: Application Analysis
User Experience and Interaction
Performance Analysis
Research
Global Eye Tracking Market: Vertical Analysis
IT and Telecommunication
Media and Entertainment
Healthcare
Automotive
Education
Others
Global Eye Tracking Market: Regional Analysis
North America
Europe
Asia Pacific
Latin America
Middle East and Africa