Analysis
Eye tracking is the measurement of eye activity. The data is gathered using head-mounted or remote eye tracking devices that are connected to the computer. Eye tracking devices generally include two common components—light source and camera. The light source is concentrated on the eye, whereas the camera tracks the light source. The data collected by eye tracking devices are used to determine the movement of eyes and the direction of gaze.
Eye tracking technique has application in numerous verticals, such as automotive, medical, and defense. Packaging, advertising, web designing, and entertainment sectors use eye tracking devices as these devices help in studying the visual behavior of the consumers. Though eye-tracking technology has been widely used in cognitive psychology, it has also been used in educational research. Technological advancements related to eye tracking devices are gaining popularity, which is likely to drive the global eye tracking market growth over the projected time period. Eye tracking technique is used on a large scale in various industries, which, in turn, is making it affordable and less compact for a wider section of the population globally. It can be integrated into augmented reality (AR)/virtual reality (VR) headsets and smartphones without disrupting the form factor or raising costs. Eye tracking equipment has several applications in medical and educational AR and VR activities. Thus, these are some factors that are anticipated to drive the eye tracking market globally in the years ahead.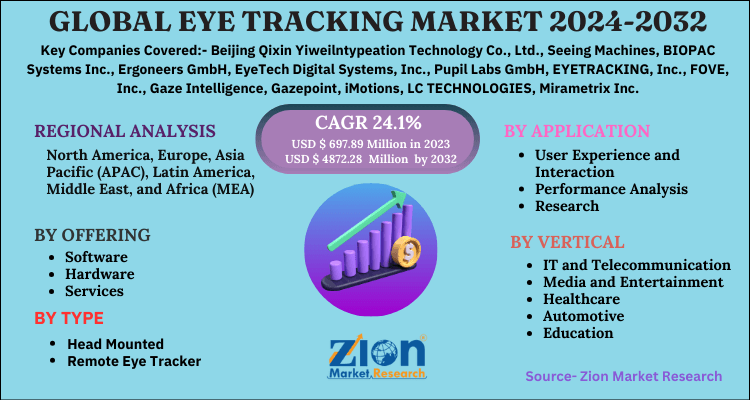 The global eye tracking market is segmented based on the offering, type, application, and vertical. By offering, the eye tracking market is segmented into software, hardware, and services. By type, this market is bifurcated into the head mounted and remote eye tracker. The application segment of the eye tracking market is segmented into user experience and interaction, performance analysis, and research. By vertical, this global market is classified into IT and telecommunication, media and entertainment, healthcare, automotive, education, and others.
By region, North America held a major revenue share of the global eye tracking market in 2017. This regional growth can be attributed to rapid technological advancements and flourishing transportation and automotive industries in the U.S. The Asia Pacific eye tracking market is anticipated to grow at a significant rate over the forecast timeframe, owing to the huge investments made by major industry players to improve the R&D infrastructure.
Some key players of the global eye tracking market include Beijing Qixin Yiweilntypeation Technology Co., Ltd., Seeing Machines, BIOPAC Systems Inc., Ergoneers GmbH, EyeTech Digital Systems, Inc., Pupil Labs GmbH, EYETRACKING, Inc., FOVE, Inc., Gaze Intelligence, Gazepoint, iMotions, LC TECHNOLOGIES, Mirametrix Inc., Noldus Intypeation Technology, Smart Eye AB, SMI, SR Research Ltd., and Tobii AB, among others.