Description
The e-clinical solution software market is set for rapid growth over the forecast period. In terms of revenue, the global e-clinical solution software market accounted for USD 5.6 Billion in 2019 and is expected to reach USD 13.84 Billion by 2026, growing at a CAGR of 13.8%.
Global E-clinical Solution Software Market: Overview
In collecting clinical testing data and handling it using advanced technologies, e-clinical applications are useful. Cloud-based solution software, certified business solution software, and web-based solution software are the numerous types of e-clinical solution software that are present in the global market. The industry will grow cloud-based e-clinical solution applications in the coming years, which will fuel its demand.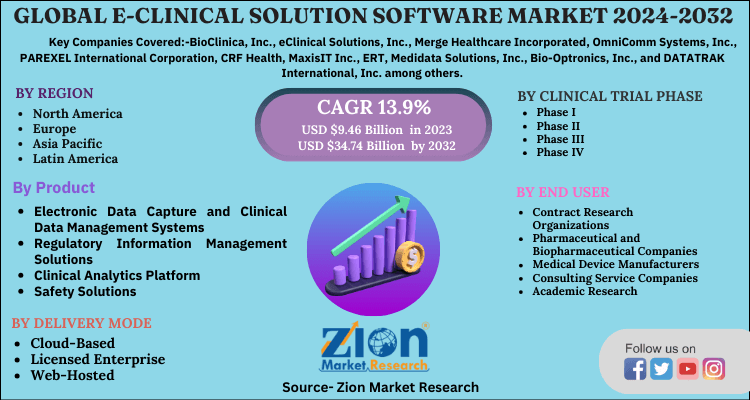 Global E-clinical Solution Software Market: Growth Factors
With the help of clinical trials and research and development, the rising costs for the production of new drugs are expected to increase the growth of the global e-clinical solutions software market. The market is also driven by the growing need for data standardization and effective management of data. The software of the e-clinical solution offers the following advantages, such as improved drug productivity and reduced time during clinical trials, coaxing several end users to adopt the latest technologies.
Global E-clinical Solution Software Market: Segmentation
The e-clinical solution software Market is globally bifurcated into its product, delivery mode, clinical trial phase, and end user. Based on product type, the market is split into electronic data capture and clinical data management systems, regulatory information management solutions, clinical analytics platform, safety solutions, clinical data integration platform, electronic clinical outcome assessment, randomization and trial supply management, electronic trial master files, and clinical trial management systems. Electronic clinical outcome assessment is considered to share the maximum share as it improves the quality of the data stored, helps to streamline the data gathering process, and provides good data analysis owing to which it is increasingly accepted across various patient, clinic, and observer reports. Based on deployment type, the market is divided into cloud-based, licensed enterprise, and web-hosted out of which the web-hosted deployment type shows dominance owing to the low investment options, easy accessibility, easy customization options, and usability. The segmentation of the clinical trial phase is split into Phase I, Phase II, Phase III, and Phase IV, out of which Phase III is anticipated to hold the maximum share as it helps to curb the overall cost thus improving the efficiency of the process as this phase has a large number of patients and thus triggers the demand for e-clinical solution software for better data processing and its management. Based on end user, the market is divided into consulting service companies, contract research organizations, pharmaceutical and biopharmaceutical companies, academic research institutions, hospitals, and medical device manufacturers, out of which contract research organizations hold maximum share as major pharmaceutical companies tend to switch and use clinical softwares for reducing the expenses and increase better data management.
Global E-clinical Solution Software Market: Regional Analysis
The region of North America is considered to be most dominant owing to the escalating implementation of new and advanced technologies by prominent medical institutes and organizations. The growing number of medical trials, surging governmental expenditure in healthcare, and digitalization of clinical solutions along with the growth of the pharmaceutical industry also foster the demand for the e-clinical solution software market.
Global E-clinical Solution Software Market: Competitive Players
Some of the key players in the e-clinical solution software market are BioClinica, Inc., eClinical Solutions, Inc., Merge Healthcare Incorporated, OmniComm Systems, Inc., PAREXEL International Corporation, CRF Health, MaxisIT Inc., ERT, Medidata Solutions, Inc., Bio-Optronics, Inc., and DATATRAK International, Inc. among others.
Global E-clinical Solution Software Market: Regional Segment Analysis
North America
Europe

France
The UK
Spain
Germany
Italy
Rest of Europe

Asia Pacific

China
Japan
India
South Korea
Southeast Asia
Rest of Asia Pacific

Latin America

Brazil
Mexico
Rest of Latin America

Middle East & Africa

GCC
South Africa
Rest of Middle East & Africa